Silver Price: Precious Metals Caught in a Brief Storm of Economic Forces
After significant movement into the mid-$17 per troy ounce range, silver took a steep dive back to its "hovering" price as of late, ultimately winding up close to $17 per troy ounce on the day for Monday. Gold's recent gains have been erased as well, which points to something in the economic winds causing precious metals to decrease. But is it just the U.S. dollar's strength that's moving the price of silver lately, or is there a "storm" of other economic forces pushing silver back down?
A Quick Look at the U.S. Dollar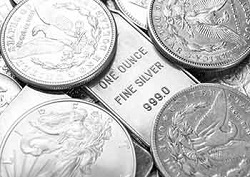 It shouldn't surprise any regular silver investor to find that the U.S. dollar index ticked up on Monday. Given the dollar's power as the primary suspect whenever there is an economic variable putting pressure on the price of silver, this is a frequent correlation even on a day-by-day basis, although by no means 100% predictive.
The news from yesterday also comes in conjunction with a decline in the Euro, with more optimism stateside as the stock market again performed well. That kind of optimism paired with a strong showing from the dollar tends to mean that the outlook for precious metals is weak.
Lower Crude Oil Prices Bearish for Silver?
As Kitco points out, there was something of a brief storm of economic forces that brought precious metals back from their recent highs early this week. Yesterday saw a stronger stock market in the U.S., the aforementioned performance of the U.S. dollar index, and interestingly, lower crude oil prices. According to Kitco, these three elements spelled a bad performance for precious metals investments. Even those using metals as a hedge saw the strength of these economic variables when occurring on the same day. If these trends continue throughout Thanksgiving week, expect to see lower precious metal prices continue (although it's worth mentioning that the stock market will be closed on Thursday for the Thanksgiving holiday).
Kitco further mentioned the following movements in Monday when it came to futures:
December Comex gold: Down $20.70 per ounce to $1,274.80

December Comex silver: Down $0.51 per ounce to $16.86
These futures suggest a pessimistic look at the two metals, which could suggest a good buying opportunity this week for anyone looking to pounce on lower silver prices.
Benchmarks to Watch
With a somewhat stunted week in the market, there's a good chance that the price of silver won't see much movement from this downward trend to kick off the week. Even given some movement today and tomorrow, there simply isn't much economic news poised to hit—especially the week of a holiday. But it will be worth watching silver's reaction to December announcements from the Federal Reserve, especially when it comes to interest rates. Yesterday's USA Today sees a possible "cementing" of that rate hike, so it's possible that the market will already "price in" these expectations in the weeks leading up to Christmas. As always, precious metals will react to economic headlines and the markets—it's up to investors to identify the points best for buying.
More from Gold-Eagle.com: