Silver Price Retreats Ahead Of OPEC Decision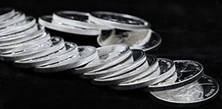 Silver is having a rough time in the market today…and for a relatively good meeting. At the moment, the world's top oil producers are in a meeting with a goal of finding a way to support growth in the price of oil. While it may not seem as though this would affect the price of silver, that couldn't be further from the truth. Today, we'll talk about what's going on at the OPEC meeting that's leading to the declines; what the meeting has to do with the price of silver; and what we can expect to see from the precious metal ahead.
Silver Price Starts To Fall As Oil Producers Enter Closed Door Meeting
For the past three days now, leaders in global oil production have been openly discussing the possibility of an oil production cut. Now on the third day, the producers have entered a closed-door meeting. When that door opens, a decision will be announced.
This is overwhelmingly important as oil has been in the midst of a crisis for some time now. However, if the world's top producers can reach an agreement that would cap, freeze or reduce production, it could signal that the end of the crisis is near.
At the moment, many believe that a deal is actually going to happen. While these meetings have happened in the past, they have never led to an agreement. Unfortunately, geopolitical unrest has led to disagreements. However, this time around, low oil prices are leading to global economic pressure. As a result, key oil producers seem more and more willing to act. In fact, in a statement made just hours ago, Qatar's oil minister and OPEC President Mohammed bin Sale al-Sada had the following to say...
"It's evident that now there is a greater degree of urgency to ensure the market returns to balance as quickly as possible..."
What Does This Have To Do With The Price Of Silver
At first glance, it may seem as though the story surrounding oil has little to nothing to do with the price of silver. However, that insinuation couldn't be further from the truth. The reality is that silver, like gold, is a safe haven investment. When global economic conditions are concerning, demand for silver tends to rise as investors and consumers alike look to precious metals as a way to maintain the value in their money.
Because the price of oil has been incredibly low, strain has been put on the global economy in a big way. This has helped to push the price of silver upward. However, if a deal is made, it would signal an increase in oil, improving global economic conditions. This will likely lead to declines in the price of silver.
What I'm Expecting To See
At the moment things are getting interesting to say the least. Lately, we've heard material statements from key players in the oil industry that they are ready to make a deal. However, I still believe that the meeting will end without an agreement. To be sure, Iran has already turned down one offer in the last three days. Moreover, the geopolitical unrest between Saudi Arabia and Iran is clearly still creating issues. As a result, I'm expecting for today's meeting to end with no deal, causing the price of oil to decline, resulting in the price of silver to head upward in a big way!
More from Gold-Eagle.com: