Silver Prices Under $18 For First Time In April—But Will It Last?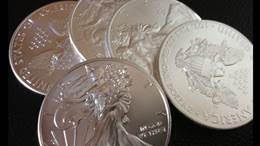 After Thursday's report about the potential for volatility in silver, we have now seen silver go under $18 for the first time since mid-March, when the precious metal briefly flirted with $16 per troy ounce. But is this just a blip on the radar with a bull market in the works or does this suggest that silver doesn't have the legs that many investors seem to think it does? To answer that question, let's look at some recent news for silver:
Trouble For Bonds Could Spell Good News For Precious Metals
Although not always an oft-discussed issue in this space, bonds are an interesting headline to keep tabs on. Because bonds are often seen as a way of keeping money safely from stocks, they are something of a competitor of stability against gold and silver. A recent opinion piece by John Coumarianos of MarketWatch sees potential issues in the bond market. Citing a recent paper that showed that bond markets are riskier than they have been in a while, Coumarianos isn't exactly optimistic about the future potential of bonds.
For silver and gold, which act as strong hedges against the market for many investors, the idea that bonds might not have a cheery disposition from investors could mean that demand for precious metals as a store of wealth could go up. This is only one factor in many, but does bode well for the future of silver.
A Dip In Gold And Silver To End The Week?
As of this writing on Saturday morning, the month isn't over yet—there is still a chance for both gold and silver to move back into positive territory and end this week on a strong note. This is particularly the case for silver, which lost many of its April strength within the past 48 hours. Early trading on Friday saw a dip for precious metals, which may mean that there is a buying opportunity in the works for those who see lots of potential for precious metals to hit recent highs once more.
Gauging The Silver Trends
Looking at a more long-term history of silver prices, we see that the mid-March dip was just a blip on an upward trend since silver's recent lows in December of 2016. That was when silver price went even below the $16 per troy ounce barrier—though it quickly recovered and made strong gains over the next two months.
The recent upward movement of the U.S. dollar index is another factor that tends to put an anchor on the prices of gold and silver. This recent recovery for the dollar is essentially bursting the balloon of precious metal investors who saw a roaring second quarter in the works. But this quarter is still young, and there is still opportunity for metals like gold and silver to end the month on the upward trend. Though silver has not enjoyed a quality week by any standard, it's hard to imagine that this week will matter in the long-term context of the metal markets.
******** 
More from Gold-Eagle.com: