Stocks Are Topping…And A Bear Market Will Eventually And Inevitably Follow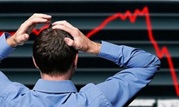 The current pattern is suggesting that a significant top is at hand. I fully believe both in patterns and indicators. Moreover, the current pattern is suggesting that a significant top is at hand. 
The proprietary cycles are suggesting a potential "Black Swan" event in multiple indexes, which are imminent.  The SPX may have made its' last challenge of the upper trend line of its Broadening Top. Last Friday it closed beneath its Cycle Top resistance at 2185.38.  The SPX has fulfilled all of the fractal requirements necessary for a completed corrective uptrend. The uptrend from 1810 has been in a corrective phase. The next wave down will be an impulsive wave.
The large divergences which I have been viewing, in my proprietary oscillators are most real, and accurate, and, once the selling begins, the momentum should quickly move to the downside.  The current market is being supported by a lack of sellers, more so than with aggressive buying.  With investors still thinking that there is nowhere else to place their money, they appear to be content with leaving their money at risk in assets within a market that is pushing all-time highs.  This type of mentality usually leads to large losses, rather than big gains.  There is just no opportunity for growth in the SPX!
Investors have become complacent with the current rally.  They listen to and believe what the Fed has been saying about interest rates. Moreover, they have come to believe that everything about this market depends upon the Fed. I do not believe that to be the case.  I believe that the Fed is, or should I say will be, irrelevant in due time! 
The Bank of America Merrill Lynch reports that its clients (institutions, hedge funds, and private clients) who have sold stock for all but 2-3 weeks during all of 2016, have once again sold $1.9 billion of US stocks, while the SPX was hitting new highs.  Institutional clients led the sales due to poor performance.  It has been the retail investors that have been flooding into the market while anticipating a massive breakout and rally. 
The big and smart money continues to build up massive short positions. George Soros has become more bearish on equity markets, nearly doubling his short bet against the SPX, following similar moves by Jeffrey Gundlach, Carl Icahn, and David Tepper. According to his 13F filing, Soros now owns roughly 4 million 'put options' on shares of the SPY.   
We are presently living on borrowed time and vast amounts of borrowed money. This is a period of time of unprecedented economic upheaval, which was caused by financial engineering by governments and their Central Banks. It's a slow-motion catastrophe, where we are living today at the expense of tomorrow. The Fed's balance sheet has more than quadrupled since the Crash of 2008.  This is unprecedented.
Keep in mind that most of these highly successful investors, also predicted other major market moves, if you look back through the years. Their huge bets typically play out, but I do find most of them jump the gun a little early (many months in most cases). Reason being, they understand how and why the markets move. Consequently, they know when various markets are nearing a major turning point.
The difficulty with trying to time these major multiyear market reversals, is that all investors around the world (all market participants) need to stall out and reverse direction for the new trend to take hold. This always seems to take longer than we expect. These highly successful investors, myself included, feel this bull market in stocks is about to come to an end.
Conclusion
The next stage will become a vicious deflationary cycle in which prices and growth crash and burn. Prepare for another massive wave poor earnings, job layoffs, and falling stock prices.
Whenever deflation emerged over the past few hundred years, the price of gold gained…and gained big in terms of purchasing power. I don't feel this time will be any different.
There will be many ways to profit from all of this…and precious metals is just one of many awesome opportunities unfolding for myself and subscribers.
********
Gold-Eagle provides regular commentary and analysis of gold, precious metals and the economy. Be the first to be informed by signing up for our free email newsletter.
Free Gold-Eagle Newsletter!
Fresh weekly insights on gold, precious metals, and the economy
Leading authors from around the world
Always free
Stay informed!
More from Gold-Eagle.com: