Tracking Some Of The Most Intriguing Silver Stocks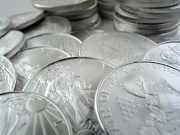 I'm not a stockbroker, and I don't play one on TV. But that doesn't mean I'm not interested in knowing more about stocks - particularly precious metals stocks, since precious metals still seem primed for such a bullish year. And while George Soros might not believe in buying mainstream stocks these days, it's clear that his recent investment into Barrick Gold suggests that billionaire investors are watching the precious metals stocks with great interest.
So why shouldn't we? Let's meet a few interesting silver stocks, see what they've been doing lately, and get better acquainted with the market.
Stock: First Majestic Silver Corp (AG)
Recent 30-day performance: Up to $12 from $8.52 on Monday, April 18th, a one-month gain of about 40%.
The rundown: The Vancouver, Canada-based company trades on the New York Stock Exchange and has been around since 2002. Look up "Silver" on Google News this morning and you'll find this article at Zacks, highlighting the recent increase of this stock to its current levels, hovering around $12. Zacks gives AG a rank of "buy," and a rank of #2, but it's important to remember that silver stock prices have been up lately because, well, so has the price of silver. Even if you bought this stock just a week ago, you will have already made some significant gains - but there's no indication that it's time to sell, either.
Stock: Hecla Mining (HL)
Recent 30-day performance: Up to about $4.50 this morning. Some thirty days ago it was at $3.35, putting the stock at an increase of 34% for the month.
The rundown: When you think of Idaho, you likely think about a different commodity. But HL is an old company from Coeur d'Alene, Idaho, having been founded in 1891. Like AG, it's seen tremendous performance over the past month—but its lower stock price might be more attractive for investors who are looking to maximize their share count. InvestorPlace recently wrote about Hecla Mining, pointing out that as silver increases, it may be one of the most attractive silver stocks out there.
Stock: Silver Wheaton (SLW)
Recent 30-day performance: Up to $19.85 recently up from $16.93 thirty days ago. That's a more modest increase of 17%--imagine that being a "modest" increase; that's comparable to the move in the price of silver itself.
The rundown: Silver Wheaton is the largest company in the business of silver streaming. Like AG, it is a Vancouver-based company, which can increase your exposure to precious metals and international stocks. This is the most recent of the companies listed thus far, having been founded in 2004, and offers a dividend yield of about 1%. HL's, by comparison, was much lower at about a quarter of that dividend yield.
Needless to say, silver stocks have been shining brightly lately. The most recent 30 days should not be taken as a guarantee of future success, but if you're looking to educate yourself on the state of silver mining stocks, now's the time to do so. You'll find that the more you know about this market, the better informed investor you'll be in the long term.
More from Gold-Eagle.com: