US Economic Data Serves As A Testament To Gains Coming For Gold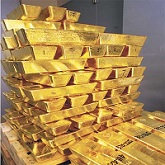 Gold has been a very interesting commodity to follow as of late. With global economic conditions, market conditions, and US economic conditions proving to be a cause for concern, safe haven investors have been jumping on board with regard to the precious metal. Today, we'll talk about a recent report that shows that shows that economic conditions in the United States aren't quite as positive as we once thought. Today, we'll talk about the recent data that was released, why it has anything to do with the value of gold and what we can expect to see from gold moving forward. So, let's get right to it.
Recent Data Showing US Economic Struggles
There are several companies that are charged with surveying economic activity in an attempt to predict what's likely to happen moving forward. One of the most trusted of these companies in the United States is known as Markit Economics. Every month, the company releases what is known as the monthly flash services purchasing manager's index. This index gives investors, economists, and analysts a look at what's likely to happen with regard to the sector moving forward. The index is scored on a range from 0 to 100 with 50 being the fine line that's drawn between expansion and contraction. Today, the report was released showing that the monthly flash services purchasing manager's index had fallen to 49.8, showing a contraction for the first time in more than 2 years, and signaling rough economic times to come.
What Does This Have To Do With Gold
While from the outside looking in, it may look as though this has absolutely nothing to do with gold. After all, this isn't jewelry or gold coin sales, it's economic data. However, when you really think about what causes gold's value to move up or down, it becomes clear as to what this has to do with gold's value. The reality is that like most commodities, the value of gold is heavily dependent on supply and demand. It's also important to remember that gold is a safe haven investment. This means that when the market is declining, investors look to gold as a way to keep their money safe. Now, we get to the economy. When economic conditions are poor, we tend to see declines in the market as a result. So, with the recent data showing that economic conditions are not doing well, we can expect to see further declines in the stock market, leading to increases in the value of gold.
What We Can Expect To See Moving Forward
Moving forward, I have an overwhelmingly positive opinion of what we can expect to see from gold. In fact, I'm heavily investing in gold at the moment personally. The truth is that the global market is doing incredibly poorly as of late. With the recent economic data, we can predict that the market declines are likely to continue for quite some time. This combined with the fact that gold reached peak supply, meaning that production is likely to decline, will lead to gains in the value of gold over the long run. All in all, things are looking great for the precious metal. 
More from Gold-Eagle.com: