Watching The Price Of Silver In Uncertain Times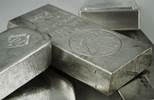 It's a new month, which means we can finally step back and figure out what's been happening in the markets—at least before moving forward into December, when an entire new set of variables will be introduced. But what can looking at the price of silver in November teach us about silver prices in December, and will the two correlate? Or should we expect December to bring different news in precious metals?
To start, let's look at a variable we haven't addressed in this space for some time: the ratio of the price of gold to the price of silver.
The Gold:Silver Ratio—And What It Means Right Now
At this time, the ratio of the price of gold to the price of silver is still very large: about 71. This means that for every dollar in the price of silver, we see about $71 in the price of gold.
On the surface level, this might not make sense as an accurate way to judge where the precious metal prices are. But the gold:silver ratio isn't a simple comparison, like picking two random stocks from the S&P 500 and comparing the two. In fact, gold and silver have a historic relationship, and measuring this ratio is one of the most important variables for those considering buying silver.
One look at Macrotrends.net will show you that the ratio of gold to silver has fluctuated a lot over the past century, but usually sticks to a mean of about 40-60 over time. That means that even with gold's decline in November, we still see a ratio that's higher than the overall trend. For "silver bugs," this may be a signal that either gold is overvalued…or silver is undervalued.
Does The Silver Price Have Space To Roam In Uncertain Economic Times?
Although the Dow Jones was busy setting records in November, we still find ourselves in a period of transition. Not only did the US presidential elections set us on a new economic course, but December could mean a shift in Federal Reserve policy with the looming potential for a rate hike.
This could seem to put downward pressure on both gold and silver. But if you're interested in long-term trends, the gold:silver ratio could be a long-term indicator that helps you make sense of current events.
What Will December Hold For Silver?
With interest rate hikes looming, the Fed's policies should be the major issue for anyone considering buying silver in December. The article Silver Prices And Interest Rates puts together a chart of US interest rates as they correlate to silver prices, and the results are interesting.
As it turns out, silver saw highs and lows that correlated with interest rates. This may go to show that there is room for optimism in silver prices after all. If there is more debt in the system, that means there tends to be more dollars, as well, which could be good for the prices of both precious metals. Only time will tell what a potential rate hike for silver might mean, however.
More from Gold-Eagle.com: