Did The Gold Market Bottom?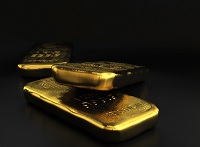 Last year I wrote how I thought gold prices could drop to around the $1,000 level and then produce an impressive rally, fooling many into thinking the long-awaited bottom had arrived. Prices fell short of the $1,000 level in October only dropping to $1,045, so I wasn't expecting that rally to come now, but this is precisely what I believe is happening. Below are my views on how sentiment works and why the real bottom in gold and silver is likely still ahead.
Market Sentiment
Many of the traditional sentiment measures have been reset from the 2011 high, but there's still room for improvement. I base this from public discussion boards and comments throughout the web; I still see many overly bullish supporters.
Market psychology suggests a new bull market cannot begin until the original participants are flushed out. Sentiment in corrected in two ways. One, through prices falling to obscene levels or second through time, if enough time passes, eventually investors move on. Gold was up 12-years consecutively, a move like that requires a complete sentiment overhaul.
The environment has certainly improved, but for the next gold run to manifest even the diehard gold and silver bugs must show severe uncertainty, I haven't seen that yet. In my mind, a false bottom and then an impressive rally will force many on the sidelines to enter positions, fearing they somehow missed the bottom. Once enough people commit then prices will drop to new lows, eventually challenging the last stronghold, the $1,000 level. If $1,000 fails, endless stops will be triggered, and a washout phase will see prices plunge to the $875-$850 area. At that level, we would see a complete sentiment reset and an opportunity for the next bull phase to begin.
What's next for prices
Gold, silver and miners have been relatively predictable, the last 2-years they would rise from their 6-month lows to approximately the 50-week moving average, and then the cycle would top. Our cycle work and trend analysis suggest nothing has changed and that the bearish trend is still intact. However, if prices do not top out relatively soon, and the structure further deteriorates, I will be forced to consider other possibilities. Note: The 8-year cycle in gold has arrived with consistency, if prices bottomed in November of 2015 then it would be a year early, to me that seems unlikely.
US Dollar Chart - The dollar jumped out of the potential cycle low closing above the ten and 200-day moving averages. I would like to see an even higher close above 97.00 for confirmation.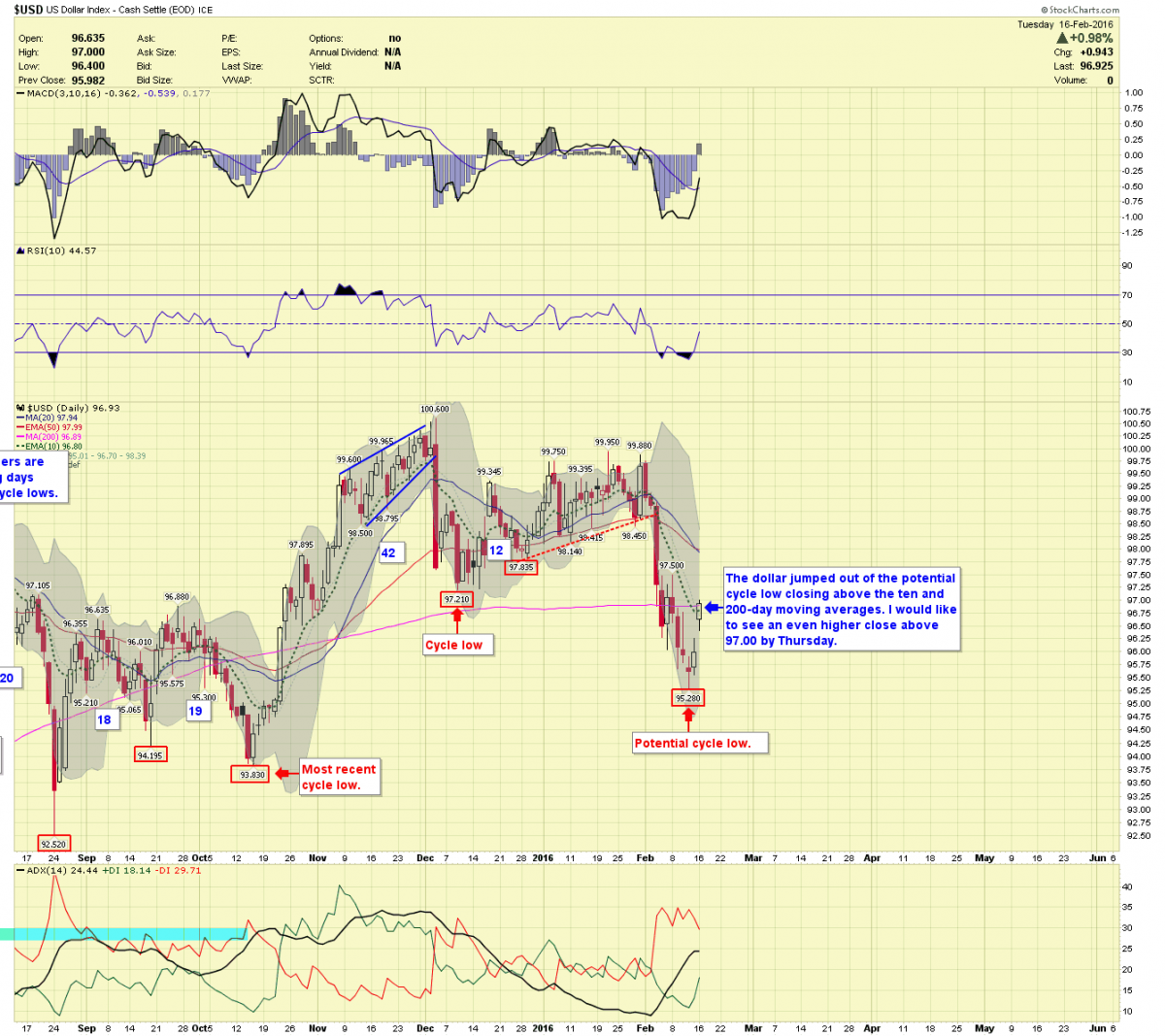 Gold Weekly Chart - Most cycles have been topping between weeks nine and eleven. This cycle just completed week ten peeking out at $1,263.90, that could be the top to this intermediate cycle.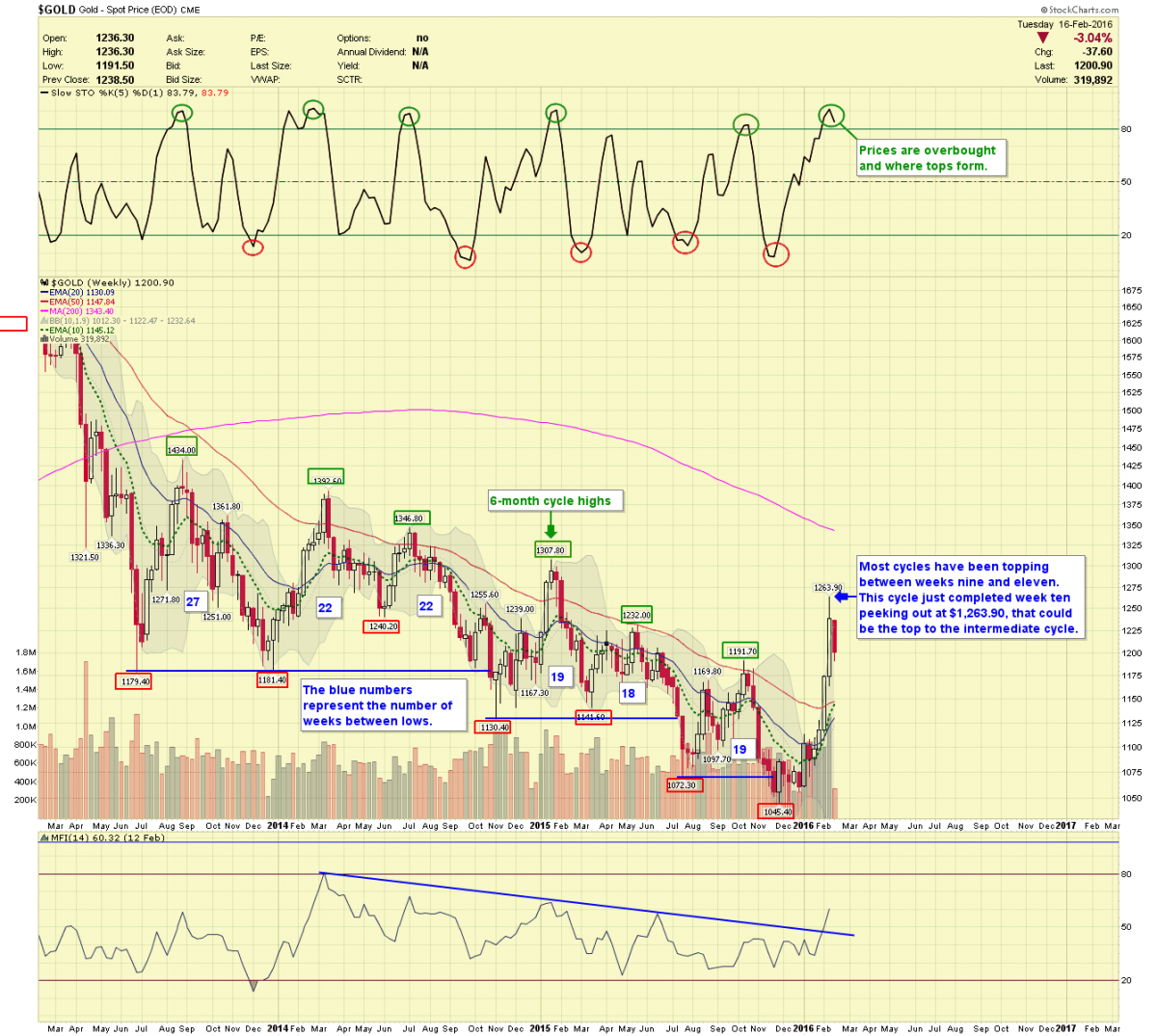 Silver Weekly Chart - Silver's 6-month cycle was topping like clockwork at or slightly above the 50-week moving average. The current cycle has seen prices breach that area more than normal. Let's see if they top soon and keep the trend. Note, silver did not take out the October highs like gold, serving as a non-confirmation.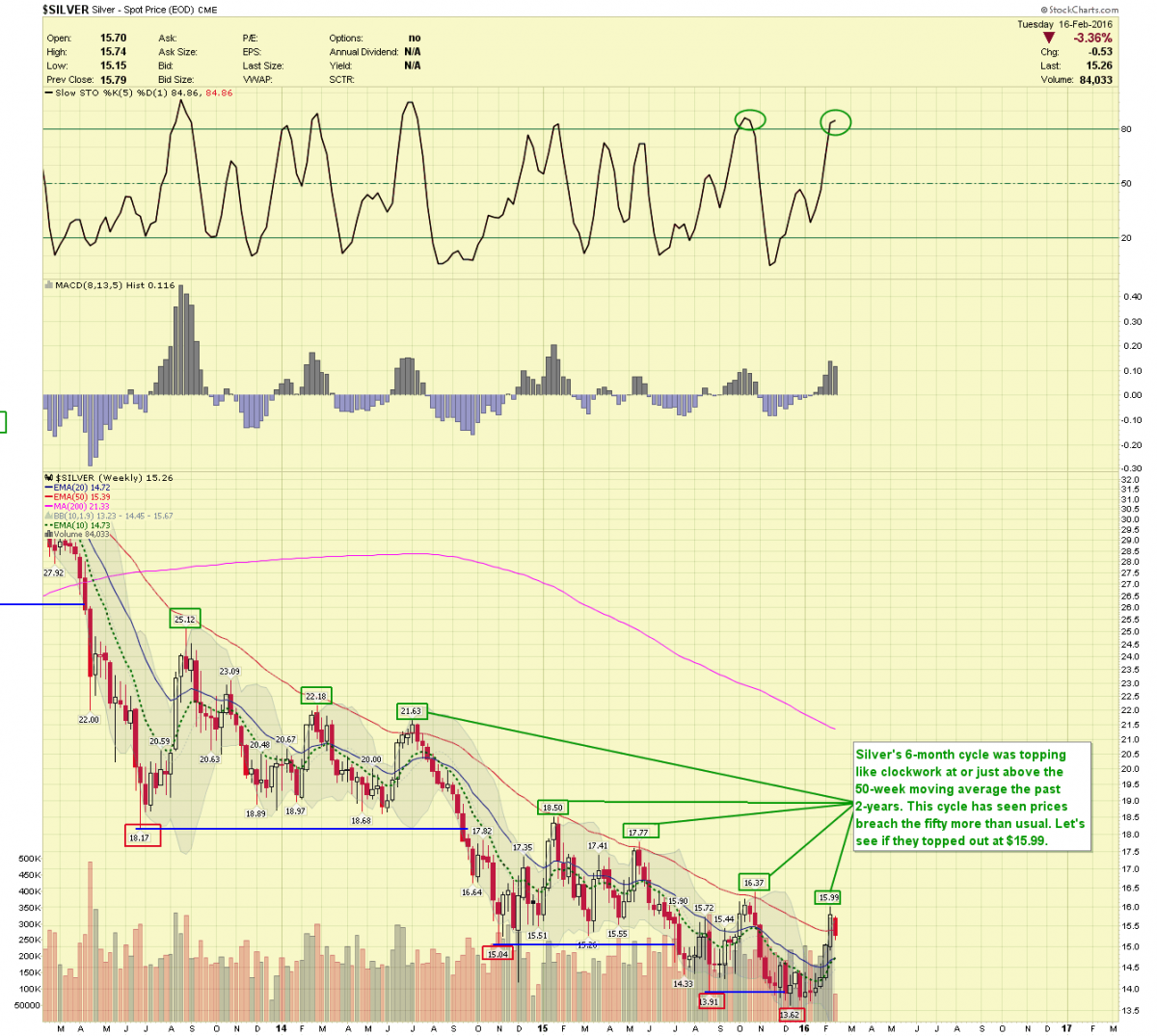 Conclusion
I'm not all-knowing, obviously, and it is possible gold reached a bear market bottom at $1,045.40, but the trend, sentiment (my version) and cycle analysis suggest otherwise. An established trend must be considered intact until it is clearly broken. If the bottom did arrive at $1,045.40, there will be plenty of time to get in once the major low is confirmed. We are a long way from that confirmation currently.
More from Gold-Eagle.com: