Don't Let The Recent Dip In Gold Fool You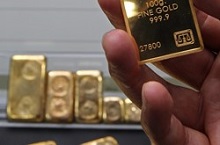 The value of gold had an incredible start to the year. However, recently, the precious metal has seen massive declines. So, I wanted to do a bit of research, and like always, I started by typing gold news into Google. On the home page, I saw three news articles. Two of these articles were building up the hype by saying that the gold rally is over. However, is it really over? If you ask my opinion, the answer is no! Today, we'll talk about why declines in gold have no fundamental backing, and why we can expect to see more big gains coming down the line this year.
Gold Supply Is A Key Factor To Watch
As with any other commodity, the price movements in gold are largely dictated by the law of supply and demand. So, supply is incredibly important. When supplies are likely to climb, chances are that we will see declines in the value of the precious metal. However, when supplies are going downward, chances are that the value of gold will rise. On January 17th, there was a huge announcement that was made. The world's largest suppliers of gold were surveyed, and they believed that gold was headed for supply declines. In fact, it was announced that peak supply in gold had been reached. Perhaps more importantly, we would likely see declines in the production of gold as large as three to five percent this year alone! Considering this, we're seeing strong support for improvements in the value of gold.
Hedge Fund Managers Are Loving The Precious Metal
A good habit to get into when investing in anything, whether it be precious metals, stocks, or even currencies, is to watch what big money is doing with their money. If those with massive amounts of money, like hedge funds, are investing in something, there's definitely a reason for it. The reality is that hedge funds have key signals that are watched by multiple employees. So, when we see hedge funds getting interested, price gains are likely coming. Well, hedge funds and other big money investors have been getting involved in gold and haven't let up. In fact, demand from hedge funds started to spike in December of last year. According to the CFTC's weekly Commitment Of Traders data up to the 29th of March added net long positions. Hedge funds want about 468 tonnes of gold! That's a massive amount.
Demand Is Only Going To Rise!
It is my opinion that while demand is strong at the moment, chances are that demand for the precious metal is only going to rise. There are a few reasons for this. First and foremost, the Federal Reserve is likely to keep its interest rate low for some time to come. Low-interest rates mean low dollar values, and since gold is largely priced using the USD, chances are that demand in other nations will grow as gold's price in these nations starts to fall. Aside from that, I'm not expecting for the rally in the stock market to last much longer. The truth is that we're getting into dangerous territory when it comes to market valuations. This will lead to resistance on the market and likely cause another big decline at some point this year. As a result, investors will look to gold as the safe haven to keep their money working for them. On top of that, geopolitical conditions are getting a bit hairy at the moment yet again. When this happens, investors and consumers look to gold as a way to keep their money safe. Finally, economic conditions around the world remain grim. As further stimulus continues to shake global currencies, consumers and businesses alike are losing faith in paper money and moving savings to gold. To be sure, demand for gold is going to climb…and that will continue to support price growth in the commodity. 
More from Gold-Eagle.com: