Expert Investor Believes Silver Price Could Climb To $1,000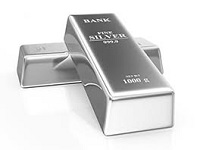 Lately, I've been watching silver incredibly closely. So naturally, I read several expert opinions on the precious metal each and every day. Today, I came across a very interesting one. The opinion comes from Keith Neumeyer, the founder, president and CEO of First Majestic Silver Corp. In a recent interview, Neumeyer said that he could see silver reaching $1,000 per ounce (in the event gold rose to $10,000/oz). Today, we'll talk about why this expert sees the silver price  climbing so high, whether or not it is realistic, and what I think we'll see from the precious metal moving forward.
Why Neumeyer Believes Silver Can Climb So High
The opinion Neumeyer has with regard to silver is two-fold. Here's how he puts it...
Production And Price
One big fact that Neumeyer continues to point out is the difference in production and price between gold and silver. At the moment, silver production is about 9 times that of gold. So, he believes that silver should currently be trading at about 1/9 the price of gold, which would work out to be $130 or $140 per ounce. However, no one puts it better than he does, here's what he had to say...
"Right now, for one ounce of gold, we are only mining nine ounces of silver. So that would suggest we should be trading at nine to one, which will put gold at $1,200 and silver at $130, $140. If you look at what we are mining today, that's where silver should be trading at. We are trading at 73 or 75 to one, and I just don't think that ratio can last..."
Gold Is Expected To Climb
Neumeyer also explained that he's expecting to see exponential growth in the value of gold. This growth is expected to be caused as the result of a major financial reset around the world, considering that global debt, at current rates, will never be paid off. Here's what he had to say with regard to the global reset and how it could push silver to $1,000 per ounce...
"I'm a big bull on gold, I think we're going to see a major reset of the world... In some of the upper circles, I think it's pretty well understood that the debt in the world is never going to be paid off. We have to have some kind of a major reset that's likely going to include gold... I've been quoted many times saying I expect to see triple digit silver, and that's assuming gold doesn't move. If gold goes to $10,000, then silver will be some ridiculous number... could even be $1,000 silver."
See video interview with Keith Neumeyer:  https://www.youtube.com/watch?v=RYFlkRWxVOQ
Is This Realistic?
When we see $1,000 per ounce silver price projections, it's definitely shocking. However, is this realistic? In my opinion, the answer is no. I do understand that we are going to have to see a major shift globally when it comes to monetary values and financial systems. I also do believe that this shift will send both gold and silver climbing. However, at the end of the day, $140 per ounce silver would be stretching it, considering that it would be about 3 times the highest high the metal has ever seen. $1,000 per ounce is way out of the ball park!
What I'm Expecting To See Moving Forward
I've said it time and time again, the value of silver is likely to continue climbing through the year 2016 and likely 2017. With global economic conditions and market conditions uncertain, safe-haven investors are flocking toward the precious metal. While I don't see $1,000 per ounce silver coming to fruition, I wouldn't be surprised to see the commodity trading around $40 per ounce over the next year.
********
More from Gold-Eagle.com: