Forecast By Golden Trend Lines 2019 - 2021

The Golden Trend Lines
The recent US immigration issue and the tariff war with Mexico seemed to have been solved.  In addition the Federal Reserve intends to cut interest rates if the global economy deteriorates further.  These have caused confusion in the future direction of gold price and the stock markets.
We stand by our recent analyses published here.  In this article we will use the golden trend line approach to reinforce our earlier results on gold price and the broader S&P 500 index.
Impressive Aden Forecast in 2014
There were many fine articles published on gold-eagle.com website.  One of the most impressive gold price forecast was done the Aden sisters.  They predicted that a cycle low for gold price in 2015 and a high in 2019.  The forecast was based on their keen observation that gold price went through phases of ups and downs.  The following chart showed the highs and lows.  We have added the blue trend lines.
Chart 1 – The Aden Forecast of Gold Price in 2014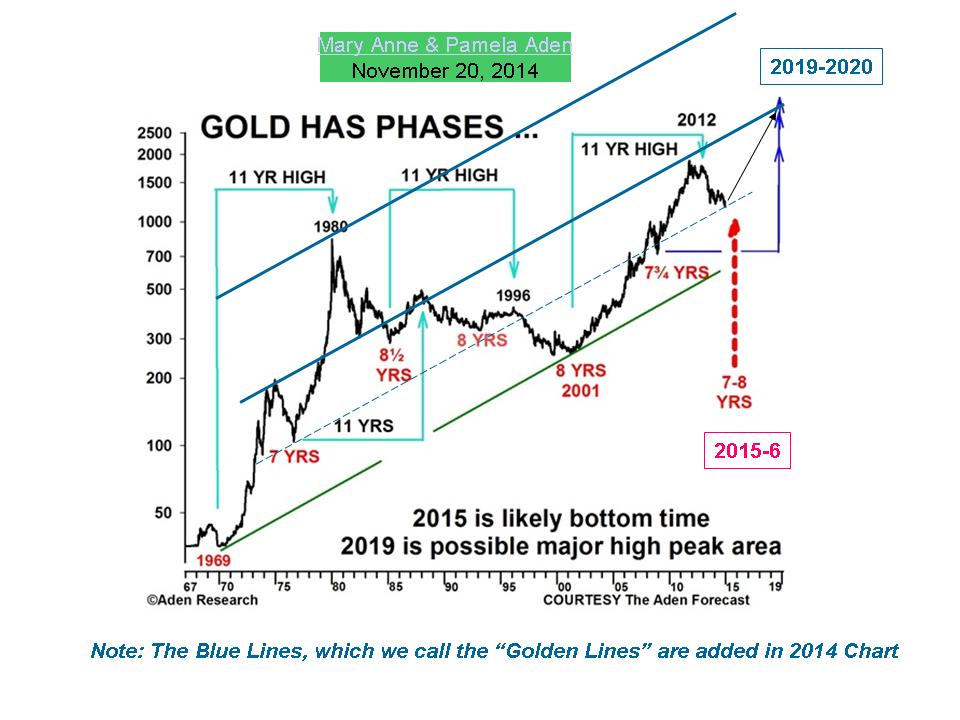 Note the above long term chart is plotted in logarithmic scale in price and covers the time period 1967 to 2019.
Application of Forecasts by Golden Trend Lines
Chart 2 – Applying Trend Line Forecast to Gold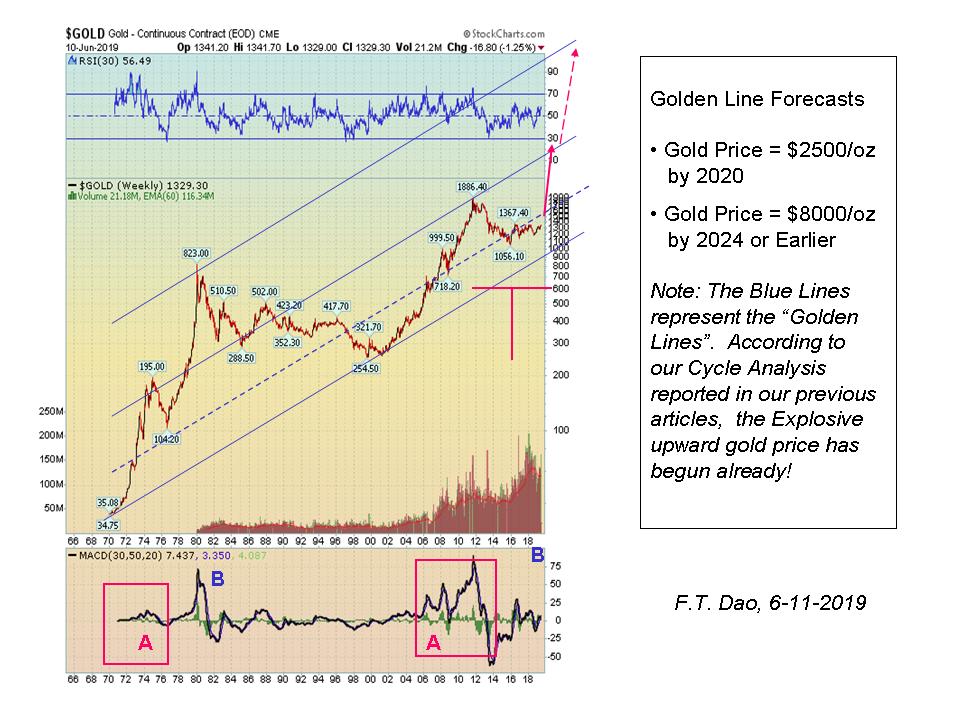 The above chart clearly showed that the gold rise has started and cannot be stopped. Fundamentally the rush to purchasing of gold bullions by the many world wide central banks confirms our premise.
Chart 3 – Applying Trend Line Forecast to S&P 500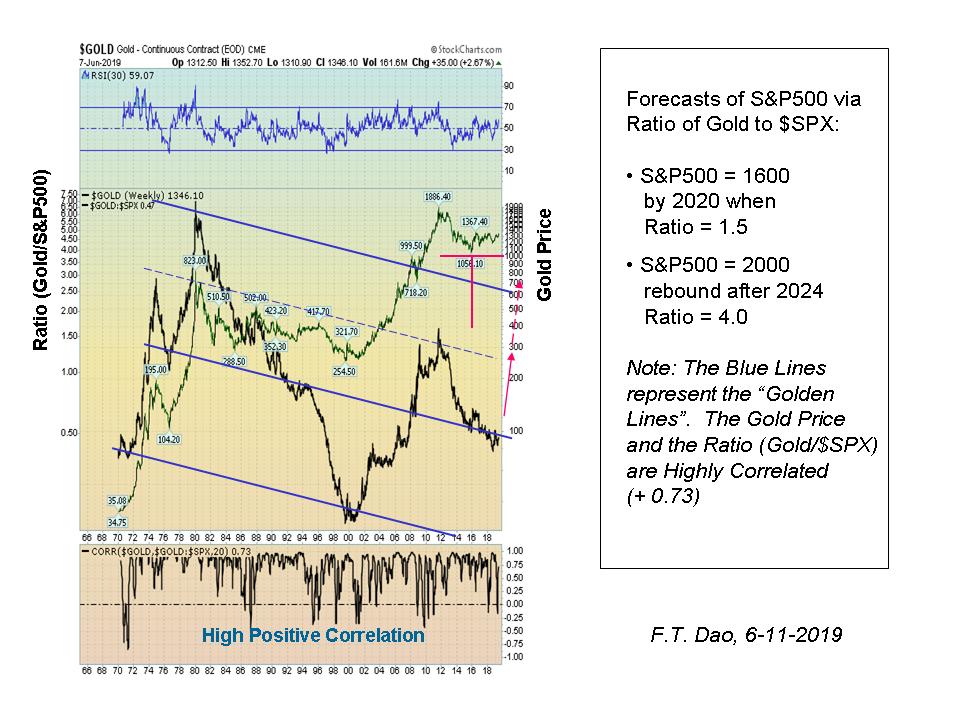 The S&P 500 will likely to drop to 1600 from its current value of 2880 in 2020.  It will then rise to about 2000 in 2024.  This is not adjusted by inflation which is expected to take place by then.
Interesting Historical Chart of Ratios
Chart 4 – The Rise and Falls of Gold and Stock Markets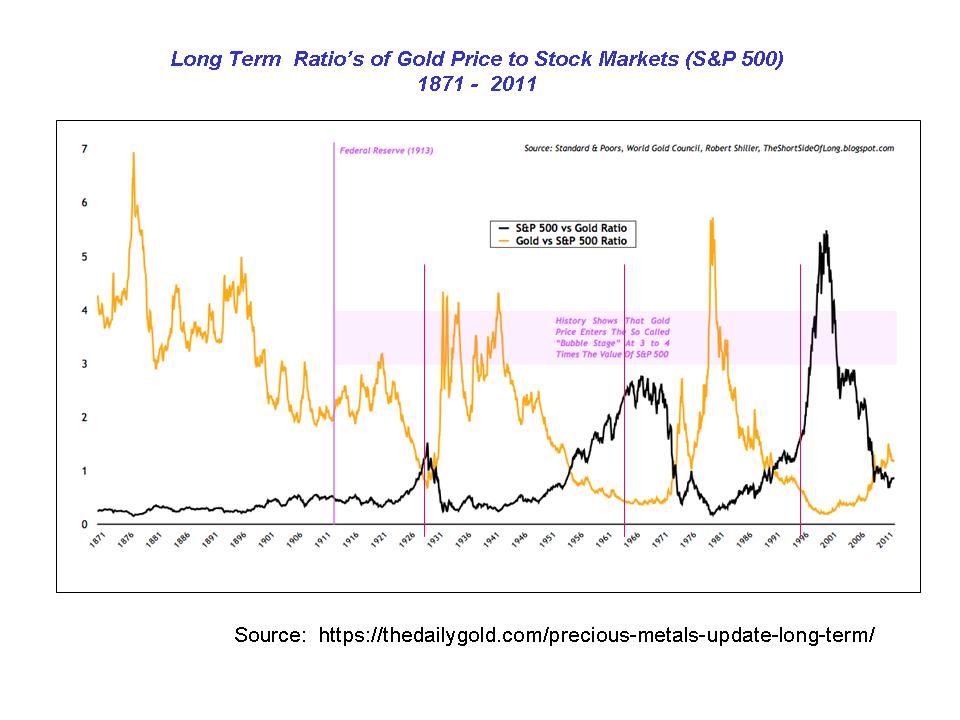 The gold price and the stock market index take their turns in rise and fall.  The data cover a very long time frame 1871 to 2011.
Summary
The trend line analyses confirmed that the rise of gold price cannot be stopped.  Neither will the fall of the stock market.  There may only be minor deviations from the big picture.
We are not certified or qualified financial advisors.  Please consult your certified financial advisors for trading and investing.
There is a time for everything, and a season for every activity under the heavens"
Ecclesiastes 3:1
********
Gold-Eagle provides regular commentary and analysis of gold, precious metals and the economy. Be the first to be informed by signing up for our free email newsletter.
More from Gold-Eagle.com: