Forecasting The Price Of Gold Before The Big Federal Reserve Meeting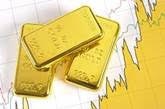 It won't be long before the next Federal Reserve meeting takes place and collectively decides whether or not to raise rates on our current economy. Those forecasting the price of gold don't only see this meeting, slated to take place in December, as a way to determine where gold prices will be in the short-term, but where the economy will end up.
But what about between then and now? Will gold's recent dip hold up, or is there a buying opportunity before this big Federal Reserve meeting? Let's gauge the winds and see where they point.
Gold Showing Resilience to Strong Dollar
EconomicCalendar.com noted earlier today that the strong dollar hasn't necessarily sent the price of gold plummeting. That's an encouraging sign for anyone who believes that gold's prospects remain strong, even in the face of a potential December Fed rate hike.
Tim Clayton of Economic Calendar also pointed out that the recent economic data releases haven't had a "major impact." With local Fed heads in Cleveland and Philadelphia calling for rate hikes, it appears that gold may have enough resilience to even withstand the news of another rate hike.
Although the recent strength of the US dollar puts obvious downward pressure on gold, the shiny yellow seems to have hit a staying point at $1,220. Early returns this morning show little movement across different markets, with the Dow and S&P indices still only in single digit movements. Gold has followed suit with a modest $5 increase as of this writing.
Dollar Makes Room for Gold On Thursday
Yesterday's gold prices were low, leading us to ask if there is a dip-buying opportunity in this precious metal. Now it appears that the dollar, coming off of recent highs, may make some room for gold. FoxBusiness.com notes "A slightly weaker dollar gave a lift to gold Thursday." This lift hasn't been entirely significant, but it appears enough to buoy the yellow metal at least for the present moment.
Those who are pessimistic about gold may see reasons here to avoid the precious metal, especially before a potential rate hike. But even those who don't consider themselves gold bugs may want to exercise caution before considering a massive sell-off. As Fox noted, analysts at Commerzbank see gold "holding its own" for the moment.
But what does this mean for the price of gold to come?
Will Gold Move Significantly Before The Next Fed Meeting?
While it's impossible to predict the future, even in the short term, gold currently looks strong enough to have some resilience against even such downward signals as a strong US dollar. With this in mind, there's cause for cautious optimism before the next Fed meeting.
There are plenty of anti-gold advocates pointing out that gold may not see any particular boost to its prospects in the news until December, which is likely true. Although many people who use gold as a hedge investment like to avoid dwindling returns in the bond market, it's unlikely that we'll see any major changes in such markets before the Fed meeting.
(Editor's Note:  Spot closed the day down $4 at $1,223)
More from Gold-Eagle.com: