Gold Is Expected To Climb Further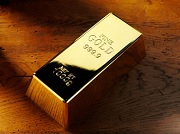 Gold had an incredible start to the new year. However, as the market started to recover, we've seen less than positive movement in the price of the precious metal. Nonetheless, many, including myself, believe that the value of the precious metal is going to climb moving forward. Today, one of the world's largest advisors with regard to sovereign wealth funds and institutions, Michael Belkin warned that gold's price is likely to surge far higher than most can imagine. Today, we'll talk about what he had to say and why I believe that gold is headed upward. So, let's get right to it...
What Michael Belkin Had To Say
As mentioned above, Michael Belkin recently made a statement that he believes the value of gold is likely to climb. He explained that with large commercial short interest in the precious metals market. In his statement, Belkin had the following to say...
"Gold stocks are probably only in the first inning of an extended move higher. This is just the first stage of a bull market that should carry gold and gold stocks far higher than most people can imagine."
He explained that currently, commercial sentiment is edging downward. In fact, he explained that market sentiment is nearing where it was during the 2008 and 2009 financial crisis. As a result, we're likely to see further declines in the market, lending a hand to safe haven investments and sending gold upward.
Taking This One Step Further
As mentioned above, Belkin explained that market sentiment is incredibly low, and that will push values down. This will send people to safe havens. However, the world of safe haven investing is changing. In the past, safe havens included bonds, the Swiss Franc, and of course, precious metals. However, precious metals seem to be the only safe haven worthwhile at the moment. The reality is that with the low interest rate from the Federal Reserve, bonds are just about out of the question when it comes to a safe way to make your money grow. Also, recent developments in the currency market make the CHF less desirable. As a result, precious metals are where investors are likely to look when it comes to keeping their funds safe.
Other Factors That Are Likely To Drag The Market Down And Send Gold Upward
While market sentiment is a key sign that gold is going to climb, it's not the only one. Another way that gold is used as a safe haven is essentially a bet against standard currencies. Essentially, when consumers are concerned with regard to their national currency's ability to climb, they look to precious metals as somewhat of a savings account. We're seeing a lot of this activity in Europe, Japan, and several other countries that are facing economic hardships.
Another thing to add here is the fact that geopolitical risks generally lead to gains in gold, and at the moment, the geopolitical scene is incredibly uncertain. Recently, ISIS carried out several severe terrorist attacks. This is likely to lead to further government action, which will also support price growth in gold. 
More from Gold-Eagle.com: