Gold Is Finding Support In Unlikely Places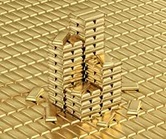 There will always be a core support of gold in the market. These investors, known as "Gold Bugs," believe that gold is a permanent store of money and is, therefore, a safe haven from complicated and expansionist monetary policy. If your bank is offering low or even negative interest rates, then gold becomes a place to store your wealth with the chance to increase in value.
It's no surprise, then, that recent banking policies have seen gold increase its support among investors, even those well beyond the "gold bug" label. Here are two places where gold has found new support:
Dennis Gartman Comes out in Favor of the Current Gold Market
You don't have to be a "gold bug" to see that the world's monetary policies are creating a favorable environment for gold in 2016. And with a favorable environment, investors slowly start to come around. That was true recently when Dennis Gartman went on the record and came out in favor of gold—despite his history of not believing the "gold bugs."
"I'm not a gold bug," said Gartman, of the Gartman Letter, in a recent broadcast on Futures Now. "I don't like the gold bugs. I'm not a believer that the world's coming to an end. But I'm a believer in the gold market at this point, have been quite bullish in gold and funded not just in dollar terms but funded in yen terms and funded in Euro terms." The problem, according to Gartman: expansionist monetary policy.
One place that expansionist monetary policy is hitting hardest: Japan has been employing a policy of negative interest rates, which theoretically should lead to greater gold demand as investors look for a way out of cash and into a more secure form of money.
Japan: Negative Interest Rates Influencing Gold Demand
We had confirmation of that theory this week when Bloomberg noted that a large Japanese bullion retailer has seen an increase in gold demand.
"Many customers are wagering that it's better to turn their savings to gold as a safe asset rather than deposit money at banks that offer low-interest rates," said Takahiro Ito, a manager of a store in Tokyo's shopping district Ginza. When measured in yen, the price of gold has recently seen prices it hasn't seen since mid-2015, and Ito noted that some customers are still buying gold even when the price eclipses 5,000 yen per gram, or about $44.
The idea behind negative interest rates is to encourage lending, which will then prop up equities…but one downside of this policy is that it becomes expensive to keep money in savings. This means that people who do have a lot of savings are forced to find safe havens for their money unless they want to lose a portion of their wealth. You don't have to be a gold bug to see that there is an advantage to holding gold in this sort of economic climate, which is why unlikely supporters have come out of the woodwork to buy into gold.
More from Gold-Eagle.com: