Gold Forecast: Are Gold Prices About To Breakout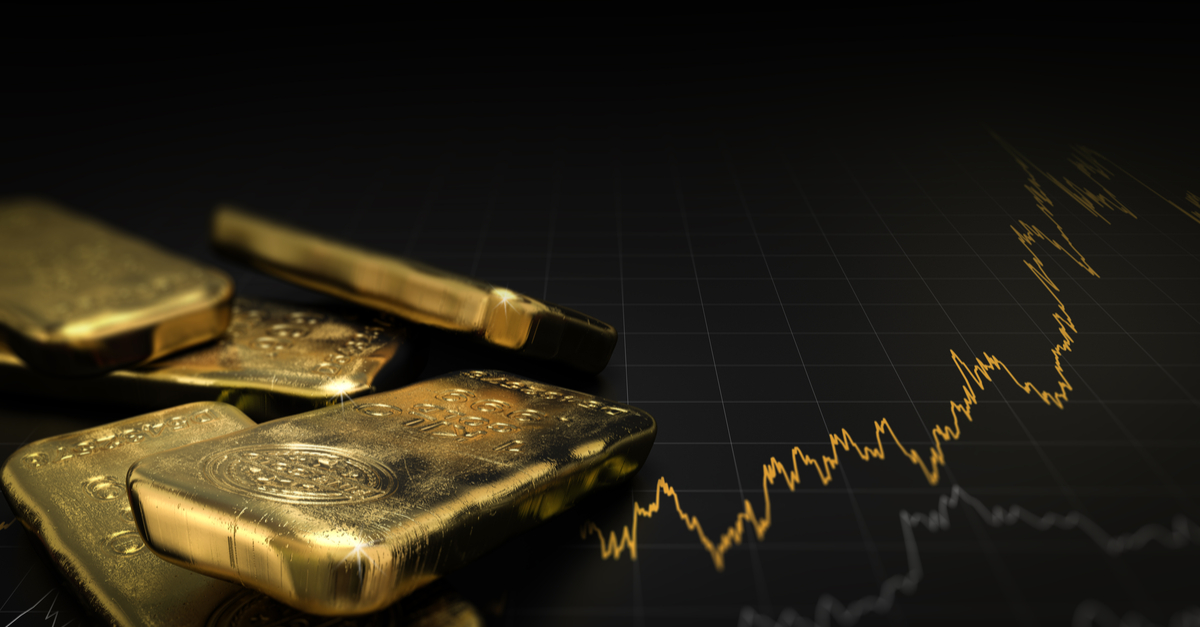 In our February 4th missive, "Cycle Low Next Week And The 2018 Breakout" we shared our expectations for a reversal in metals and miners between February 5th - 9th. Gold bottomed February 8th, silver and miners reversed a day later.
The structure in gold is sound. In fact, prices may be nearing a breakout. The correction into the recent low was relatively mild. Gold declined just 4% and bottomed within our ideal target box.
Miners, on the other hand, fell precipitously and traveled well-beyond our targets. The decline was intense and turned investors suddenly bearish. Interestingly, we saw a similar shakeout in gold stocks just before 2016's explosive rally. Will the narrative repeat? Below is a snippet from our Tuesday report detailing the relationship.
HUI Ming Index
The extreme decline in miners was not caused by poor fundamentals or declining gold prices. It was merely the byproduct of a crashing stock market. Gold is just $50.00 away from a meaningful breakout, but gold stocks remain at the lower end of a 12-month trading range. The divergence between metals and miners is glaring, but this doesn't guarantee a rally. However, at some point, investors will realize the mispricing and rotate aggressively into gold stocks.
We saw a similar situation in early 2016. The stock market declined sharply and dragged miners to new lows. Gold diverged holding above the previous low. Consequently, the decline in miners was unconfined. When the stock market stabilized miners rallied aggressively. Will this happen again? I'm not sure, but it's something we need to consider.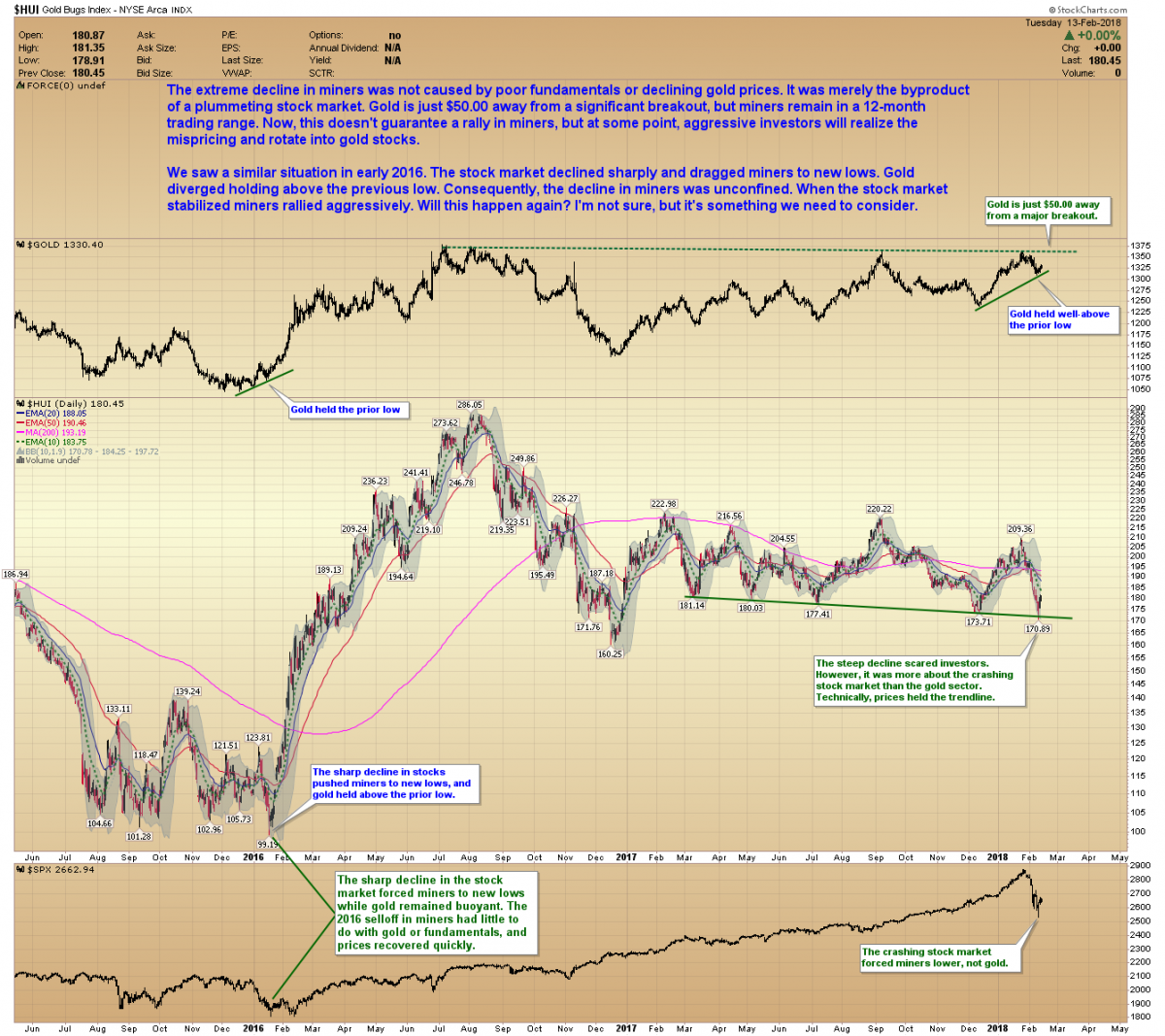 The HUI:Gold Ratio
Another chart supporting a recovery in miners is the HUI to GOLD ratio. It depicts the strength of gold stocks versus bullion. Below is a piece from our weekend newsletter.
There is a divergence between miners and gold similar to what occurred in 2016. Miners broke sharply lower while gold remained strong and above the previous low. Progressive closes back above the 0.140 breakdown level would generate a buy signal and potentially lead to an explosive rally.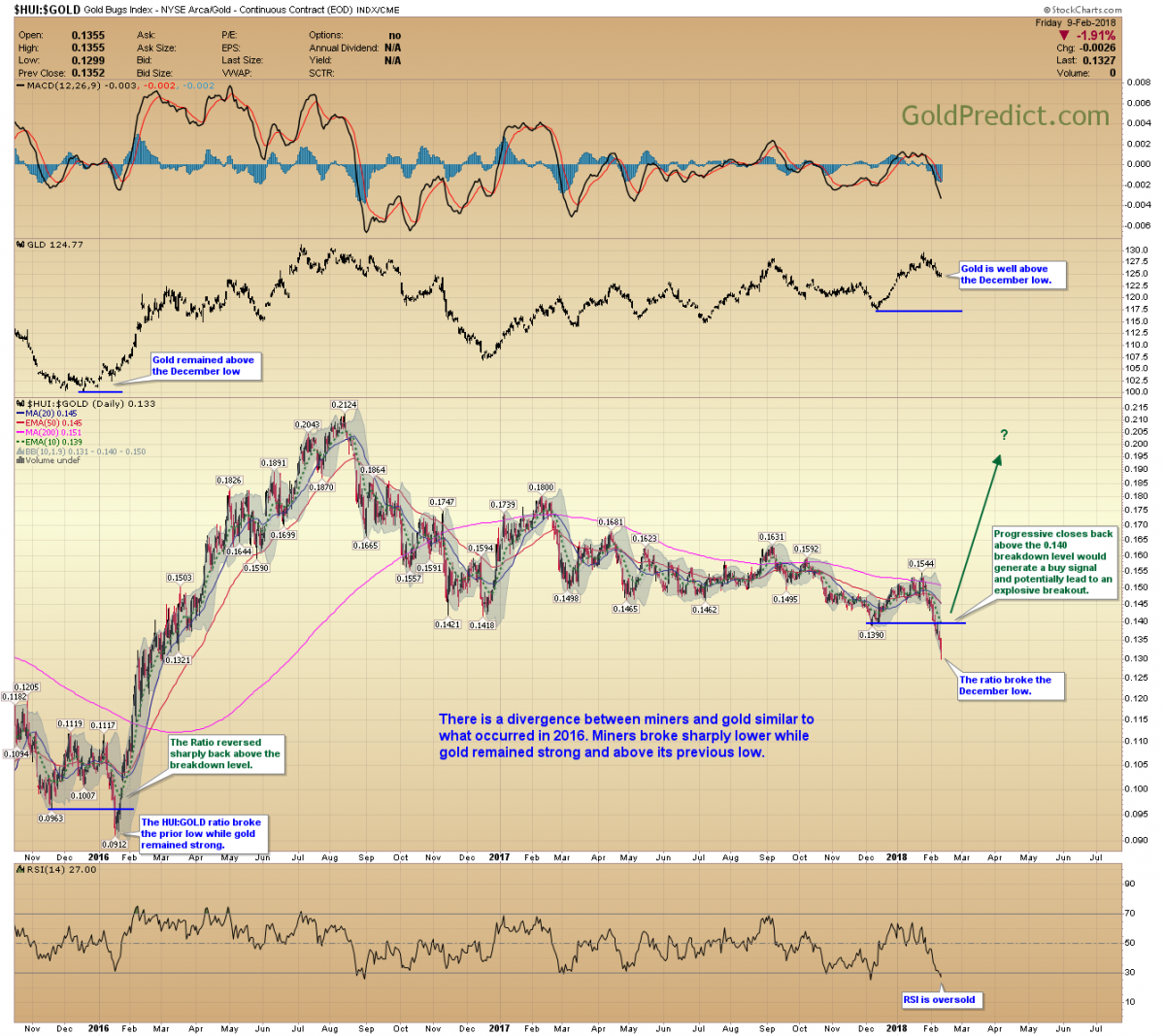 The HUI:Gold Ratio Now
The ratio reversed sharply and closed back above the December low. Additional strength and closing above the spike high (0.1406) could signal a powerful reversal in miners.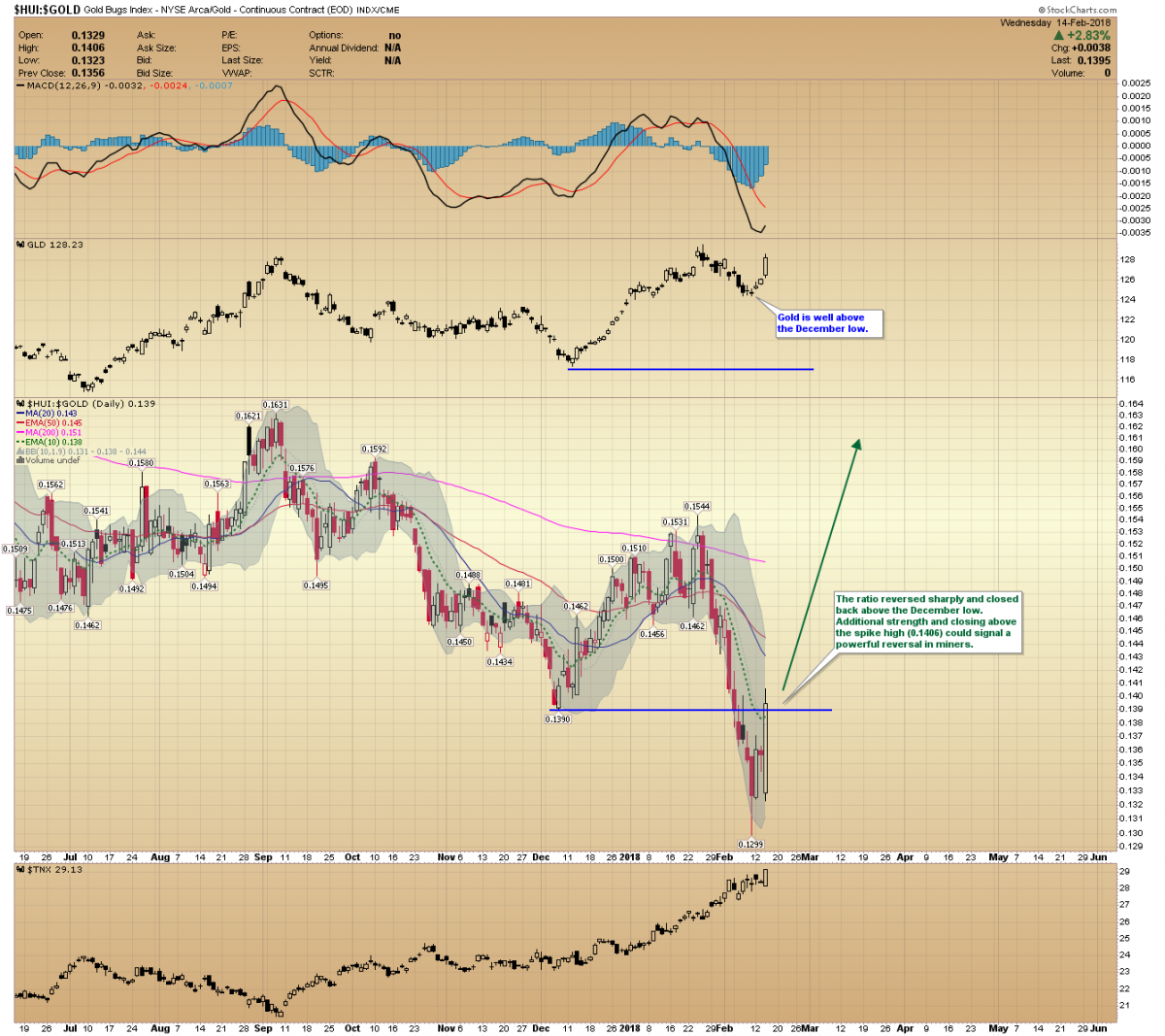 Updated Cycle Count
The XAU cycle has marked turning points every 20-24 trading days. The turns arrive between the 4th and 10th of each month. The cycle bottomed February 9th on the 22nd trading day.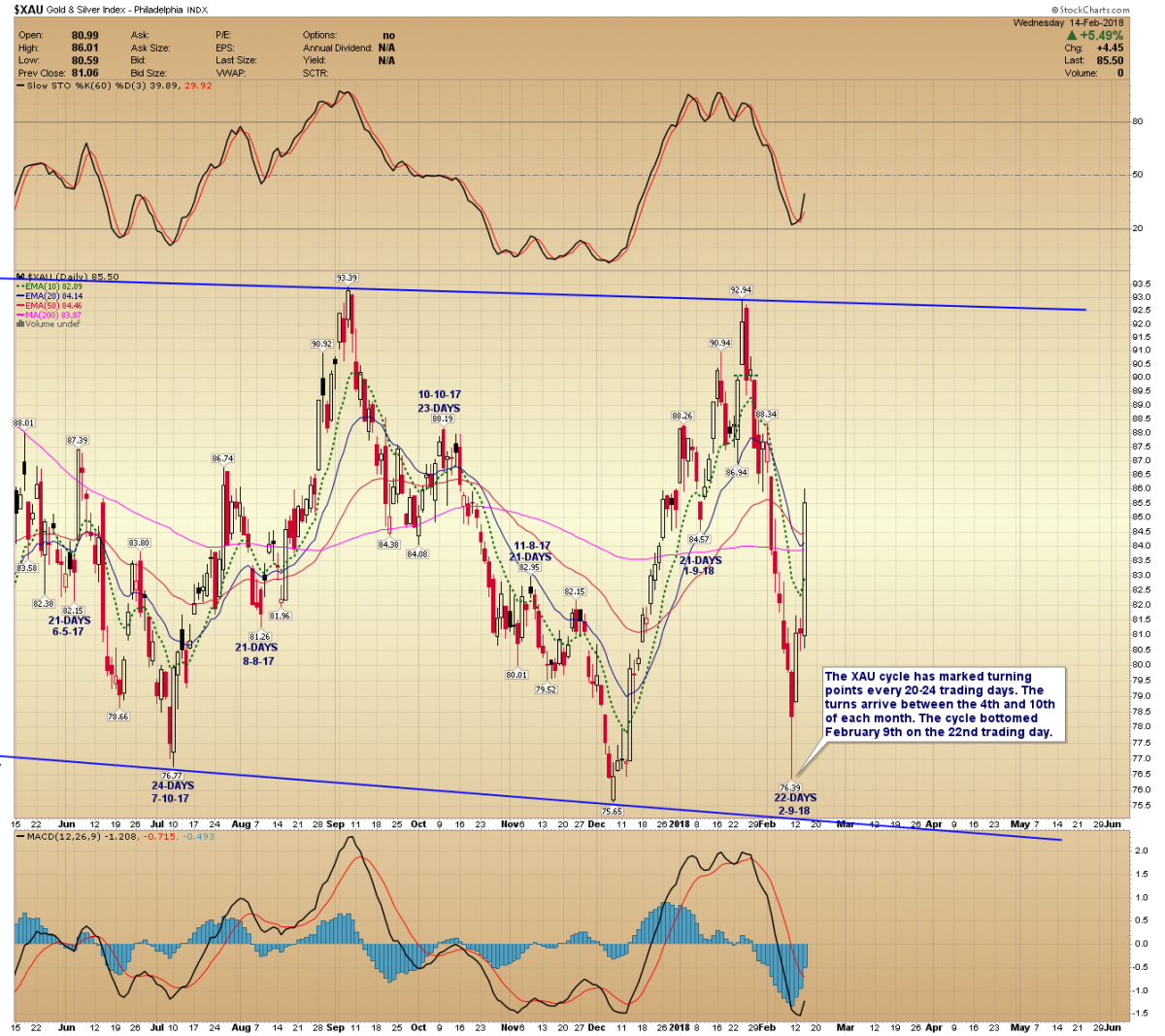 The GDX Mining ETF
Miners formed a high-volume recognition day, and a convincing uptrend may emerge. An upside recognition day is a 3%+ rally on heavy volume (December 13th) typically arriving a few days after a low. It's the point where short covering and eager investors unite and create synergistic buy side demand.
To confirm the recognition day, GDX needs to close above $23.15 (Wednesdays high). However, to establish a breakout, prices need to overcome two significant hurdles.
1) Prices must close progressively above the $23.45 gap.
2) Prices must rally convincingly through the resistance zone and above $26.00.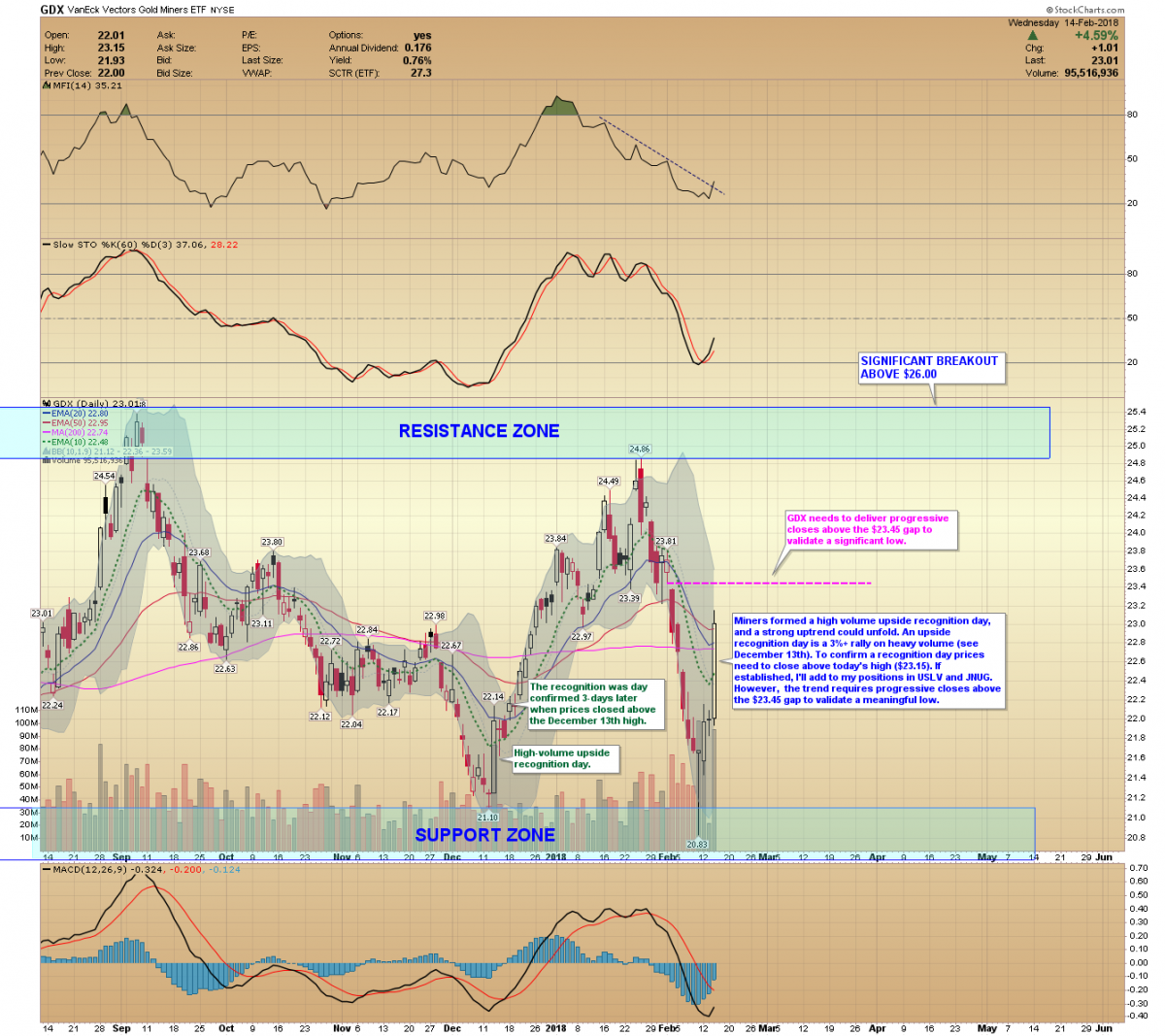 Gold And The 4-Year Base
Prices have tested the green trendline several times. Gold's daily cycle bottomed last week, and we could see another breakout attempt in the coming days/weeks. A firm rally above the green trendline will confirm a breakout of the 4-year base, investors will notice. Miners and silver would likely begin to play catchup.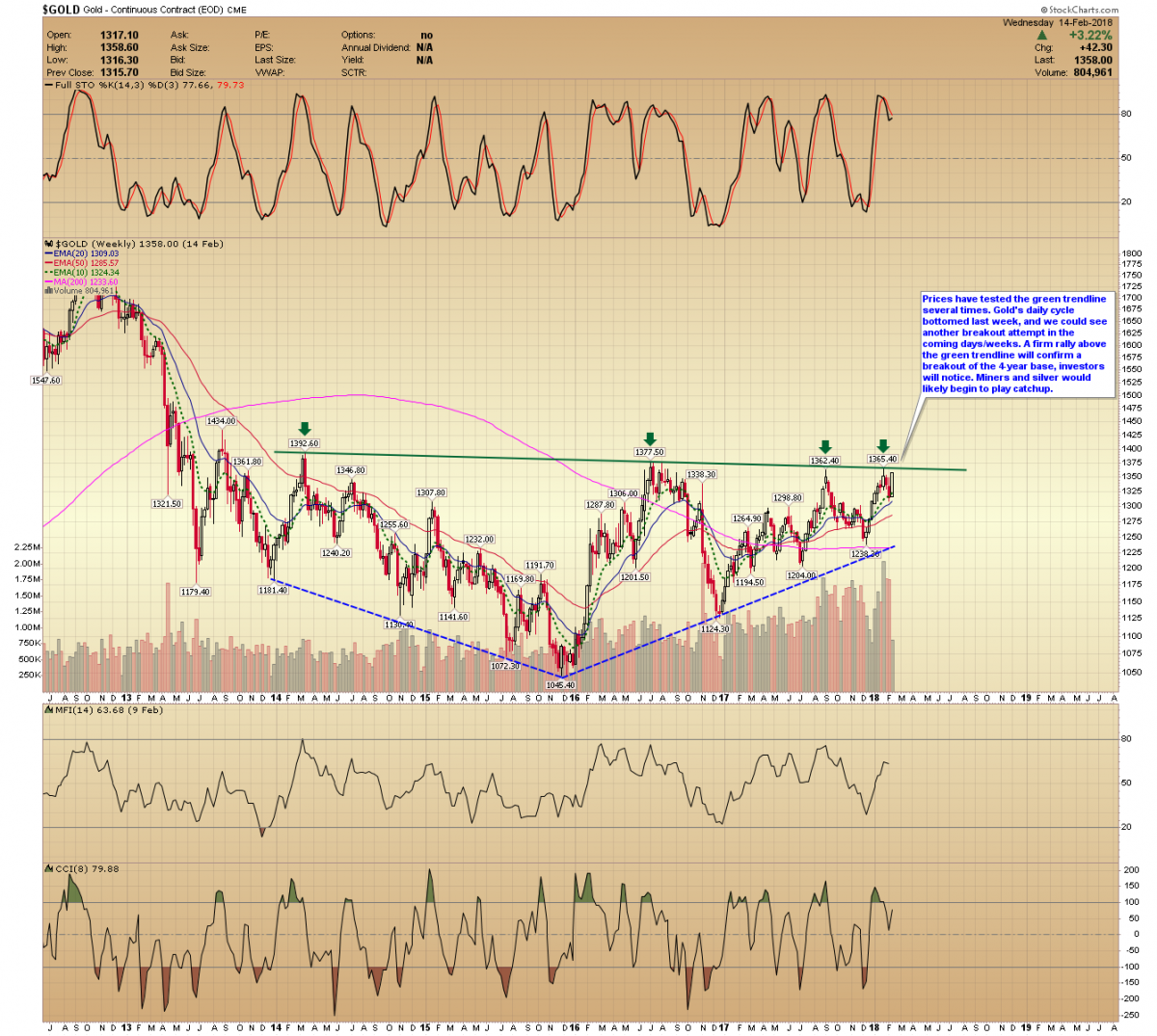 In conclusion, the nose-dive in miners was terrifying, but gold did not confirm it. Savvy investors may be using this opportunity to rotate out of high flying tech stocks and into undervalued commodities. Inflation expectations are climbing, and the consolidation phase in silver and miners may be over. Gold is on track for a significant breakout in 2018, perhaps sooner than most expect.
********  
Gold-Eagle provides regular commentary and analysis of gold, precious metals and the economy. Be the first to be informed by signing up for our free email newsletter.
More from Gold-Eagle.com: