Gold Forecast: This Chart Proves Gold Prices Are Heading Higher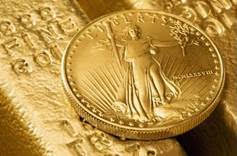 Last week's trading saw gold prices forming its low later in the week, here doing so with the Thursday tag of 1279.20 (August, 2019 contract). From there, a slingshot higher was seen into Friday's session, with the metal running all the way up to a peak of 1311.90 - also ending both the day and the week at or near the same.
Gold's Mid-Term Outlook
From the comments made in my past articles, the mid-term cycles for gold were seen as topping back in February, with that peak - and correction phase - later confirmed to be in force. In terms of price, the minimum expected correction called for a drop back to the 154-day moving average for gold, with that key average finally being met back in the month of April.
Having said the above, in terms of time, the overall assumption from this 154-day cycle was that additional weakness would be seen into the mid-May timeframe, plus or minus, where the next mid-term bottom was expected to form. Here again is our 154-day cycle chart, updated to the current market action:
With the action seen into late last week, gold's 154-day cycle is now confirmed to have bottomed out at the 1272.70 figure (August, 2019 contract) back in early-May, with a secondary low registered on May 21st with the tag of the 1274.40 level - a classic 'double-bottom'. In terms of patterns, the recent correction phase of this wave was expected to end up as countertrend, holding well above the prior 154-day trough from August, 2018.
Stepping back then, the action seen into late last week ended up confirming our 154-day cycle to have bottomed - and which also triggered us back into the long side of the market. Going further, when forming the pattern of a 'higher-low', the probabilities favor the following upward phase to take out the prior peak for the cycle - which is the February, 2019 top of 1361. With that, our assumption is that this level will be taken out in the coming weeks, with the next mid-term peak not projected to materialize until later this Summer. More on all as we continue to move forward.
Jim Curry

The Gold Wave Trader

http://goldwavetrader.com/

http://cyclewave.homestead.com/
********
Gold-Eagle provides regular commentary and analysis of gold, precious metals and the economy. Be the first to be informed by signing up for our free email newsletter.
More from Gold-Eagle.com: