Gold Forecast: Gold Prices Are Close To A Bottom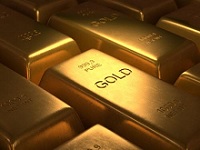 Timing is everything, especially in investing. Cycle analysis, technical indicators, and sentiment all point to an approaching low in gold. Gold prices could drop a little further, but a bottom is likely between now and Wednesday, May 23rd.
Miners are diverging unmistakably from gold. Prices remain well-above their February capitulation lows and propose a change in leadership. If correct, miners will outperform gold significantly in the coming months and break free from the extended consolidation.
Silver prices remain poised for a powerful advance. The breakout has been delayed, but a sharp rally to $25.00+ remains viable by late 2018 to early 2019.
Gold Prices
It's been 108-trading days (22-weeks) since the December low. Gold is rapidly approaching a tradeable bottom (6-Month low). Prices bounced off the 200-day MA and formed a bearish continuation pattern. The price objective for this formation supports a decline to approximately $1,270. I would have preferred to see prices remain above $1300. However, Tuesday's breakdown was probably necessary to achieve sentiment extremes consistent with notable bottoms. Previous failures below the 200-day generated reversals within a few trading days. Accordingly, our outlook prescribes a low between now and next Wednesday.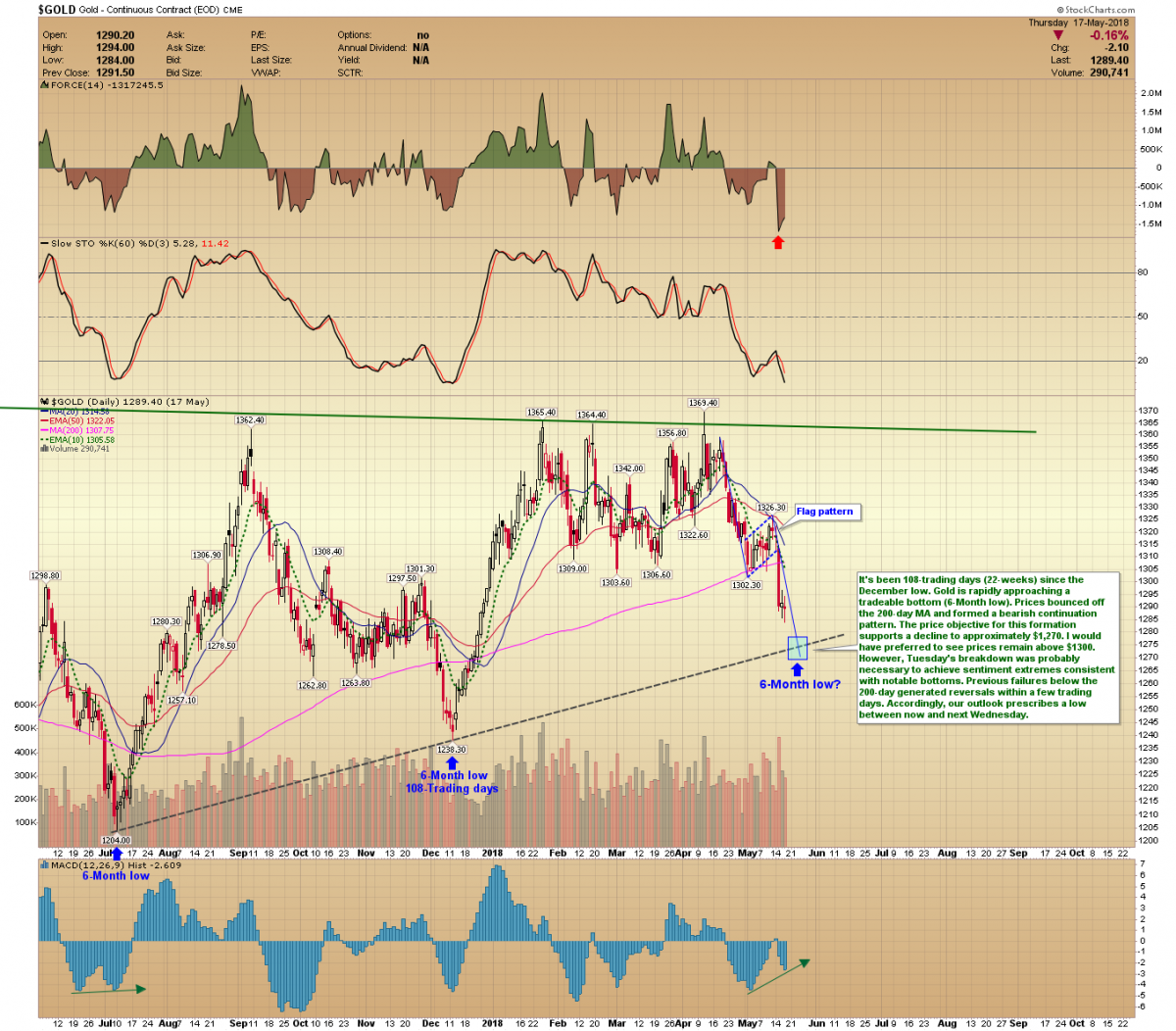 Silver Prices
Silver prices are also working on a 6-month low. Unlike gold, they have maintained their May 1st low. We could see one more dip early next week. Nevertheless, the prolonged consolidation should yield a robust advance when prices break above the blue trendline.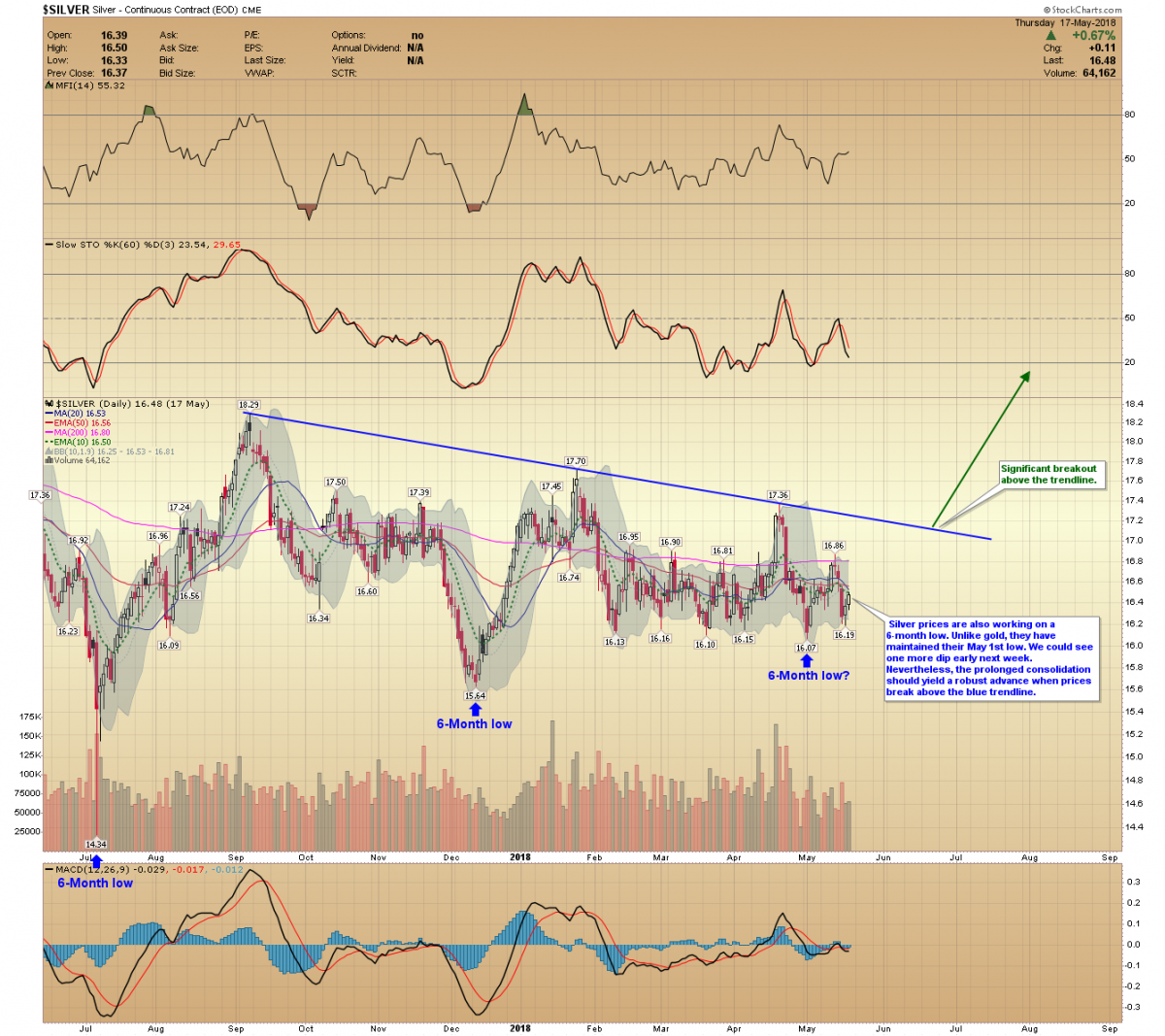 HUI:Gold Ratio
The HUI:GOLD ratio bottomed in March. A high-level consolidation is taking place that should result in a bullish breakout above .1405.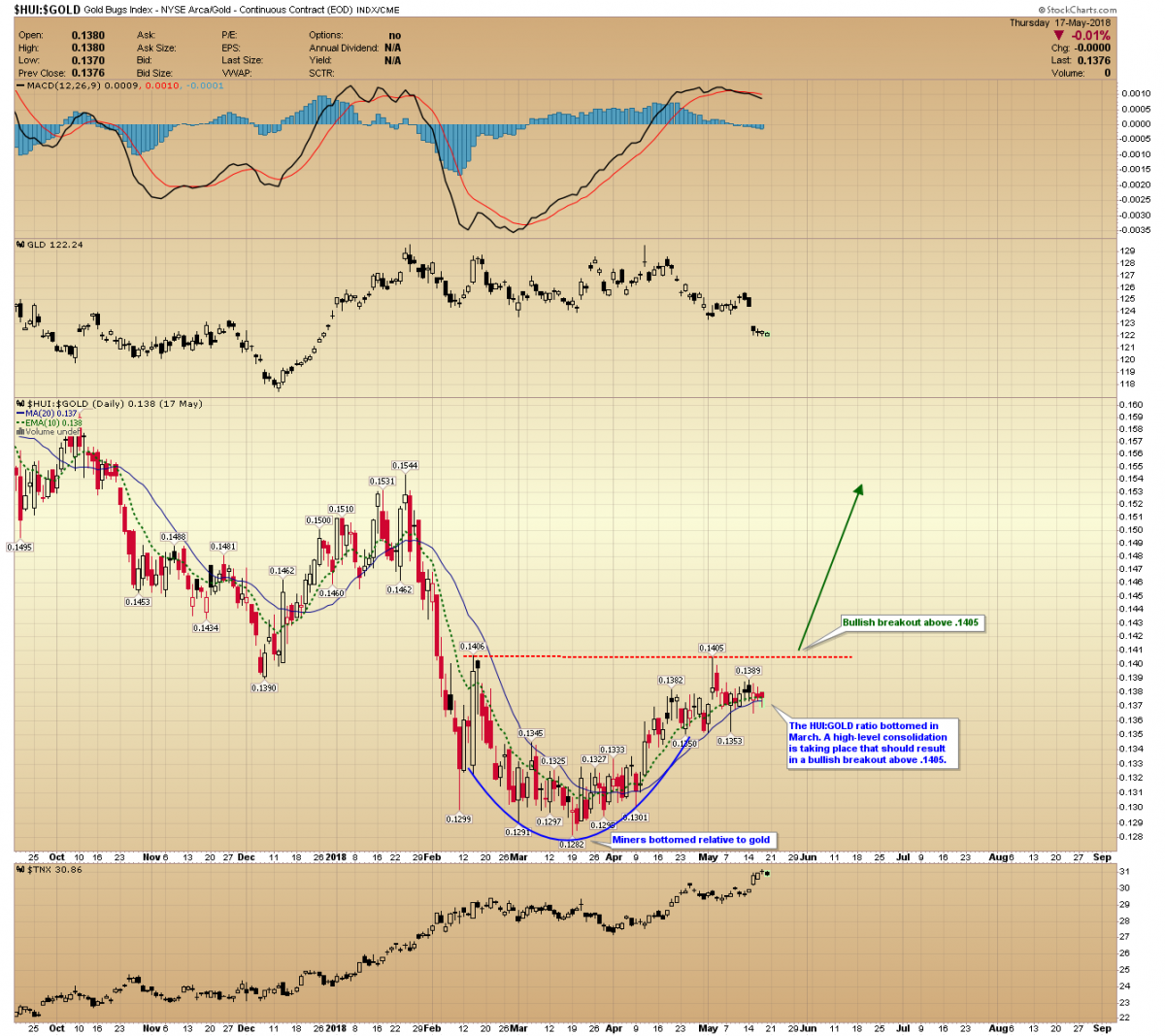 GDX
Miners have been building a base since February's capitulation low. Prices could dip a little further and bottom with gold. Miners should rally sharply once gold forms the 6-month low. Note: Gold fell below the February/March low. Miners remain above those lows diverging positively. The bullish recovery points to a change in leadership and end to the prolonged consolidation in miners.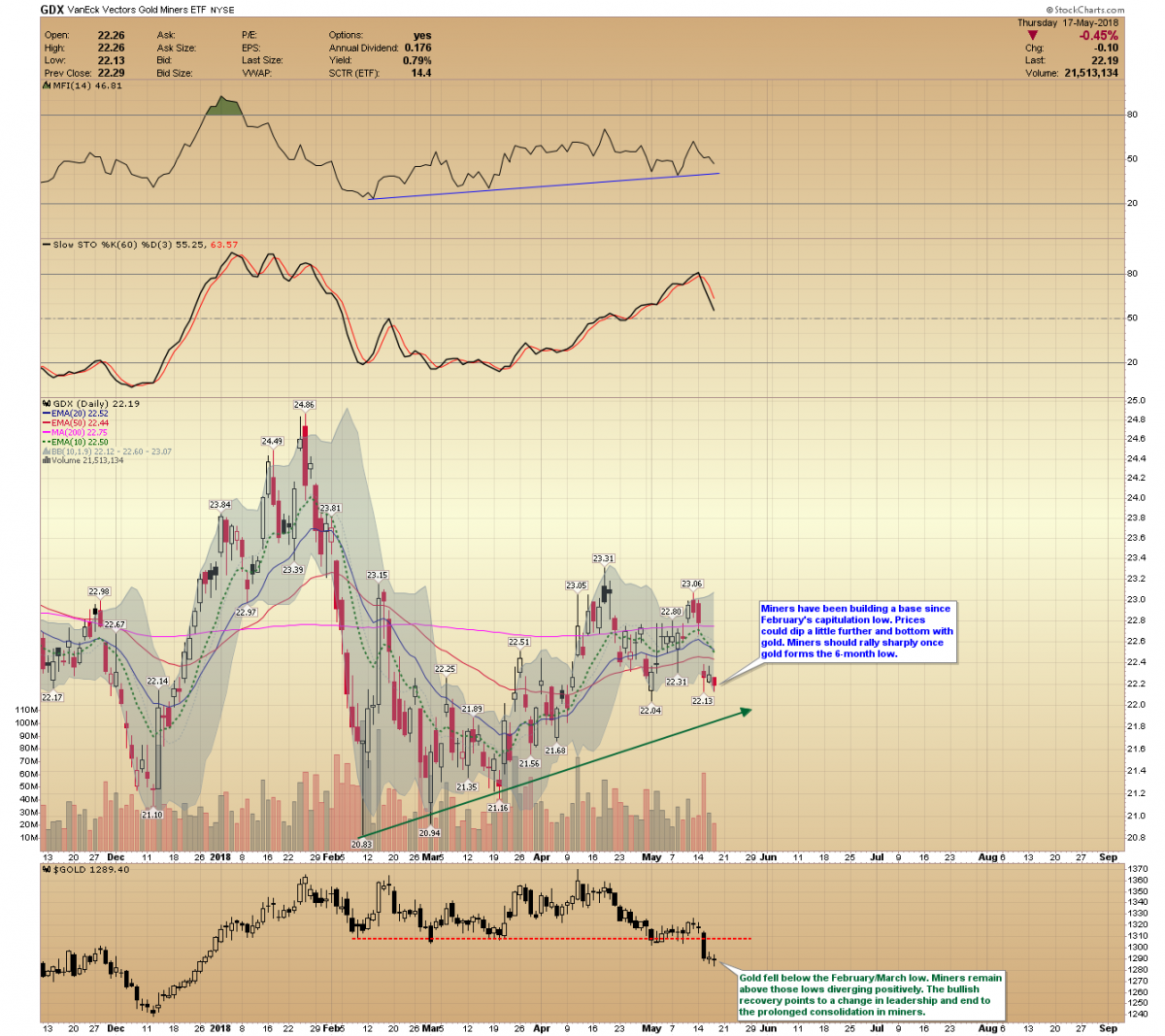 WTIC
Oil has created short-term tops every 39-41 trading days. It's been 38-days since the prior cycle high, and a peak is likely next week. I'll be monitoring for a reversal on or around May 23rd.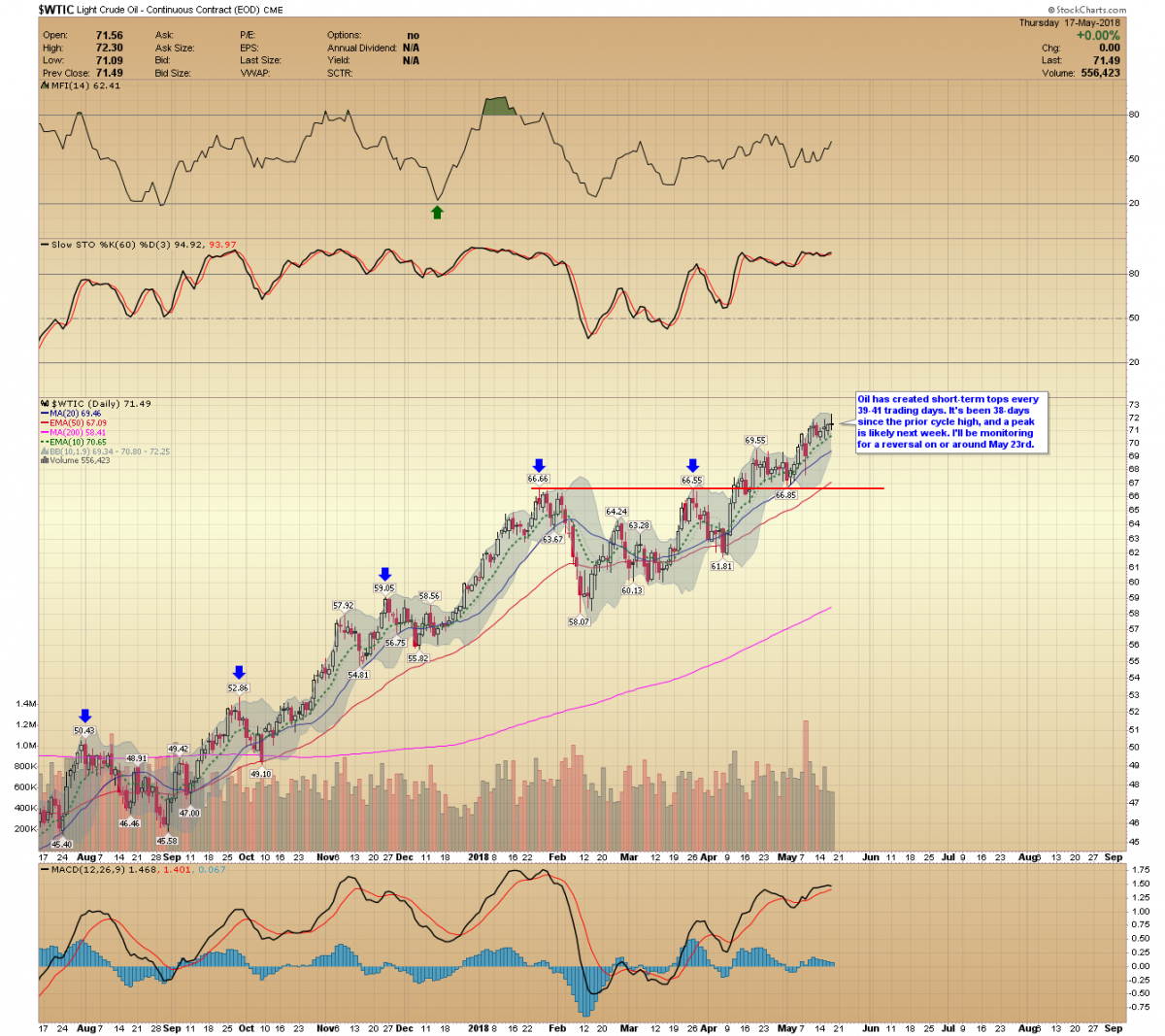 In summary, metals and miners should be approaching meaningful lows. We expect a bottom between now and Wednesday, May 23rd. Silver and Miners should perk up after months of malaise. The gold cycle continues to make higher highs and higher lows; a stealthy uptrend is emerging. The ensuing advance should take gold above $1400 and install a new bull market in 2018.
********  
Gold-Eagle provides regular commentary and analysis of gold, precious metals and the economy. Be the first to be informed by signing up for our free email newsletter.
More from Gold-Eagle.com: