Gold Forecast: Gold Prices Are Near An Important Low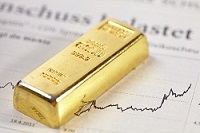 Gold slipped to the 200-day MA ($1,306.20) on Tuesday but quickly found support. Prices now need to break above $1,320 to promote a crucial 6-month low. We alerted members and entered initial positions before Tuesday's close.
Gold prices may have bottomed May 1st at $1,302.30, but that low is unconfirmed. However, subtle clues are building in miners and silver that may result in a sudden break higher. For this to remain a possibility, prices must defend Tuesday's lows.
There is always a period of uncertainty surrounding the 6-month cycle lows. Enter too early, and you risk a whipsaw or drawdown. Enter too late, and you reduce profits and chase prices higher. It's rare to time the low perfectly. Therefore, traders need to develop a strategy suited to their risk tolerance.
It would be incredibly bullish if gold's 6-month cycle bottomed above $1,300. If true, then gold prices should break easily above $1,400 during the next advance and establish a new bull market. Silver and Miners should play catchup and lead gold.
Gold
Gold prices are pinned between the 10 and 200-day MA's. Tuesday's Doji reversal candle supports an upward breakout. Closing above $1320.10 in the coming days will recommend a 6-month low at $1,302.30. Revoking Tuesday's reversal and finishing below $1,306 would indicate one more decline into mid-May.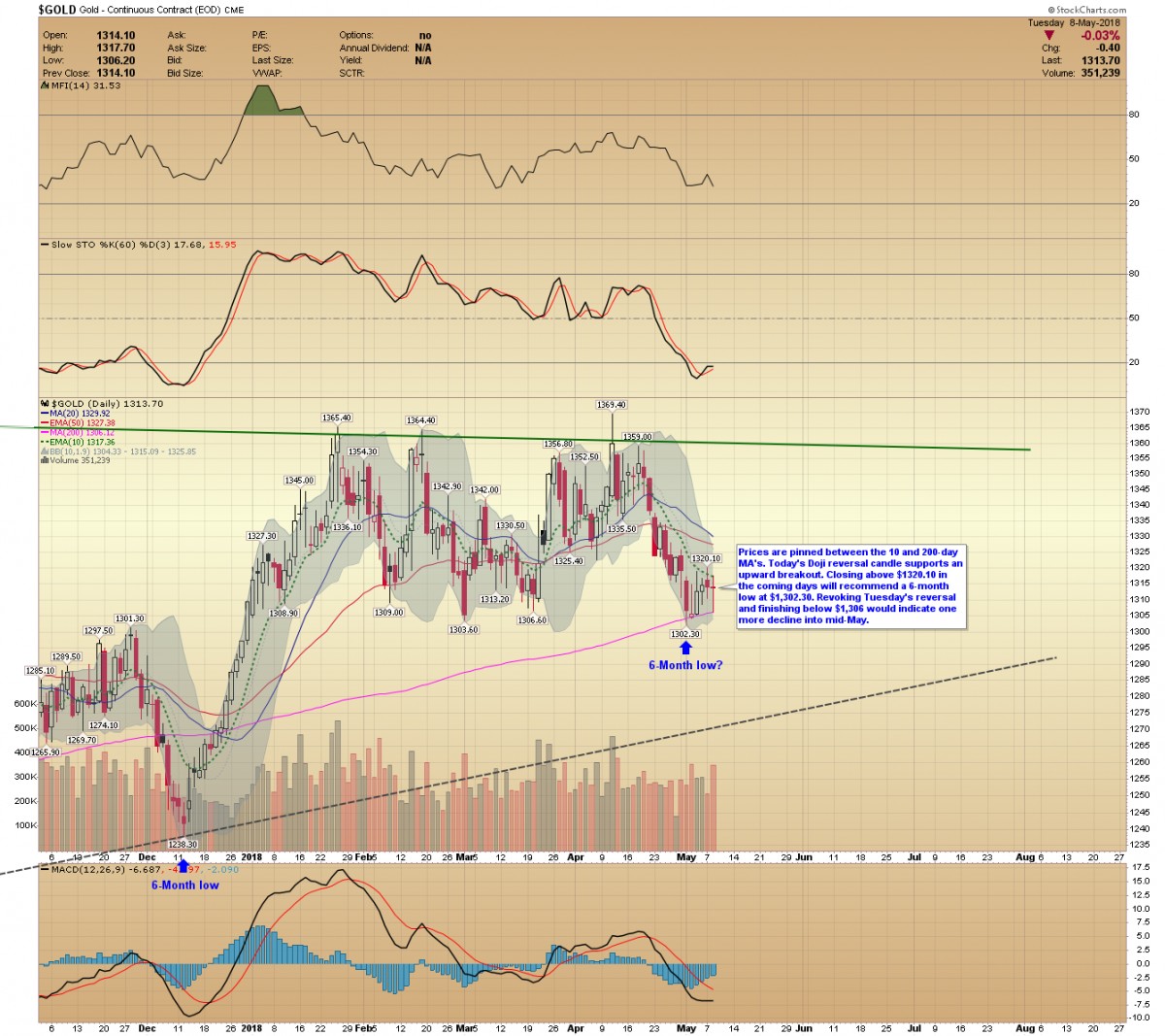 Silver
Silver prices reversed the morning slump. If $16.07 is the 6-month low, we should see a breakout above $16.62 in the coming days. Closing below $16.33 would nullify today's bullish reversal.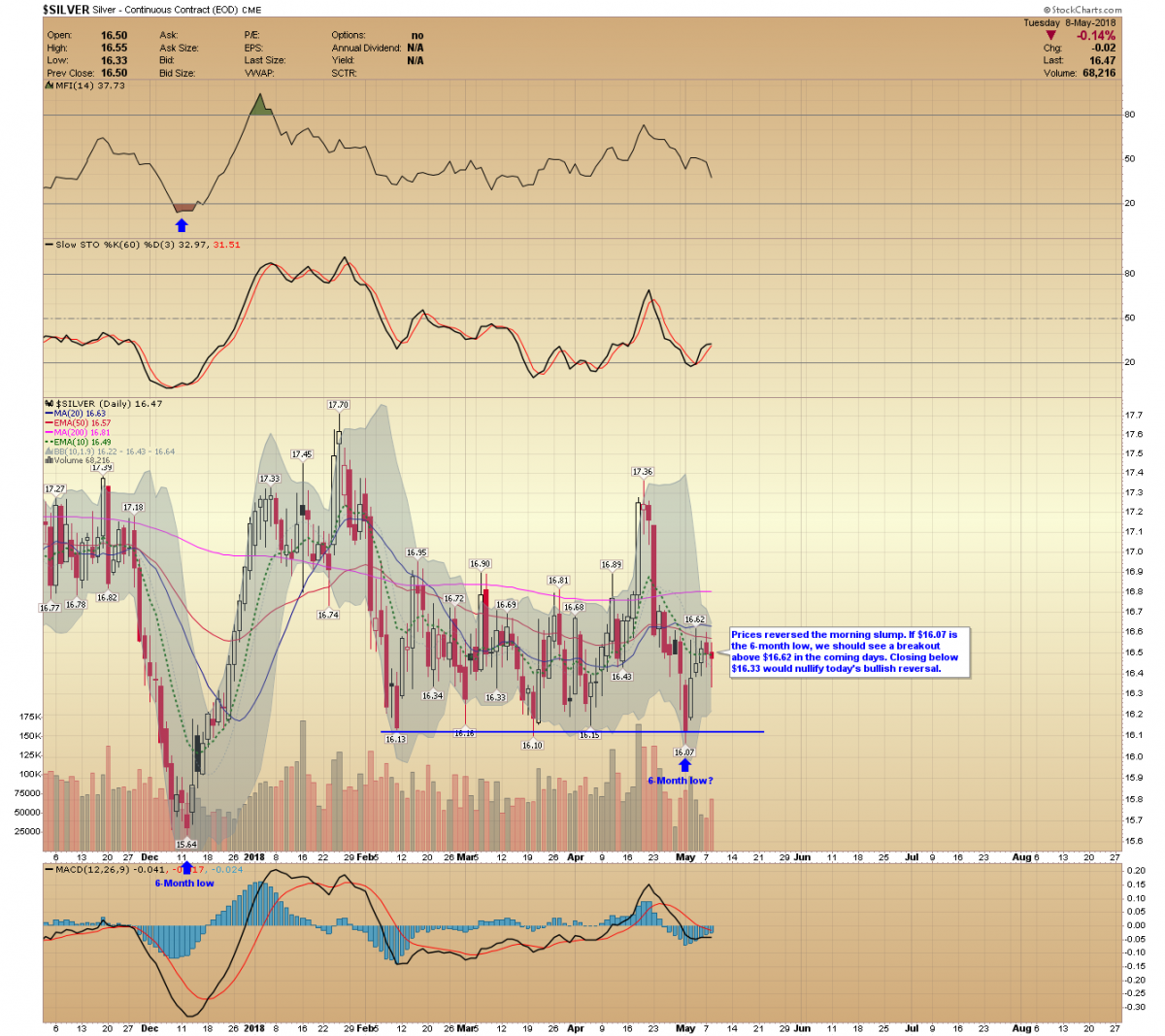 HUI – Gold Ratio
The HUI:GOLD ratio reversed and found support at .135. Holding today's low would encourage a bullish breakout above .1405 in the coming days.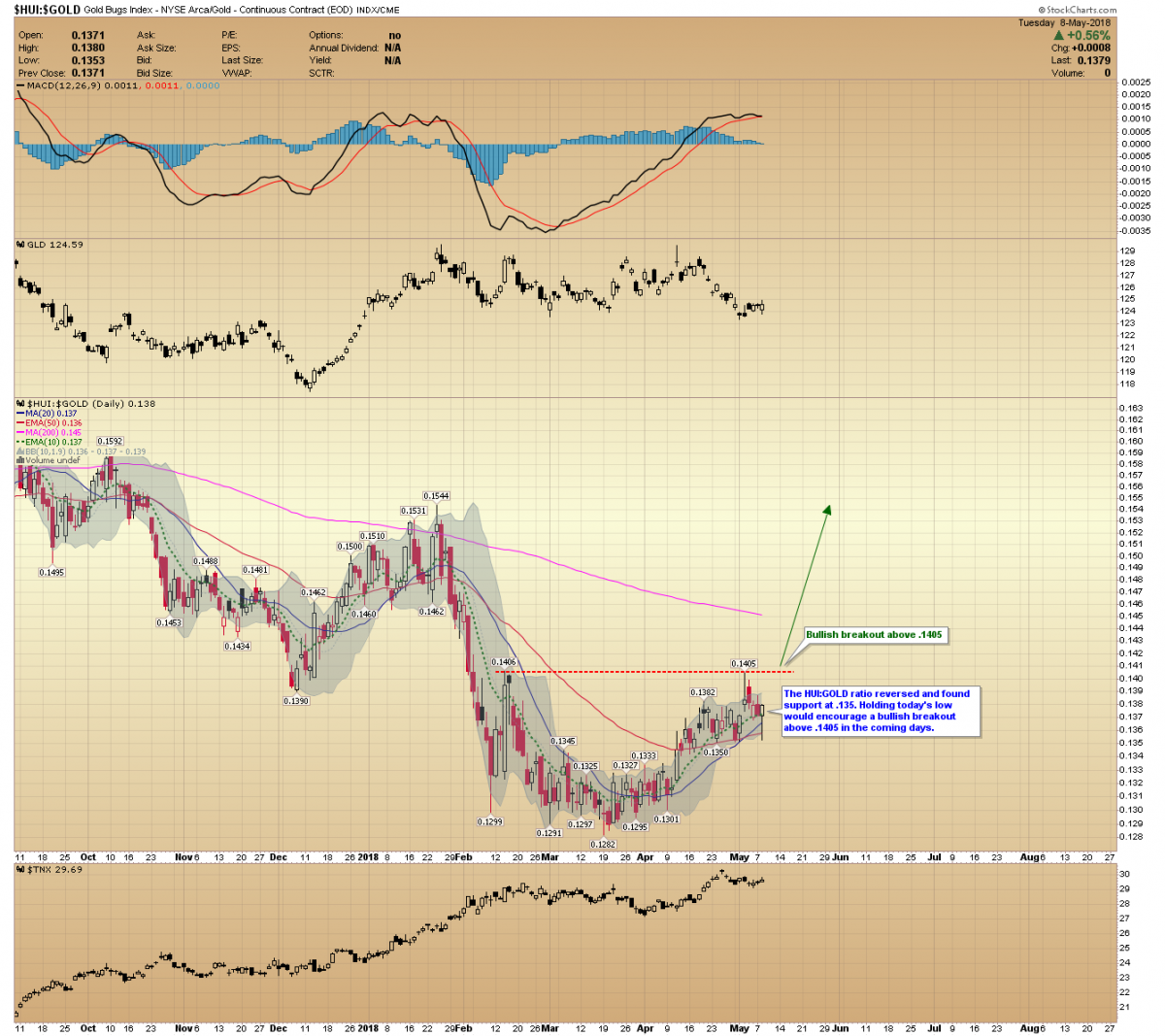 GDX
Prices continue to bump up against the 200-day MA. These types of patterns usually break piercingly higher if resistance fails. Think of the 200-day as a levy. The levy is holding for the moment but the water (momentum) building. If the levy (200-day MA) breaks, prices should move swiftly higher. For that reason, I felt initial positions were indicated.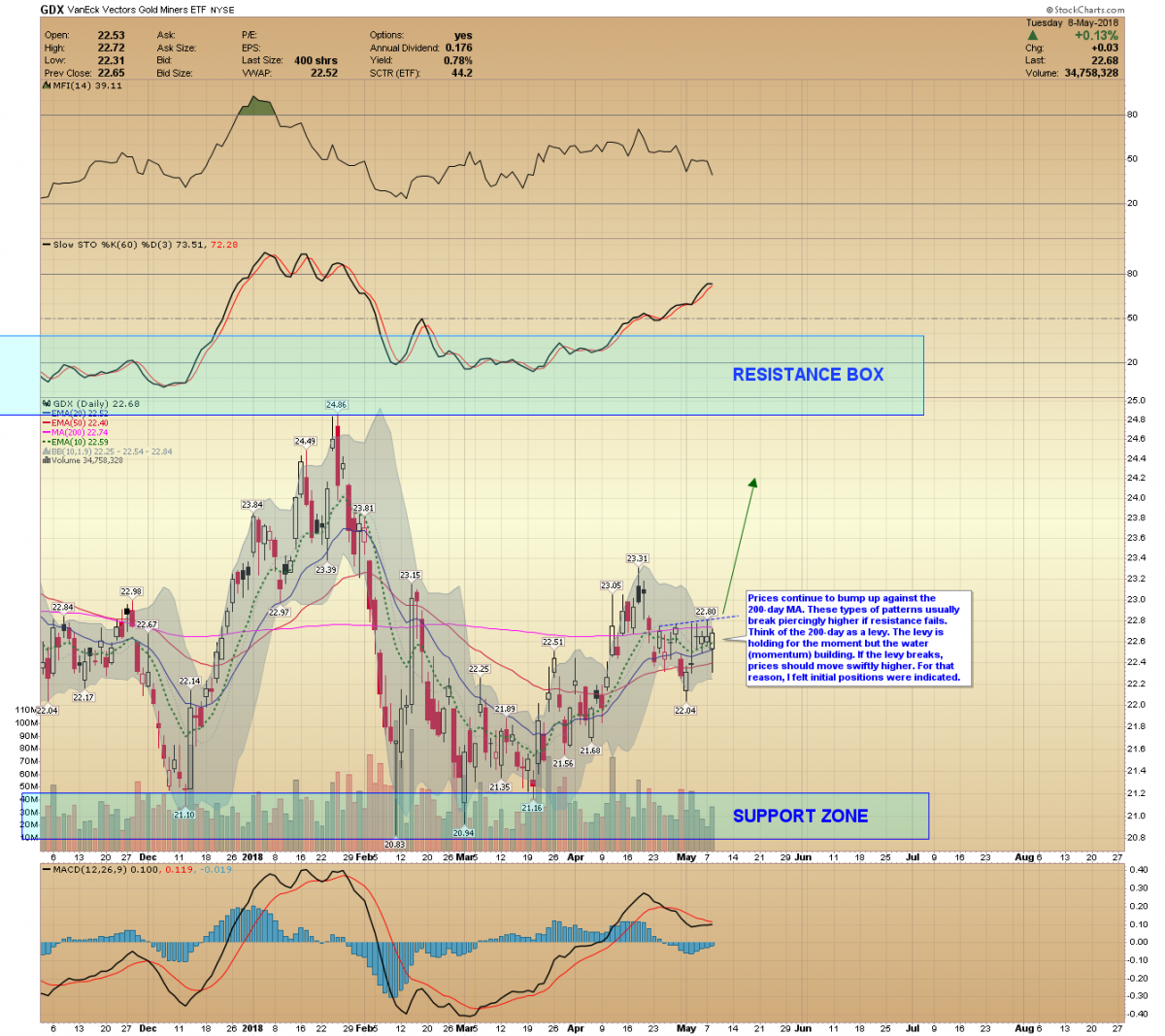 GDXJ
The action in juniors looks like a bullish consolidation pattern. Prices are holding the 10-day EMA. An upward breakout is favored as long as prices don't close below Tuesday's $32.92 low.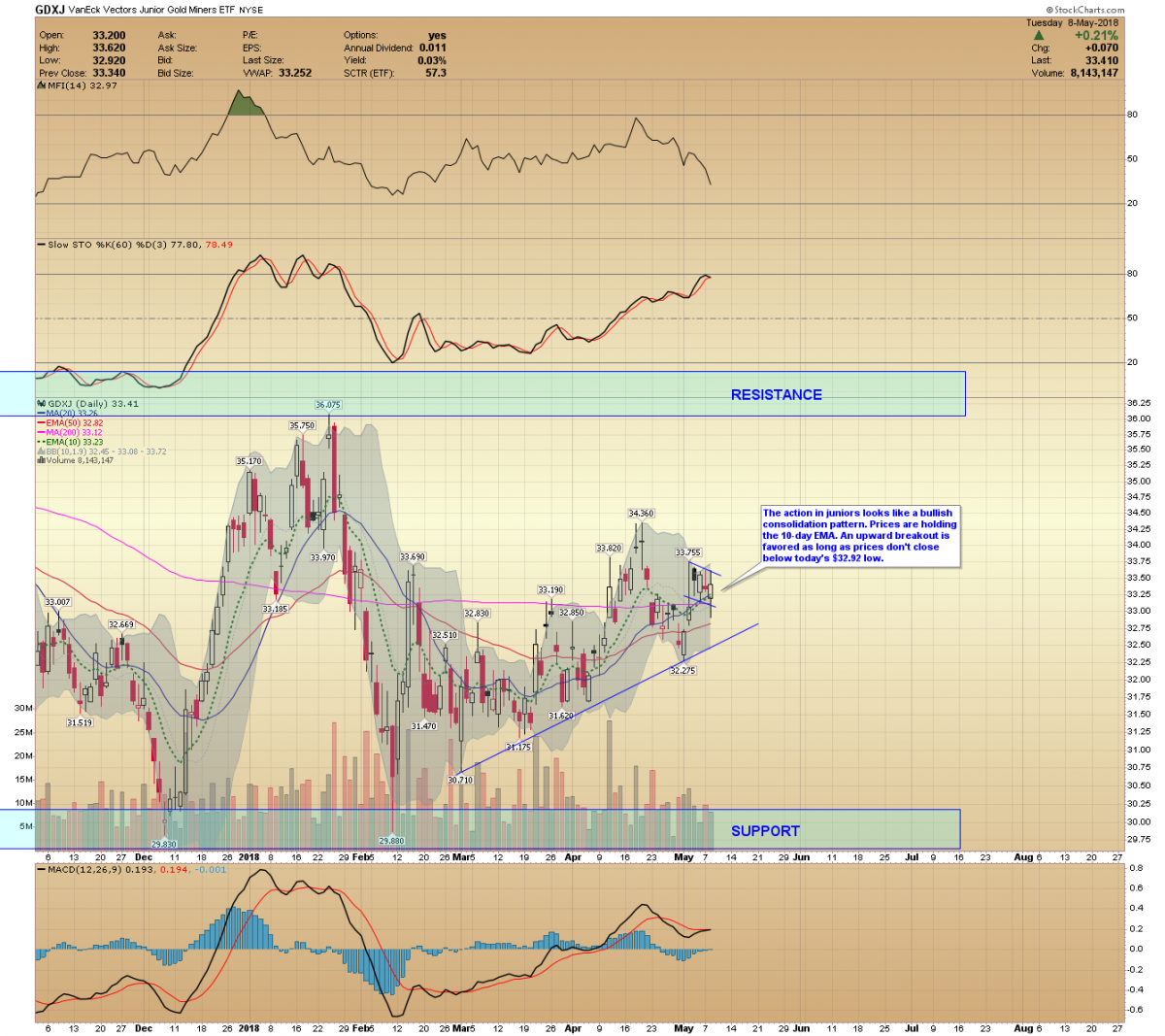 JNUG
I see bullish potential. Closing above $15.41 would be constructive.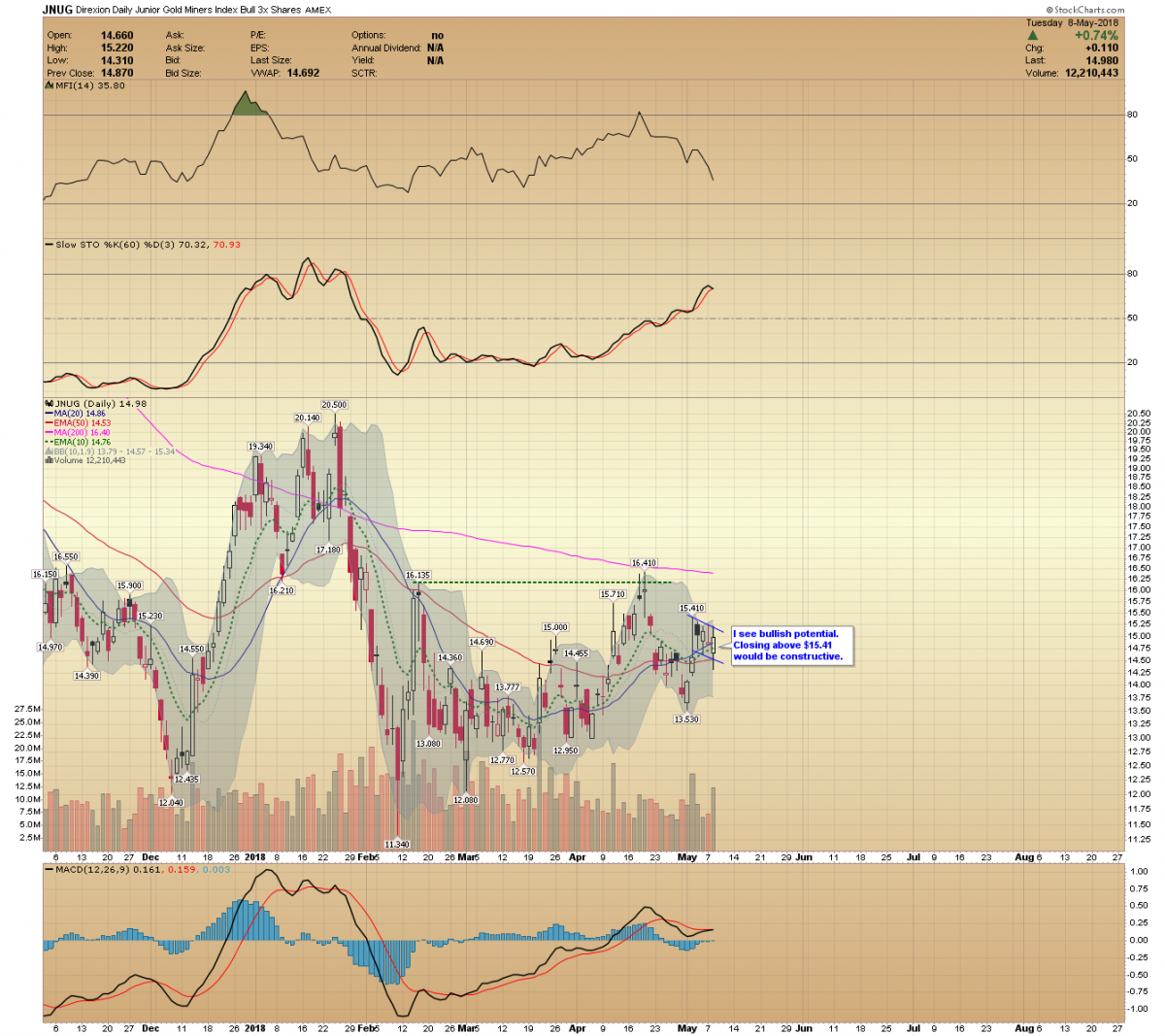 USLV
The 10-day EMA is acting like a levy. Pressure is building, and a sharp move higher may occur above $10.10.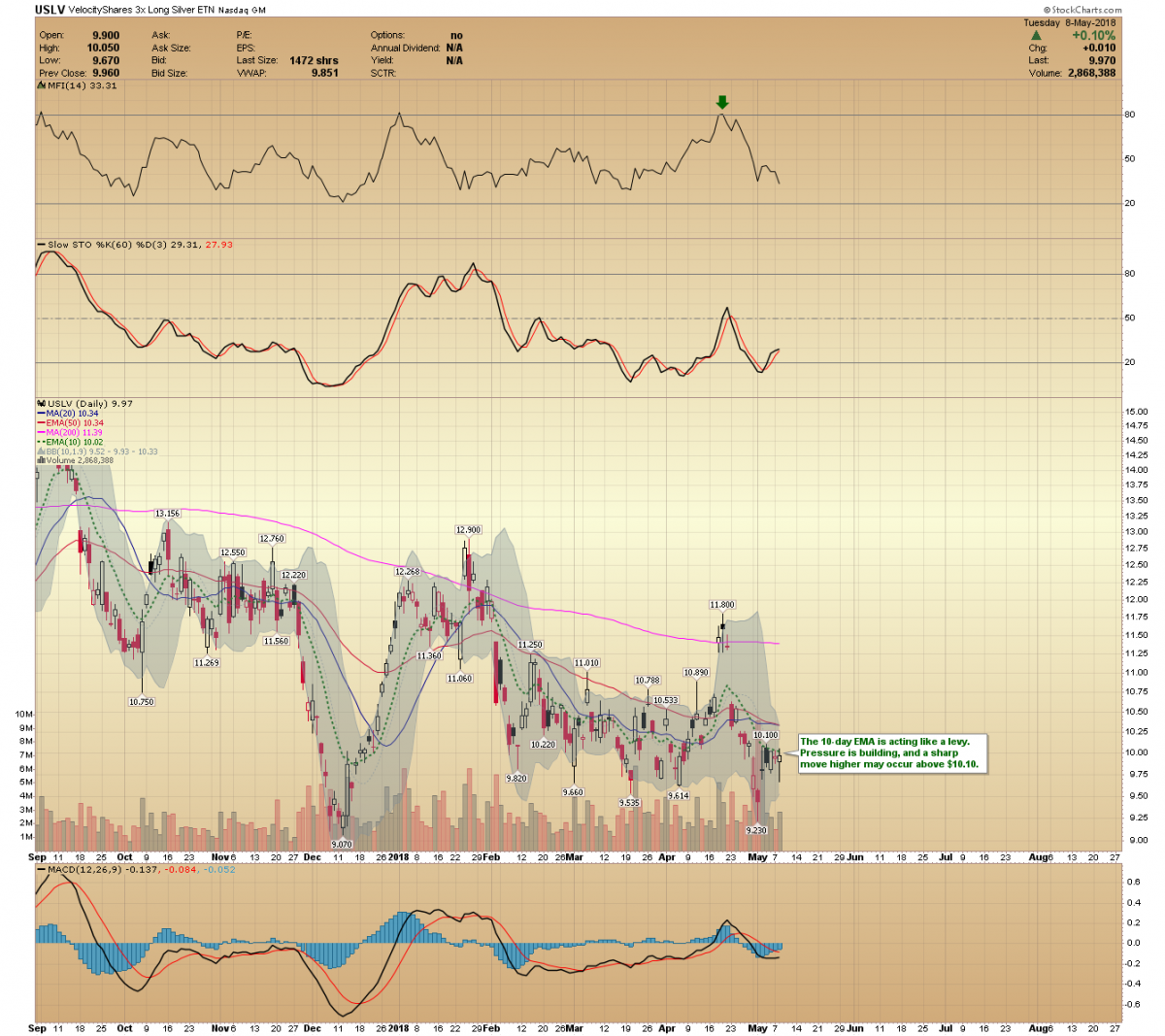 SPY
Stocks are consolidating in a pattern of lower highs and higher lows; essentially a triangle. Prices would have to break above the upper boundary and close above the 271.30 high to justify more upside. Declining below the 200-day MA and closing below the lower border would likely trigger a selling event down to around 240.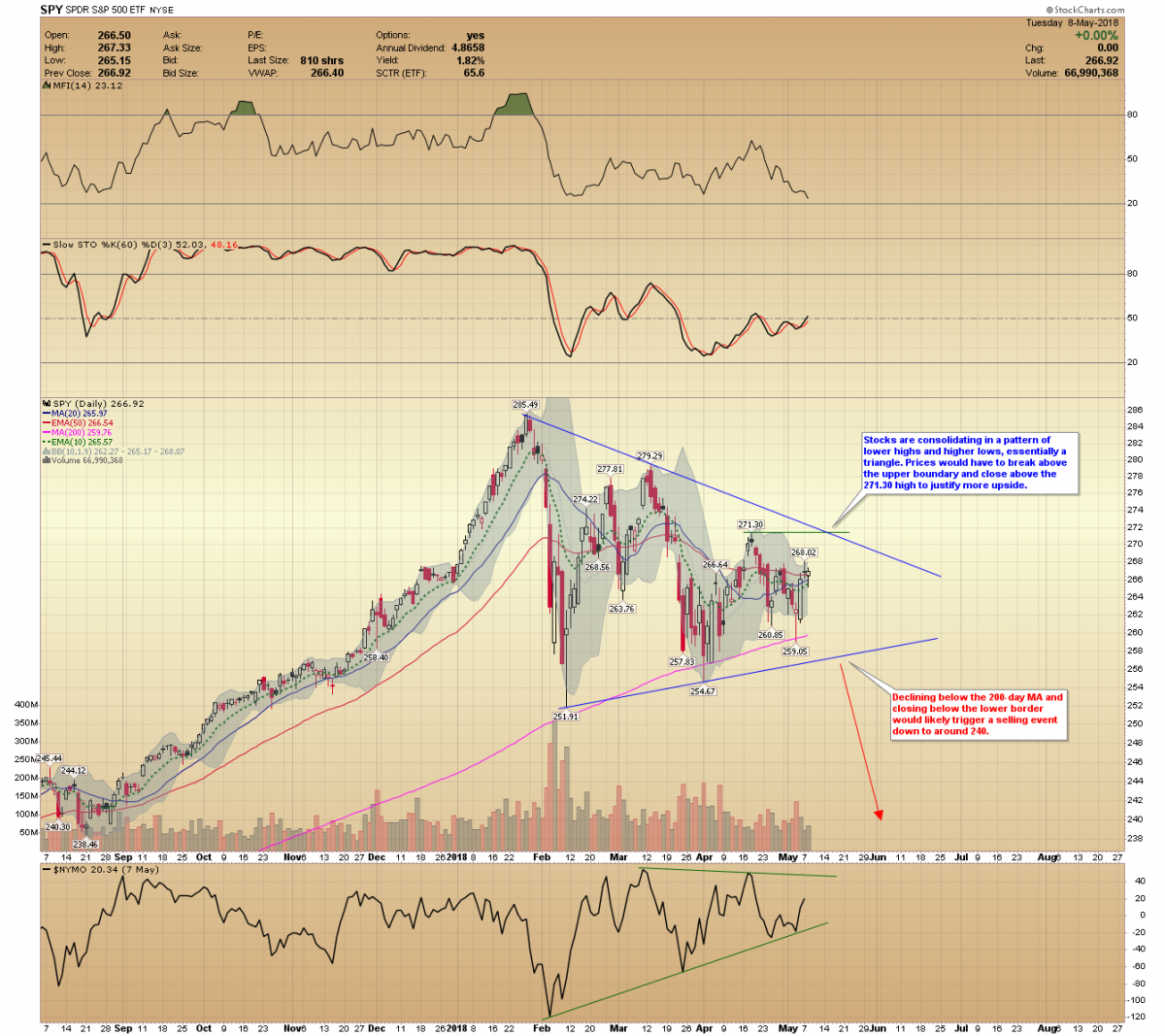 WTIC
The next 39-41 day cycle arrives May 23rd (+/- 1-day). The odds favor a top around that time if oil holds above the $66.50 breakout. Closing below $66.50 would likely project a rapid decline into a May 23rd.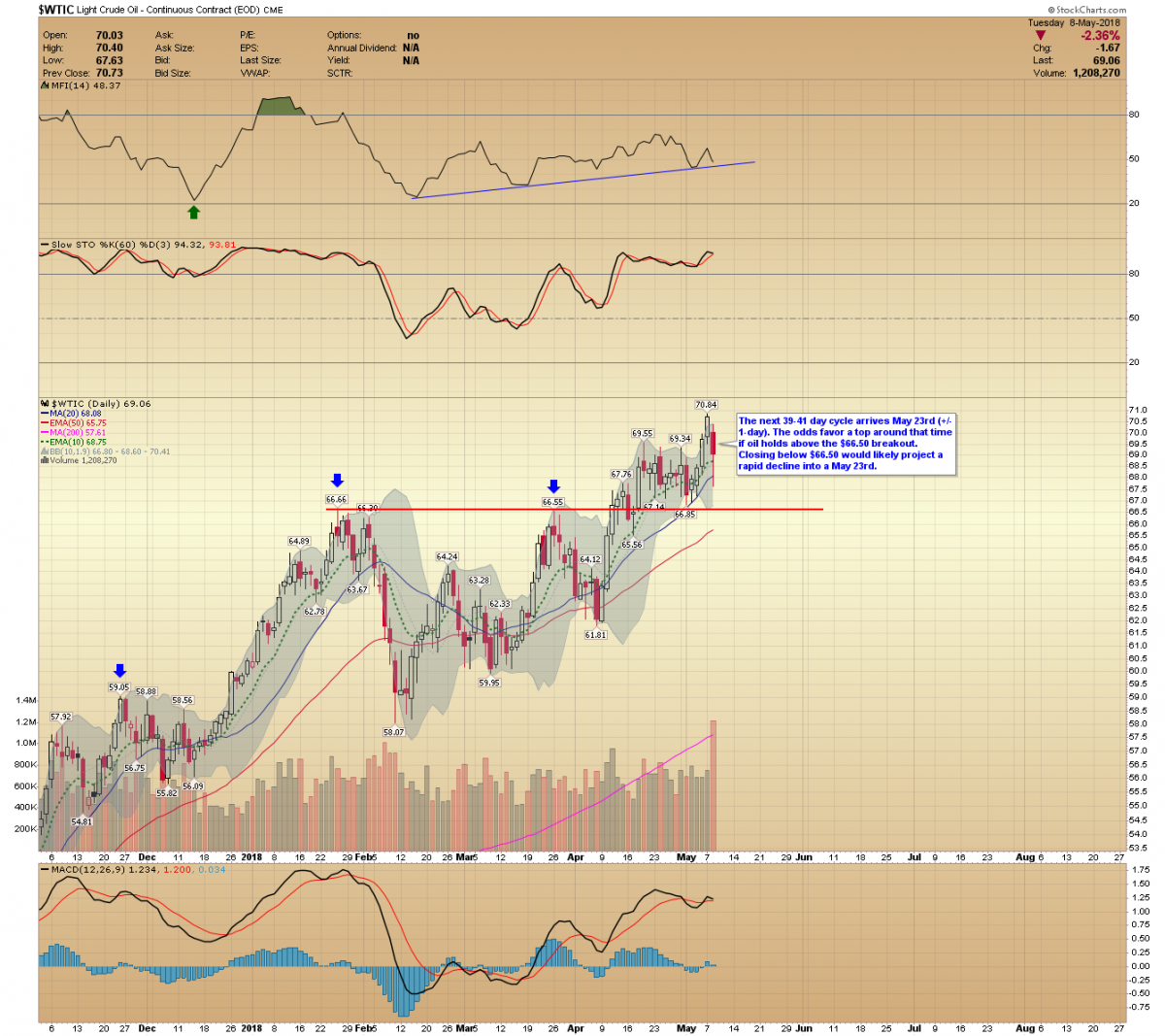 I'll maintain a bullish outlook if gold holds above Tuesday's low. Breaking below $1306 would support one final decline into mid-May.
*********
Gold-Eagle provides regular commentary and analysis of gold, precious metals and the economy. Be the first to be informed by signing up for our free email newsletter.
More from Gold-Eagle.com: