Gold Forecast: Gold's Key Monthly Reversal Level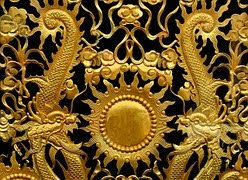 Last week's trading saw gold forming the more bullish pattern of an early-week low into support, with the metal bottoming in Tuesday's session with the tag of the 1269.00 figure. From there, strength was seen into Thursday, here pushing back up to a high of 1287.10 - before seeing a consolidation off the same into Friday.
Gold Cycles Bottoming
As noted in past articles, the mid-term cycles were confirmed to be headed lower into the current month of May, where the next mid-term price trough is expected to form. Whether that low is already in place remains speculation at the present time, though a decent rally into mid-to-late Summer is favored to follow the current correction.
The key cycle for the mid-term picture is the 154-day wave, which was last projected to peak back in mid-February of this year, and, from there, was looking for a correction into the month of May. Here is that cycle once again: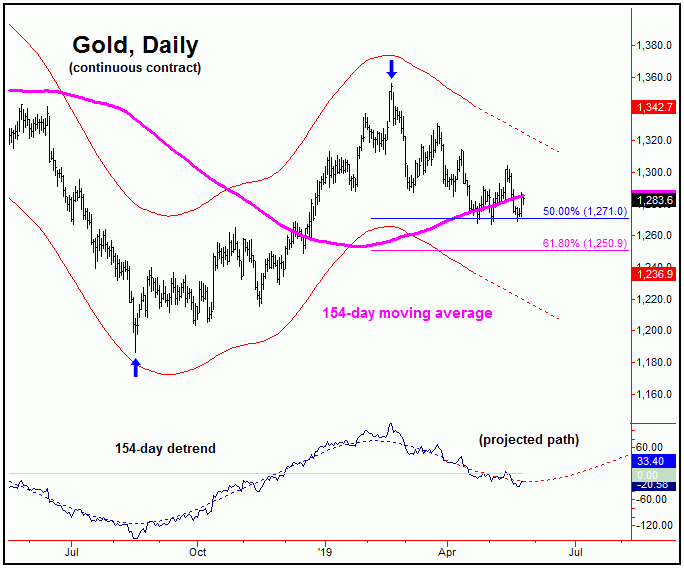 In terms of price, our minimum target called for a drop back to the 154-day moving average on the downward phase of this wave, which was obviously met with the action seen into mid-April. In looking at our 154-day detrend's projected path, we can see that this wave is at or into bottoming territory, and with that is looking for a rally in the coming months.
Even with the above said and noted, we don't yet know whether this 154-day wave has seen its expected low - or else has a lower low to go before bottoming. The ideal path might favor the latter, simply to set up a decent technical contraction on the daily chart - which would add support for the anticipated rally into the Summer months. We have a critical short-term reversal level for this 154-day wave which is updated in our regular market report.
Gold's Biggest Problem
The largest problem with the gold market has been the position of the commercial hedgers. Take a look at our next chart: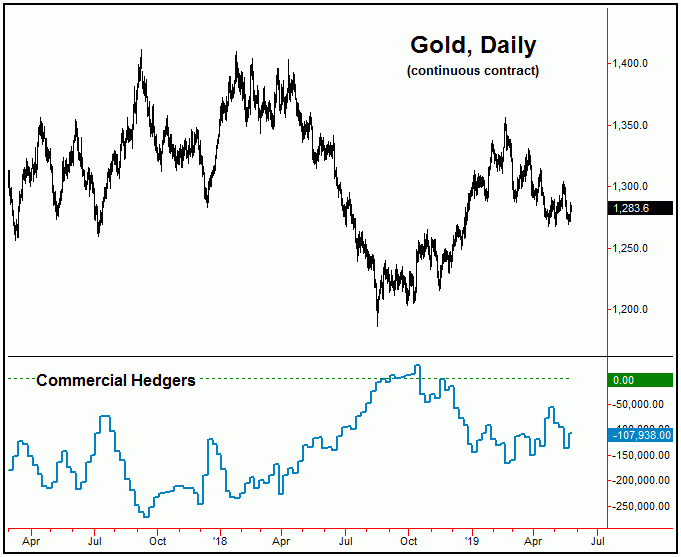 From the comments made in recent weeks, the hedgers had taken a more bearish stance, which has helped keep the price of gold down, for its anticipated May cycle bottom. With the action seen last week, however, the commercials have now covered a decent chunk of these shorts - approximately 30,000 contracts - which is something that we would expect to see at a mid-term cycle trough.
Once again, however, we can't say for certain as to whether a low of significance is yet in place, though any new low - should that materialize - would appear to be odds-on to bottom the aforementioned 154-day wave. From whatever trough that is seen, we expect to see a decent rally playing out into mid-to-late Summer, before forming another (perhaps secondary) low around the late-September timeframe, plus or minus.
Gold's Key Monthly Reversal Level
For the bigger picture, gold has really been in a mid-term downtrend since the February, 2018 price peak - with the high seen earlier this year being a secondary top. With that, there is a key 'reversal point' on the monthly chart for the metal, which - if taken out on a monthly closing basis - would flip the bigger trend back to UP. That key price is the 1360 figure for the June, 2019 contract, a number which is expected to drop slightly as time progresses.
Adding to the notes above, any monthly close back above the 1360.00 figure (June, 2019 contract) for gold - if seen at any point going forward - would be our best indication that a larger rally is in play, one which could see additional strength up to the 1500 level in the months to follow. Otherwise, the metal will remain weaker below that magical 1360 figure, on a monthly closing basis.
A Quick Look at U.S. Stocks
The U.S. stock market has been in correction mode in recent weeks, a correction which was expected to play out with the 45 and 90-day time cycles. Here again is our smaller 45-day wave: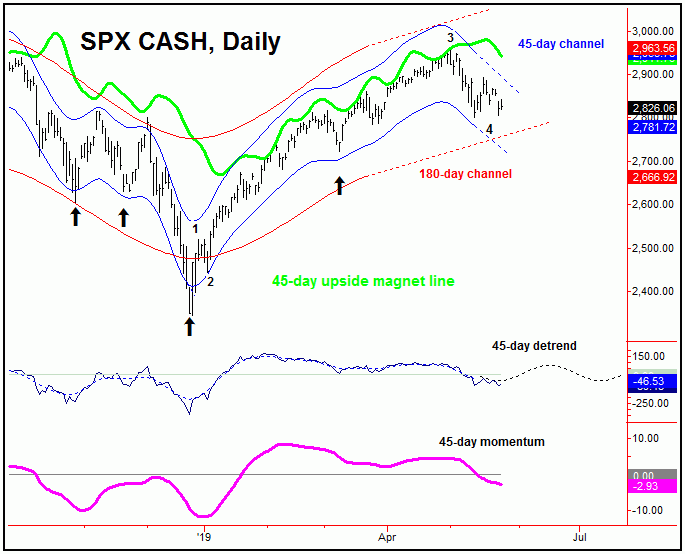 The one thing of note is that this cycle is now at or into bottoming territory, and is projecting the next move to be a rally in the next month or so. Since we view the larger trend as higher into mid-Summer with stocks, our assumption is that the next rally phase will eventually take out the 2954 swing top, though - as with the gold market - it is still unclear whether the bottom for this 45-day wave is in place.
Due to the Memorial Day holiday, my article this weekend has been slightly abbreviated. My best to you - please enjoy your weekend, and be safe!
Jim Curry

The Gold Wave Trader

http://goldwavetrader.com/

http://cyclewave.homestead.com/
********
Gold-Eagle provides regular commentary and analysis of gold, precious metals and the economy. Be the first to be informed by signing up for our free email newsletter.
More from Gold-Eagle.com: