Gold Forecast: Precious Metal Prices Are At A Crossroad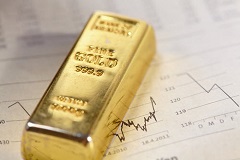 Gold, Silver, and Miners are at critical support and the dollar appears to be breaking out of a 3-month bullish consolidation.
Oil is down 28% in just 6-weeks, and prices are approaching key support. The decline has been relentless and taken on a life of its own. I think oil is capitulating. I'll look to enter long positions in the coming days.
It's still unclear if metals and miners will bounce off support or break sharply lower. I suspect we will know more by the end of the week. Sometimes prices don't move as fast as we'd like so it could take a little longer. Nevertheless, precious metals are at an important crossroad.
US Dollar
The dollar broke free from its 3-month consolidation pattern. If this is a genuine breakout, then prices should continue higher within a day or two. Progressive closes below the 96.80 level would support a false breakout.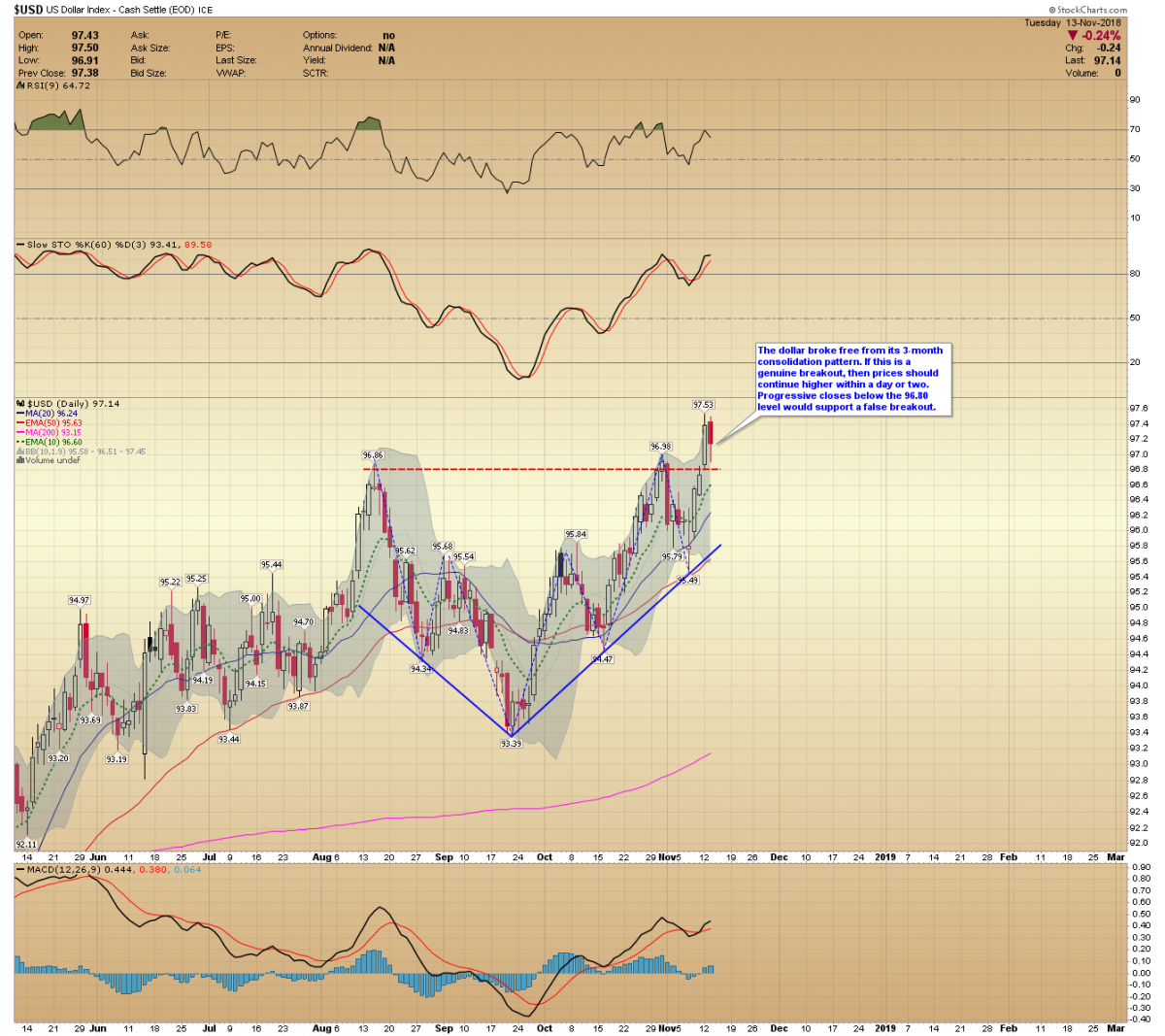 Gold Prices
My primary outlook called for an October top that triggers a November decline and leads to a December bottom. So far, this forecast appears to be right on target. I think the big question now is will we get a modest decline of 5.4% like last year or the standard 10%+ seasonal decline like most years. How prices react at the cycle trendline could provide some clues. If gold bounces off the trendline, then we can probably anticipate choppier price action and a moderate December low. However, if prices slice through the trendline and attack the $1167 low in November, then I think we can expect a deeper correction to $1125 or lower by the December Fed meeting.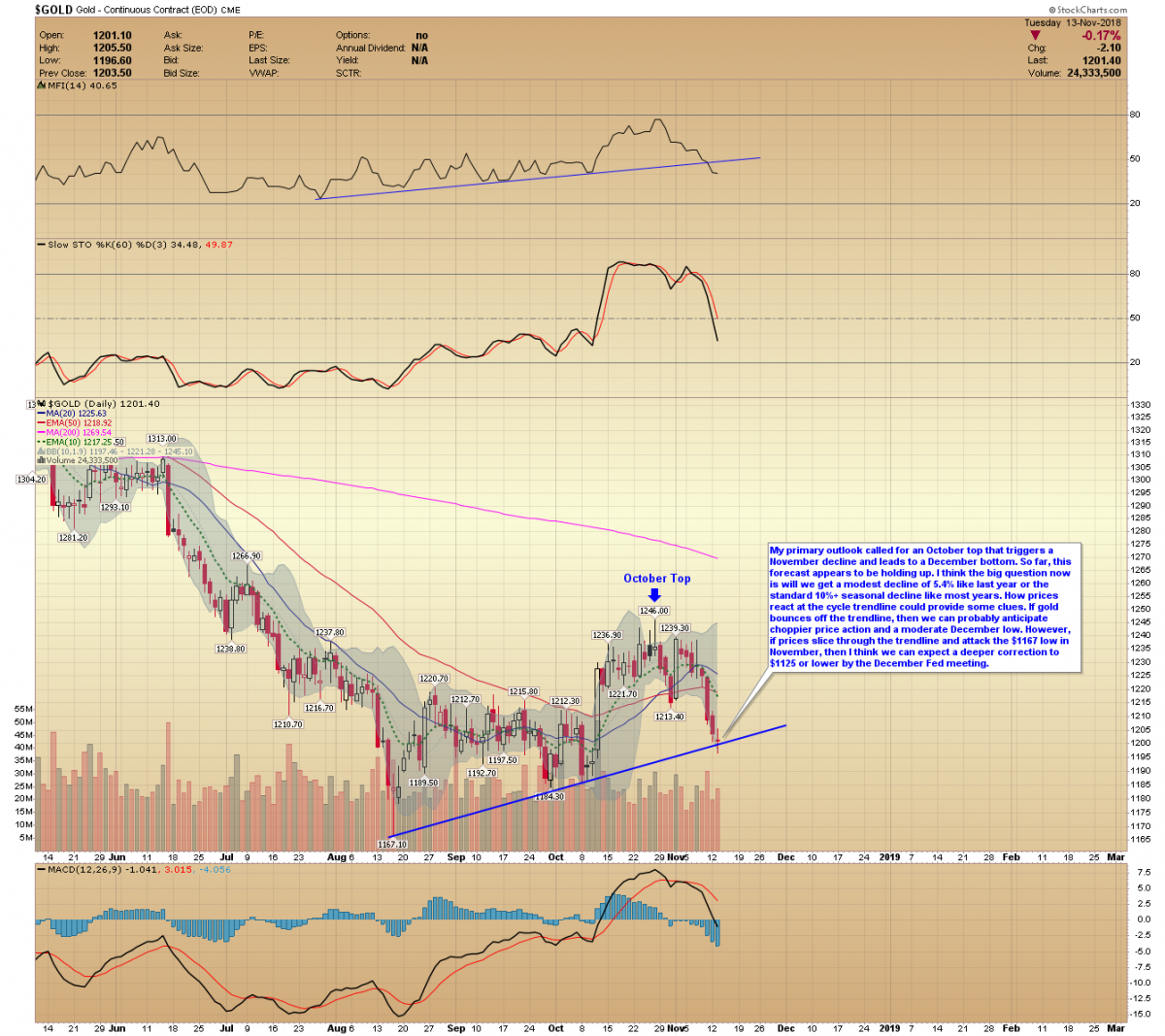 Silver Prices
Like gold, silver is at an important crossroads. Will prices bounce off the September low or collapse below the 2015 low? It's anybody's guess. I can say this - the meager $1.00 bounce out of the September low was uninspiring and that supports a breakdown.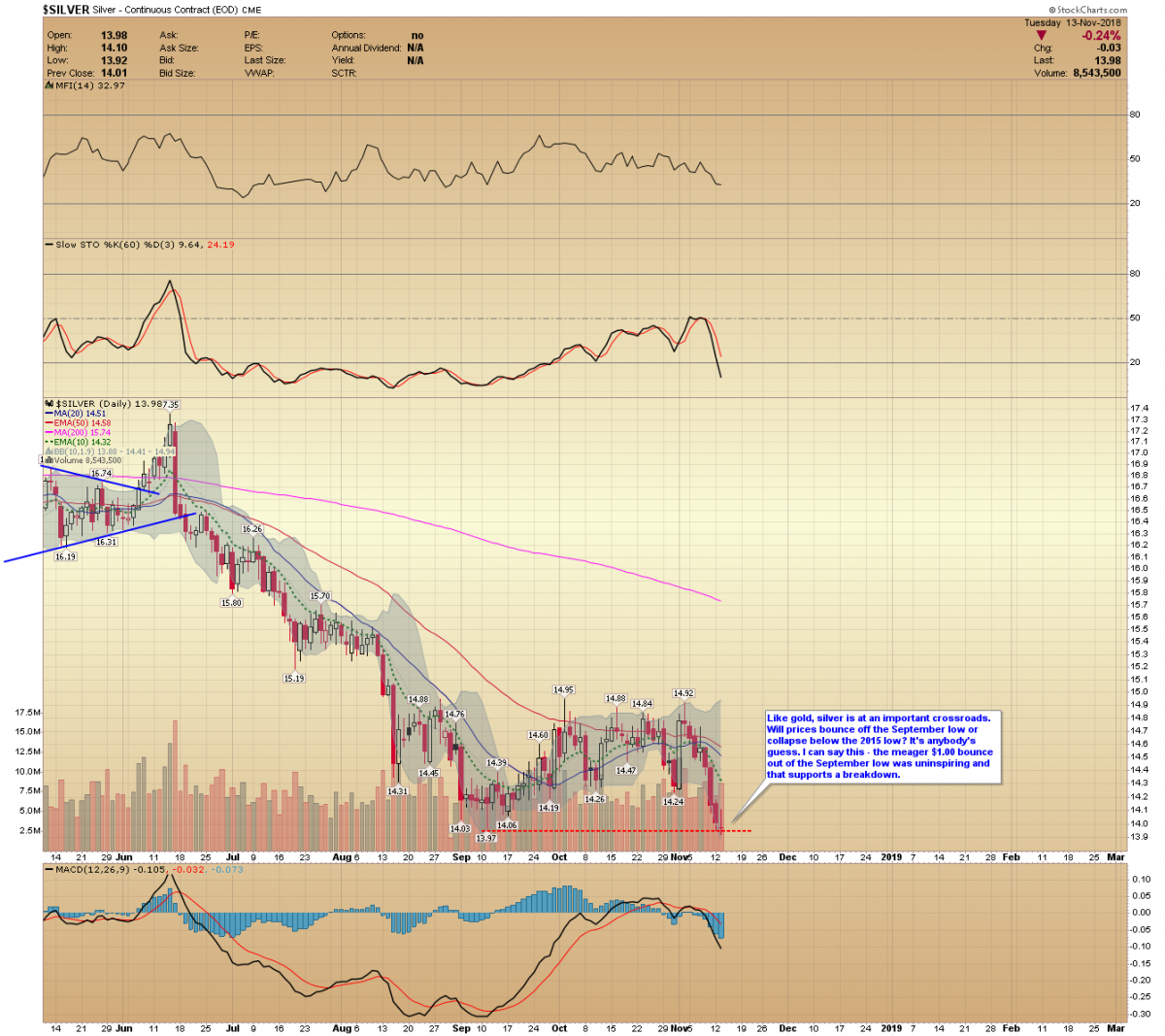 GDX
Miners failed to complete the bullish hammer they were working on yesterday. There is still no evidence of a breakdown like I suspected below the cycle trendline. If gold bounces from here, then miners should follow. If gold breaks sharply lower, expect a 4%+ down day in GDX as investors acknowledge a failure.
GDXJ
Juniors made a new closing low. The MFI (above) is oversold and in an area that could produce a reaction low.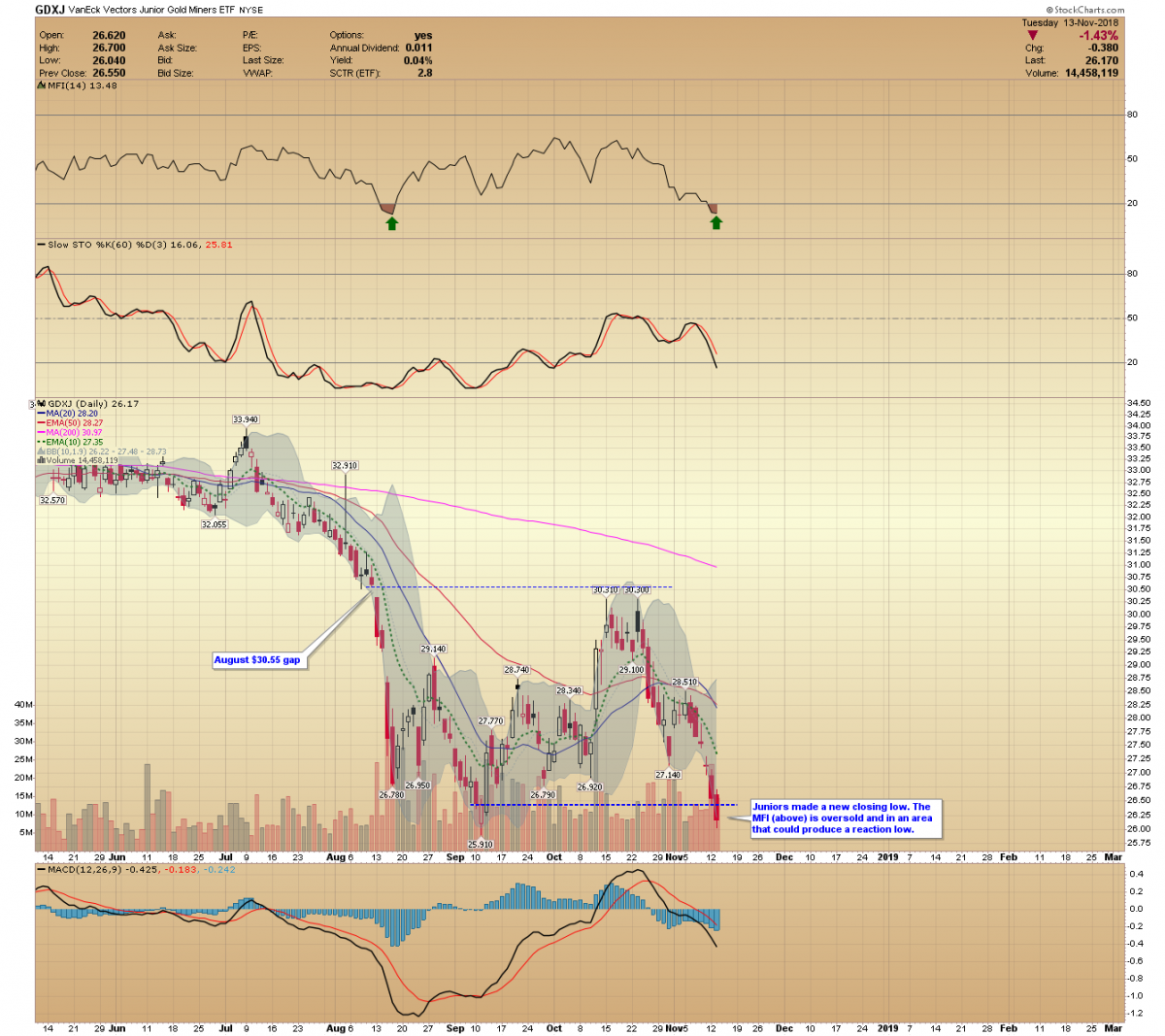 JDST
I purchased JDST last week at $73.45, the position is up 15%. I placed a stop below $80.37 to protect the gains.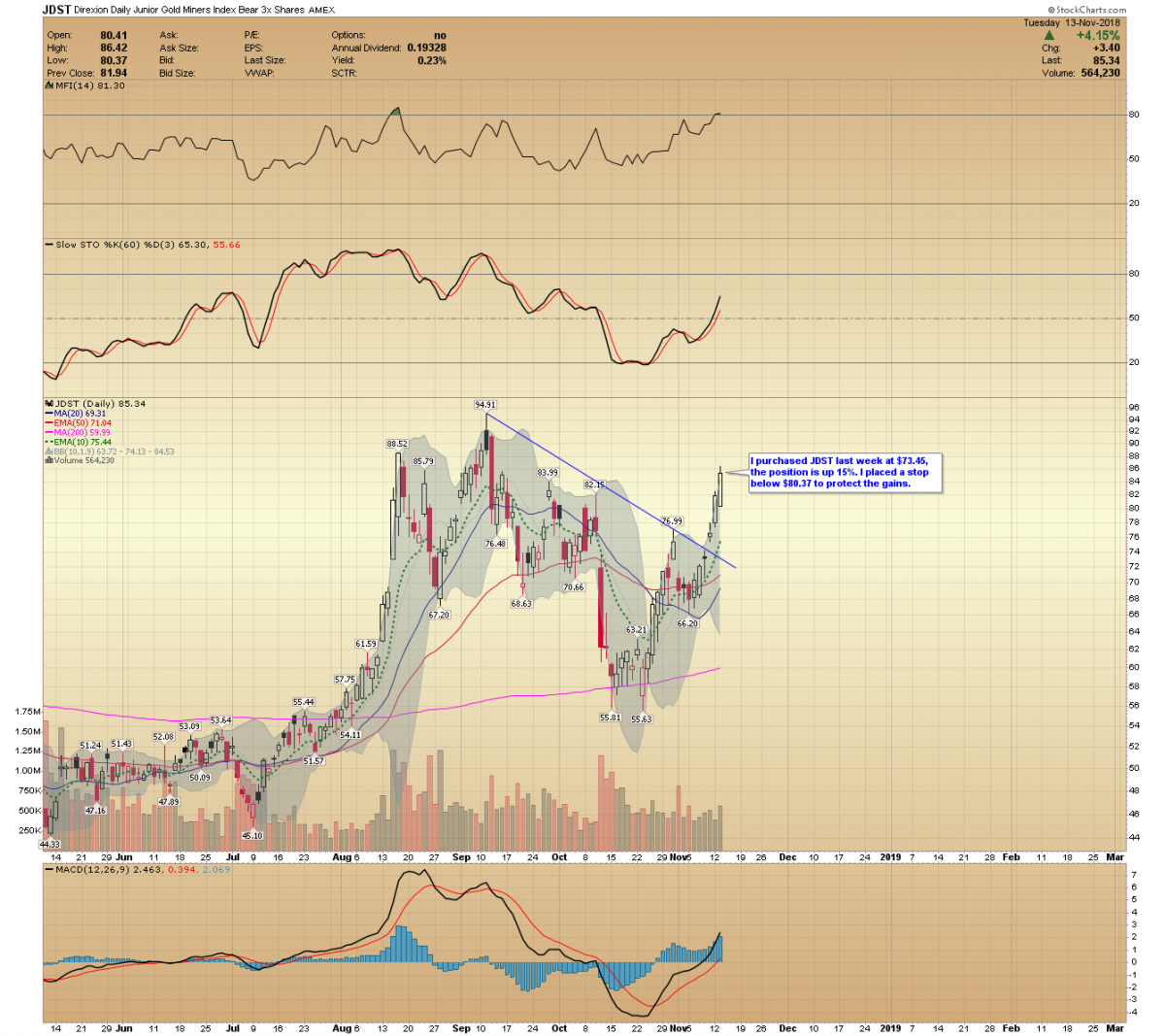 WTIC WEEKLY
Prices are down 28% in 6-weeks. Oil is approaching the 2017 breakout zone between $54.00 - $55.00. If that fails, the 200-week MA at $52.23 should produce (at least) a notable rebound. I think this is just an overdue intermediate correction and that prices can still reach new highs in 2019.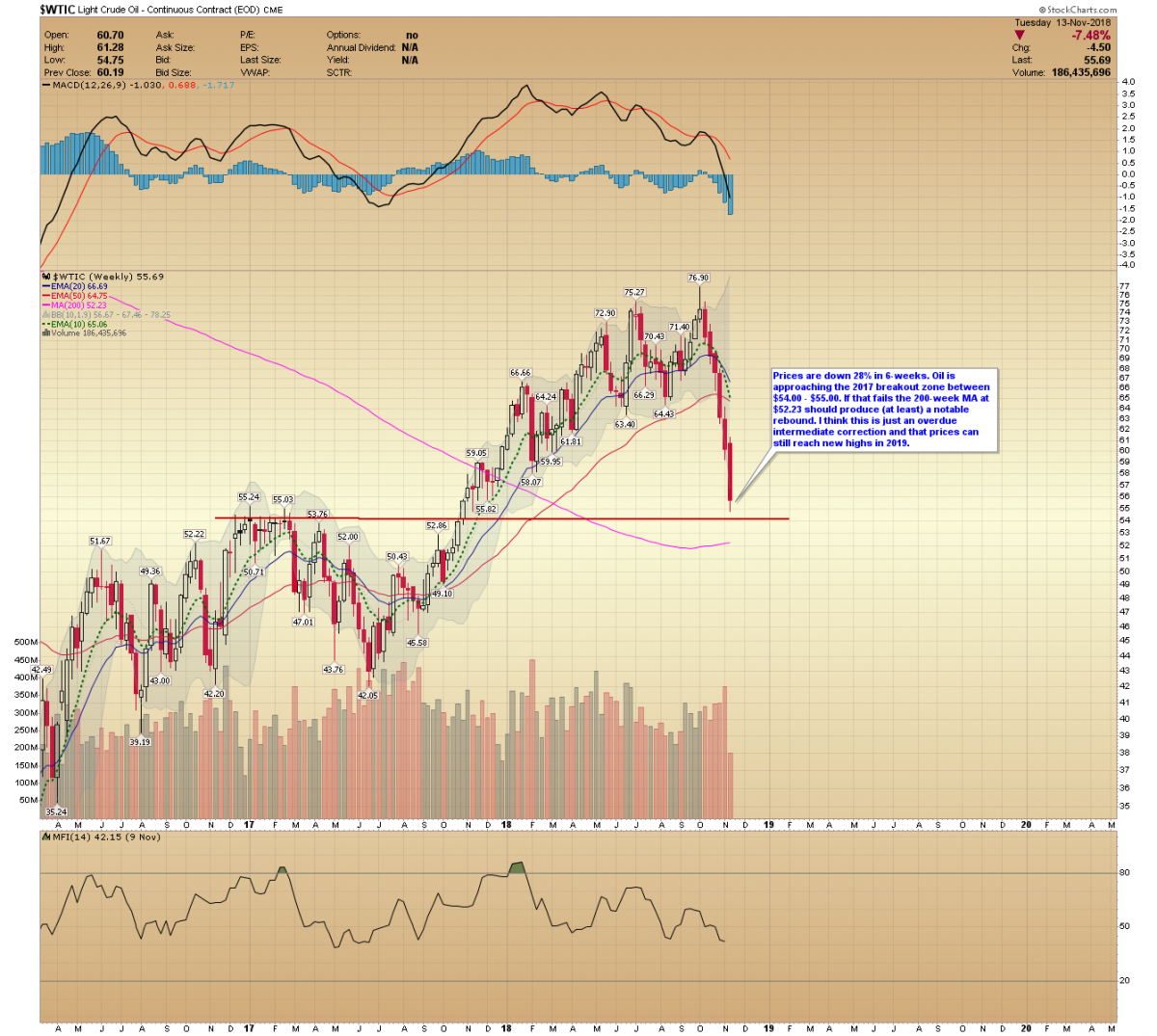 I think we will find out within the next few trading days if precious metals will bounce or break sharply lower. If prices breakdown - expect a recognition day in miners as investors rush to the exits in concert.
*********
Gold-Eagle provides regular commentary and analysis of gold, precious metals and the economy. Be the first to be informed by signing up for our free email newsletter.
More from Gold-Eagle.com: