Gold Forecast: A Preview Of Major Events In June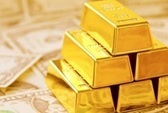 June, like so many months out of this year, has been a month full of headlines pointing in many directions for the economy. With gold slipping this morning about 15 points or so and stocks rebounding late in the week, the gains for precious metals have tapered off a bit, despite flirting with $1,300 per troy ounce in the price of gold. But despite a full week, there is a lot that can still happen in June. Of particular interest is the Federal Reserve, and whether or not the economy is strong enough to sustain another rate hike this quarter.
Economy Too Fragile For Rate Hike?
Earlier in the year, it appeared that the economy was humming along just fine, and potentially on course for another Federal Reserve rate hike that would potentially send precious metals like gold slipping a bit. But now the answer to the question of the June Fed meetings isn't so certain.
CBS News openly wonders if the "not-so-hot" economy (their words) can handle a Fed rate hike, which in turn might put pressure on the Federal Reserve to keep things in a "wait-and-see" mode. With the slowdown in job numbers that came last Friday—always a slow indicator for Wall Street and potentially bullish for precious metals—the economic numbers appear to spell a Fed Rate hike without the certainty of earlier in the year.
Federal Reserve Rate Hike May Come Anyway
Of course, a few uncertain job numbers late in the game might not be enough to throw the Federal Reserve off of a rate hike decision. In a MarketWatch interview, journalist Greg Robb takes the perspective that the Federal Reserve will indeed raise rates, saying the Fed "seems to be still on track" for a rate hike in one of the questions he posed to a former Fed official. That particular former official, Narayana Kocherlakota, answered in the negative: that the Federal Reserve shouldn't raise interest rates. Though the discussion was not about a gold forecast in specifics, these conversations are always relevant for precious metals investors.
Watching The June Calendar For Economic News
What lies beyond the Federal Reserve's upcoming decision? A late June in which summer will be in full swing. The usual weekly numbers, like jobless claims, will always bear watching, of course—you can check out Bloomberg's economic calendar to keep up to date with what to expect.
But this summer will be anyone's guess. The economic winds seem to be decided more by international headlines than ever, particularly with political intrigue in Washington as former FBI Director James Comey testifies on the Hill today. Those who see instability in store for the summer of 2017 are likely moving to gold in order to hedge their investments, particularly as the stock market continues to hover at historically high levels.
This month, the Federal Reserve will have a lot to say about the current economy and its prospects for the future. Gold investors—and precious metals investors at large—will want to listen. 
More from Gold-Eagle.com: