Gold Forecast: Prices Are Dropping Into The 6-Month Low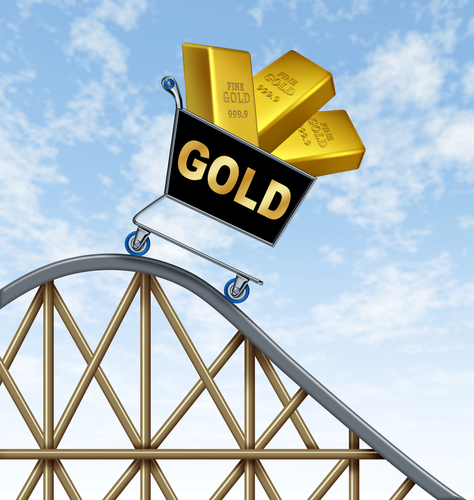 Precious Metals and miners are advancing toward their intermediate targets outlined in our April 21st exclusive: Gold Price Forecast - The Correction Into May Has Begun. The daily cycles are close to bottoming, and an interceding bounce is warranted. The short-term price objectives for DUST and JDST were satisfied.
The 6-Month Gold Cycle
Cycle analysis is perhaps the most useful tool for market timing. Recognizing where we are in the predominant cycle yields guidance and a near-term trading bias. Discerning the 6-Month Gold cycle is key to intermediate-term investing.
Cycles are a byproduct of human emotion. Extremes in investor sentiment define cycle tops/bottoms. In April, the gold cycle extended beyond my original forecast. Unexpected geopolitical events (Syria and North Korea) drove gold prices toward $1,300.
As the April cycle stretched, and I received fiery emails regarding my analysis. Gold bugs are a lively bunch, who candidly share their opinions. This type of irrational confidence frequently precedes market tops. Understanding behavioral finance is a necessary tool for successful investing.
Gold Price Chart
Below is a gold chart illustrating various 6-Month cycle lows. The current cycle peaked at $1,297, and prices are descending into the next low. I won't expect a bottom until the slow stochastics indicator slips below 20.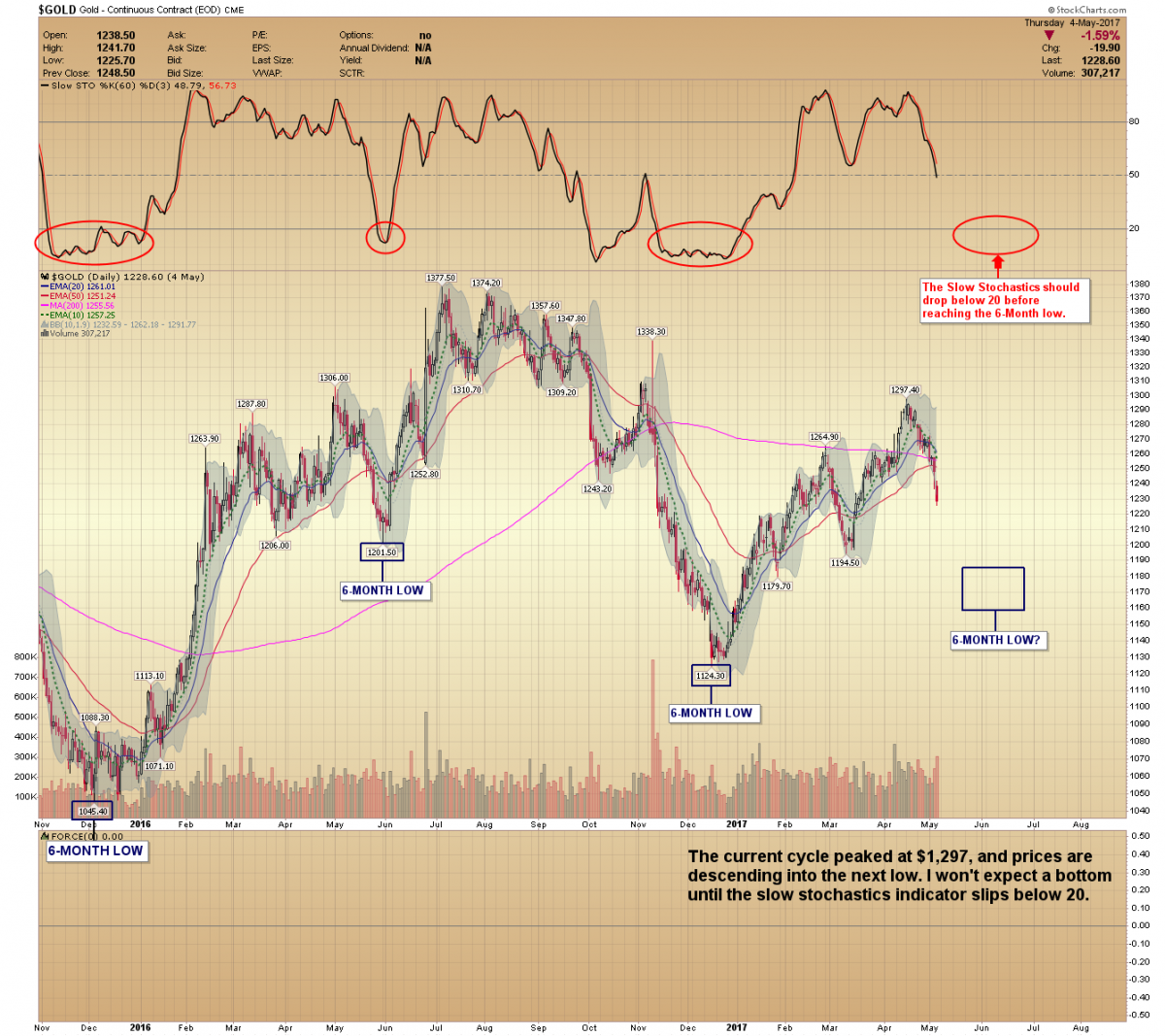 The Daily Gold Cycle
Typically, three to four daily cycles make up the larger degree 6-Month gold cycle. We are currently at a fork in the road and prices are likely to take one of two paths. Gold often takes the path least expected by investors.
Path-1) Prices bottom between now and Monday marking the third daily cycle low. An interceding bounce reduces bearish sentiment and the short-term oversold conditions. After a brief rally/consolidation, prices decline and settle into the 6-Month Cycle low. This scenario forecasts a bottom in June.
Path-2) Prices remain under pressure and grind incessantly lower (similar to last November). The 10-Day EMA keeps a lid on prices. Bottom pickers rack up losses demanding a bottom. This scenario implies a bottom in May.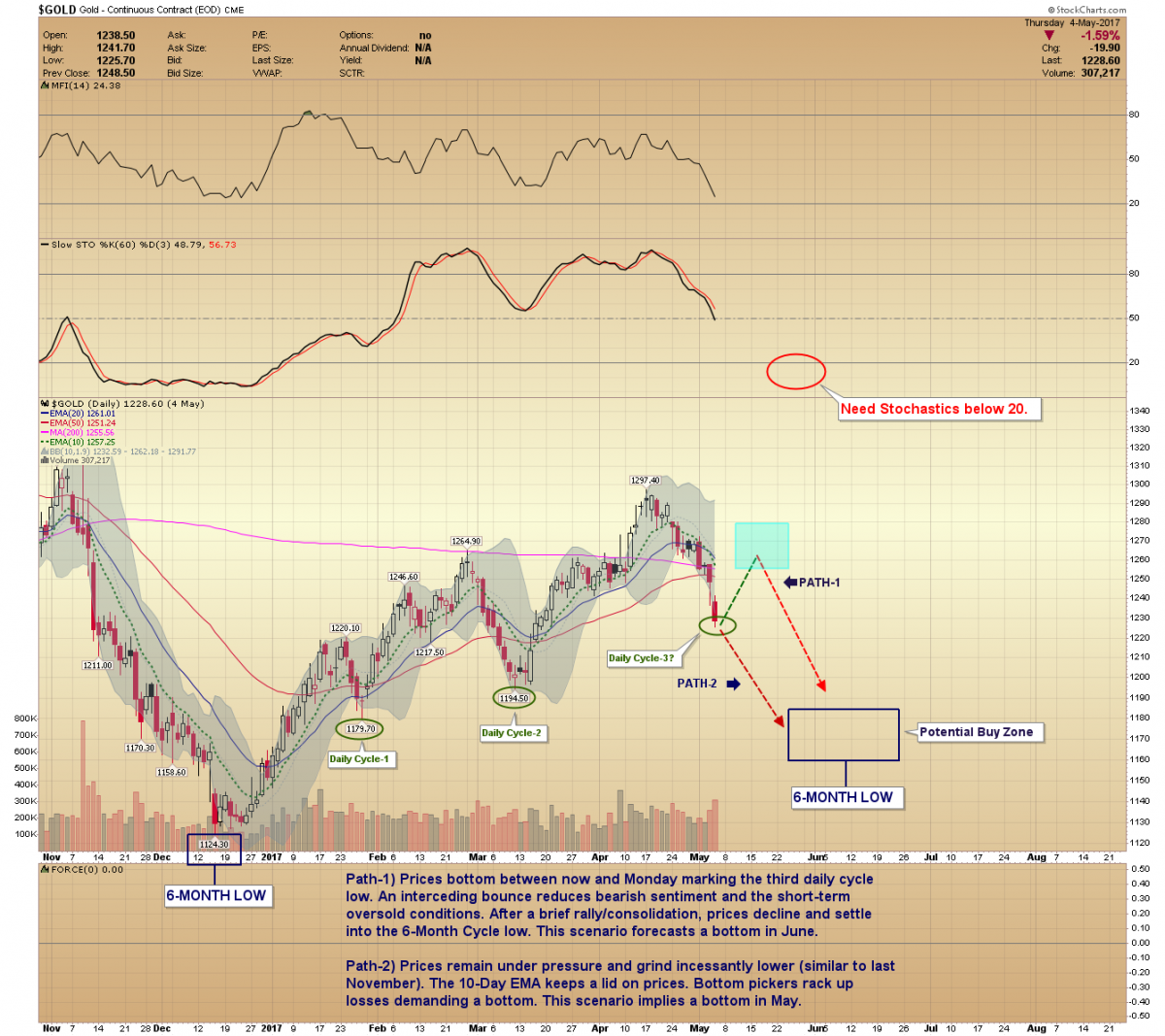 The results of Sunday's French election could set the course. How prices react Sunday night and Monday morning will provide essential clues concerning the near-term path. 
********
Gold-Eagle provides regular commentary and analysis of gold, precious metals and the economy. Be the first to be informed by signing up for our free email newsletter.
More from Gold-Eagle.com: