Gold Forecast: The Yen Suggests Gold Prices Have Further To Drop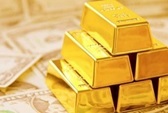 The US Dollar is widely known for its inverse correlation to precious metal prices. As the reserve currency appreciates in value, commodities that are priced in dollars go down. This relationship is useful when forecasting price targets. Another currency used for these purposes is the Japanese Yen. It frequently has a positive correlation to gold.  Before we delve into the Yen, let me give a brief description of how the cycle works.
Intermediate Cycles
Intermediate cycles are measured in weeks between troughs or bottoms. As a cycle analyst, I search for definable cycles that we can exploit for a profit. Once a cycle is clearly defined, we use that cycle for timing investments and various technical studies.
The typical intermediate cycle in Yen prices lasts approximately 50-Weeks between bottoms. We are now in the 44th week of the current reporting period, and the Yen should begin dropping into a cycle low. During an uptrend Yen prices bottom just below the 50-week EMA. Currently, prices are trading at 99.12. Cycles suggest the Yen should drop to approximately 92.50 or lower in the coming weeks.
Weekly Yen Price Chart
The Japanese Yen has been showing a high correlation to gold. The Yen peaked in October of 2011, just a few weeks after gold, and then began a multiyear decline. In late 2015 the Yen produced a failed cycle (unable to make a lower low), and thus, marked a pivotal turning point. Precious metals have rallied with the Yen through all of 2016 and are now seriously overdue for a correction. For this reason, I continue to look lower in gold.
The Yen appears to have peaked in mid-August at the 39-week mark, just after gold. A few rallies continued past 39-weeks before a meaningful correction.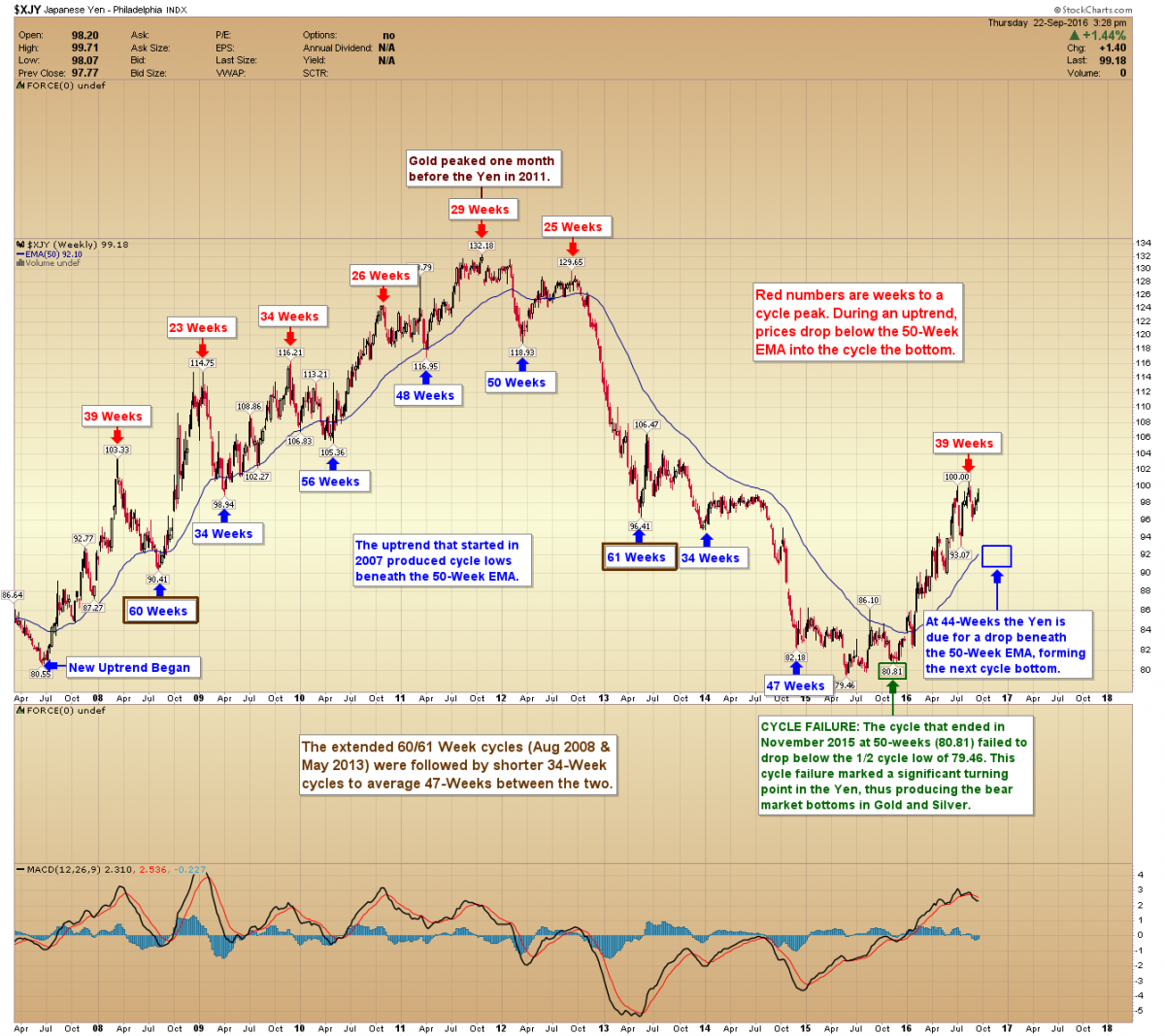 There is a lot of information to digest in the above chart. The key takeaway is the Yen is overdue for a correction below its 50-week EMA. The average cycle duration advises that the Yen should bottom in late October. However, if this series extends out to 60-weeks, as it occasionally does, prices, in that case, won't bottom until early January.
Summary
Precious metals are in a correction phase; the upside is limited. Gold will drop with the Yen. The next buying opportunity in precious metals will arrive once the Yen bottoms beneath its 50-week EMA. A descending triangle formation in gold targets is just under $1,245. 
********
Gold-Eagle provides regular commentary and analysis of gold, precious metals and the economy. Be the first to be informed by signing up for our free email newsletter.
More from Gold-Eagle.com: