Gold Price Forecast: The "Ides of March" Edition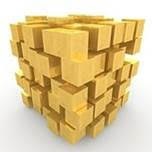 Forecasting the price of gold means gaining an understanding of international monetary policy. After all, gold is priced in US dollars. Anything that affects the US dollar, by extension, affects the price of gold.
With a Federal Reserve interest rate hike looming at the midpoint of the month—the Ides of March—gold investors will want to know where the price of gold may be headed. But since we don't have a crystal ball, we have to look to the past to find any insights about the future. Here's what you need to know ahead of the month midpoint.
Is The Fed Really Going To Raise Rates In March?
First things first: just how serious is the Federal Reserve about raising interest rates this month? Frequent followers of Fed news will note that while there is frequently talk about the interest rates going up over the past few years, it has only ever come to fruition twice: in 2015 and 2016.
To understand how people feel about this possibility, let's look at one of the most important predictors: where people put their money. Reuters is reporting today that stocks and the U.S. dollar are both low in the potential presence of a looming Fed rate hike. But that's just one day's sample; after all, the Dow Jones Index recently eclipsed the 21,000-point mark for the first time. Are investors really that wary simply because of one slow day?
The truth is, no one really knows what the Federal Reserve will do this month. Continue to watch the markets to get a sense of what investors are anticipating; don't rely on any specific day's worth of data.
Gauging Performance Of Gold After Federal Reserve Interest Rate Hikes
Although looking for correlations is hardly a scientific approach to the prediction of gold's price, investing itself has always been as much of an art as it is a science. Let's take a look at how gold has performed after recent interest rate hikes.
Dec. 14th 2016: Overall trend for gold: upward. Gold finished the month of December up and then continued the trend into early 2017.
Dec. 17th 2015: Overall trend for gold: upward. After a little unevenness in the markets, gold then started 2016 on a better note than December, eventually paving the way for a hallmark year in 2016.
Dec. 16th 2008: Overall trend for gold: upward. This last rate hike for almost a decade occurred when the price of gold was slightly lower than it was now. Although immediate results were mixed, gold's trend line moved upward and the metal experienced a healthy year.
Conclusions About The Fed Rate And The Price of Gold
There's no doubt that the Fed rate moving upward appears good for the price of gold when looking at this recent selective sample. But this is just a pinch of the overall data available. The bottom line: there's no reason for investors to be skittish, however, as the price of gold might be more independent than many people seem to think.
Gold-Eagle provides regular commentary and analysis of gold, precious metals and the economy. Be the first to be informed by signing up for our free email newsletter.
More from Gold-Eagle.com: