Gold Price Forecast: Catalonia Highlights Gold's Role as a Hedge Investment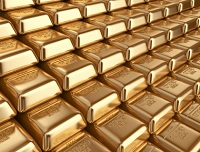 With the price of gold recently slipping, it's tempting to believe that the hedge gold offers from the stock market isn't as powerful as some say. But world events can throw that notion for a loop overnight. That's what we saw early Friday, as Reuters notes, with the Catalonian parliament declaring independence from Spain and sending investors flocking to safety.
They find that safety in gold.
The news from Catalonia is startling the markets, and for good reason. An independence movement of this magnitude doesn't only highlight the failures of government to hold union and order, but creates economic turmoil and uncertainty. That's where a precious metal like gold really shines—when uncertainty in the markets means that there are few assets that investors can rely on.
What Catalonia Means for Gold—and the World
To properly forecast the movement of gold, it's important to get a context for why this Catalonian vote is so important. As Yahoo News reports, Catalonia's vote was met immediately with the intent of Madrid—the capitol of Spain—to "quash the breakaway bid." That means conflict, with tens of thousands of activists hitting the streets and looking for their voices to be heard.
With a cabinet crisis meeting being held and the EU and U.S. both calling for a united Spain, it's clear that the world powers don't want to see this upheaval. They would prefer a unified Spain, which leads to more certainty down the line.
Today's Markets Still Performing Well as of This Morning
Though the economic news stateside shows most of the major markets in the green, including that of gold, there's no doubt that the demand for gold in Europe is poised for a major spike. We saw last year's Brexit vote pushing gold to new prices thanks to the uncertainty—now, we see a new situation unfolding in Spain that could lead to chaos.
Dollar Still Holding on to Strength
Why isn't gold skyrocketing in the news of the Catalonian vote? Because the U.S. dollar remains strong, near a three-month high. The currency in which gold is denominated will always have the strongest say as to the value of gold.
Still, the breaking news from Catalonia only means that there is potential for increased demand for gold on a global basis. The more investors flock to certainty in times of uncertainty, the more gold becomes the topic of conversation.
Where Gold Goes from Here
This is breaking news, so there is no information on where the Catalonian vote will land the region, nor how effective the Spanish government will be in quashing the freedom movement. But it's apparent that gold as a safe haven has seen its need highlighted once again due to geopolitical events. Those events can spring up any time, as we see in the headlines, which is why so many investors include a portion of gold in their portfolio. With the dollar currently at a three month high, there's plenty of room for gold to move up soon.
*******
Gold-Eagle provides regular commentary and analysis of gold, precious metals and the economy. Be the first to be informed by signing up for our free email newsletter.
More from Gold-Eagle.com: