Gold Price Forecast: Prices Are Setting Up For An October Low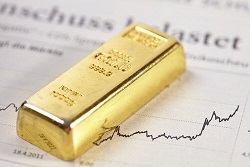 Several factors support an October low. If our analysis is correct, prices should bottom within the next two weeks and begin an accelerated uptrend. Short-term cycles isolate the second week of October. Before we get into specific timing and targets, I'd like to examine the longer-term gold charts.
Stage 1 Base
Gold prices have been basing for several years. The accumulation phase is nearly complete and the second phase (advancing stage) should begin. Ideally, we will see a breakout above $1,400 within the next few months. Once decidedly above $1,400, an accelerated uptrend will emerge.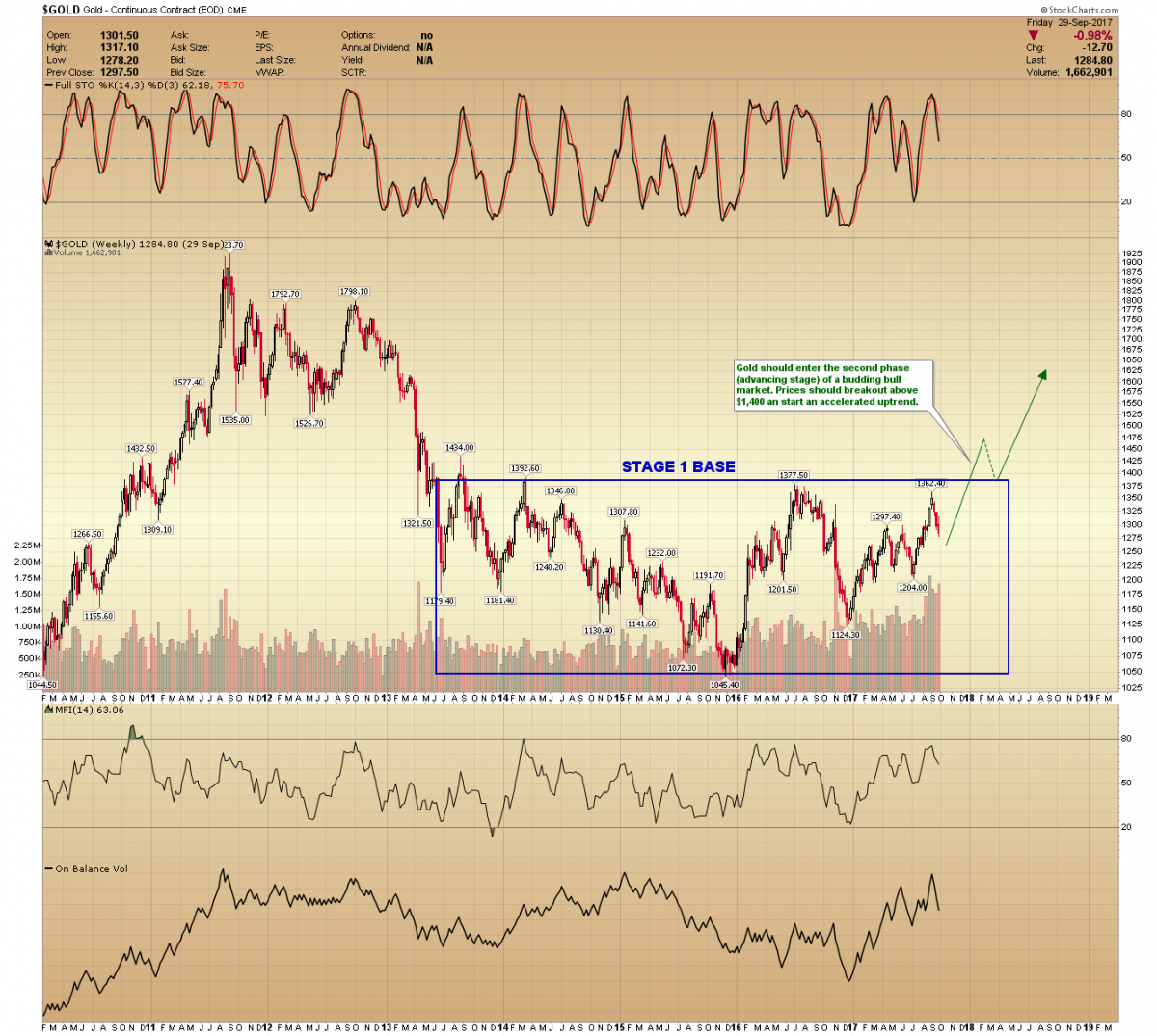 Trendline Chart
Gold broke out above the 6-year bearish trendline in August, confirming a new bull market. Prices are correcting after reaching $1,362.40. We will likely see a throwback or "backtest" of the 6-year trendline(s). There are two trendlines. The solid line denotes the best fit, while the dashed line represents closing prices. Ideally, prices will bottom in/near the October target box.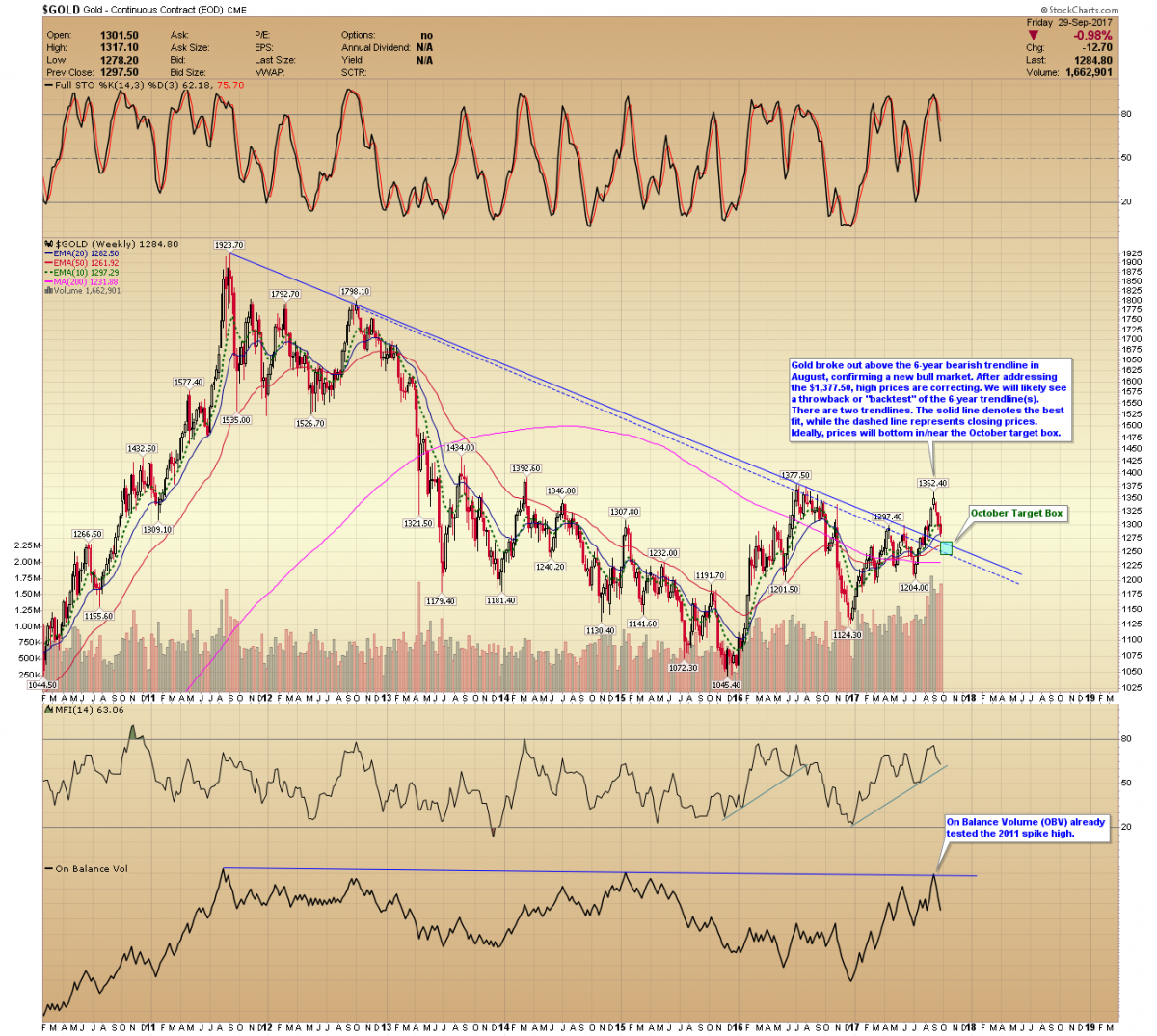 Below is an up-close view of the trendline chart. Gold should embark on an accelerated uptrend (phase 2 advance) after successfully backtesting the trendlines. A weekly close beneath the 200-week MA ($1,231) would challenge our analysis, proposing a broader corrective phase. Note: Phase three "the bubble phase" will begin once gold breaks decisively above $2,000.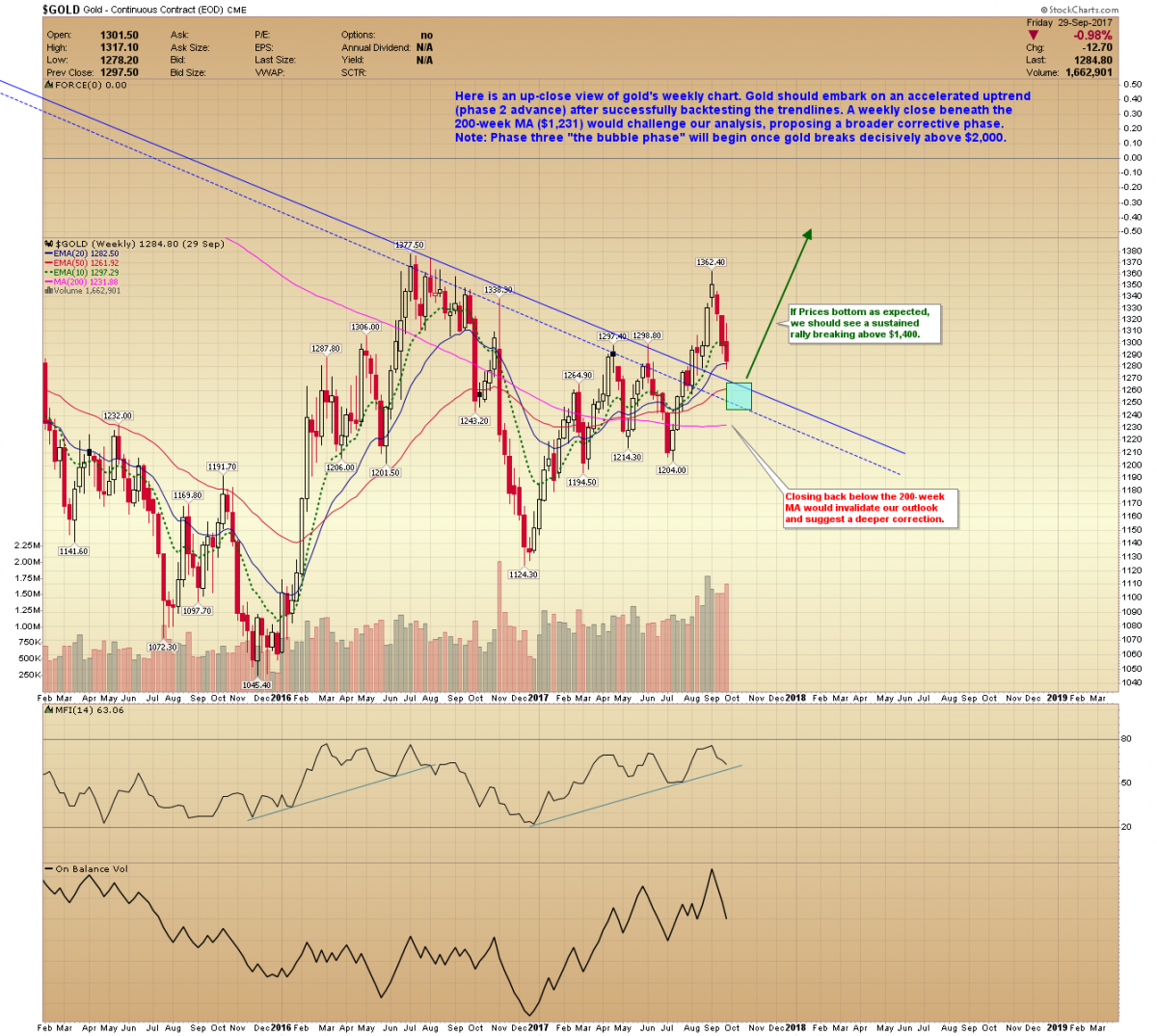 Short-Term Cycles
Since the May 9th low prices have followed a distinct pattern. If the trend persists, we can expect a low in the second Week of October.
Significant cycle highs/lows have appeared every 19-23 trading days (see daily gold chart). The September 8th top suggests a bottom between October 5th and 11th (19 to 23 trading days). The turning points correspond to the US nonfarm payroll data (Friday, October 6th). Cycle highs/lows typically arrive after the employment announcement, usually within 1-5 trading days. On three occasions (May, June, and August) prices reversed on the Tuesday following the report. Subsequently, the odds favor a bottom during the second week of October. I'll be monitoring Tuesday, October 10th closely.
Daily Gold Chart
Cycle analysis suggests a bottom between October 5th and 13th. The odds favor a reversal after Friday's employment report. Tuesday, October 10th is a key date. An A = C correction targets approximately $1,250 which correlates with the rising 200-day MA and the December 2016/July 2017 trendline.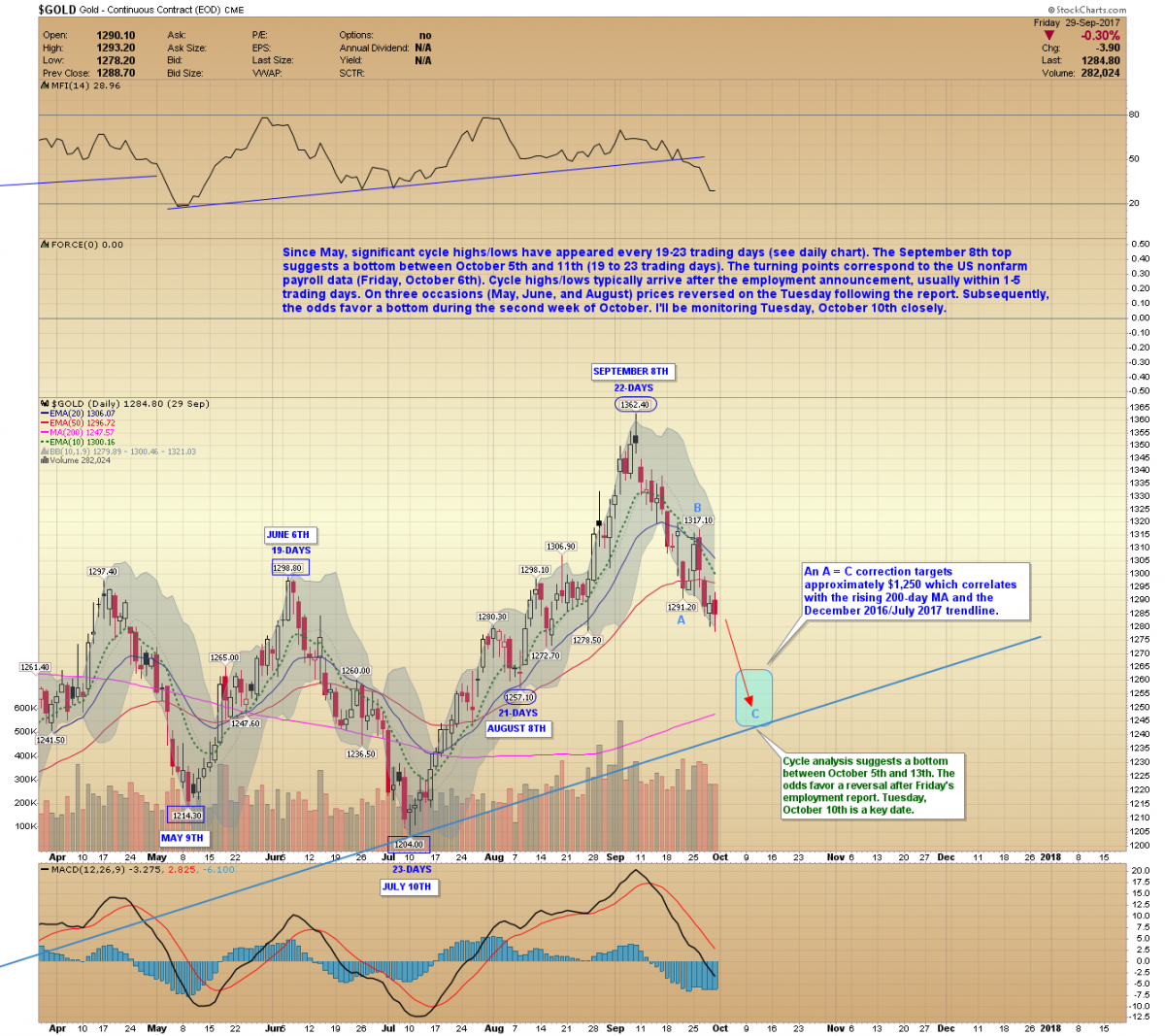 In conclusion, gold prices are entering a decisive period. Hurricanes Harvey, Irma and Maria will skew September's employment numbers. Consequently, market participants may overreact to Friday's report. If prices reach the October target box, I'll pay special attention to the price action surrounding October 10th.
********  
Gold-Eagle provides regular commentary and analysis of gold, precious metals and the economy. Be the first to be informed by signing up for our free email newsletter.
More from Gold-Eagle.com: