Gold Price Forecast: Prices Bouncing Before The Next Decline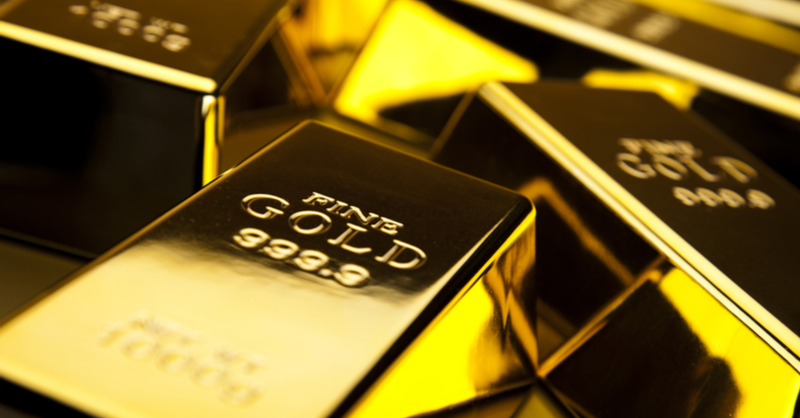 In my last article, I explained how gold prices would either bounce or break sharply lower. Gold rallied, and prices appear to be following a 30-32 day cycle. The next cycle turning point should arrive in late December.
The dollar cycle peaked on Monday, November 12th. That explains the resilience gold showed last Monday as the dollar broke to 3-month highs. That breakout ended up being terminal in nature, and prices are dropping into a cycle low.
The current bounce in precious metals could last anywhere from 1-3 weeks. How high and how far they rebound depends on when/where the dollar bottoms. The current dollar count supports a decline into late November early December. That could support metals prices for another 2-weeks.
Gold Price
The 6-month gold cycle has been challenging to follow. However, it seems a more frequent 30-32 day cycle has surfaced with some consistency. What's that mean? It suggests that we are 4-days into a new 30-day period and that the next turning point (probably a low) should arrive between the 27th and 31st of December.
I think we know approximately when the next low will come – now we need to figure out where. That, unfortunately, is a much harder question and depends on where this new 30-day cycle peaks. If it tops below $1246, then I'm pretty sure gold will break the $1167 low in late December. If prices close progressively above $1246, then gold is likely to remain above the $1167 level in December.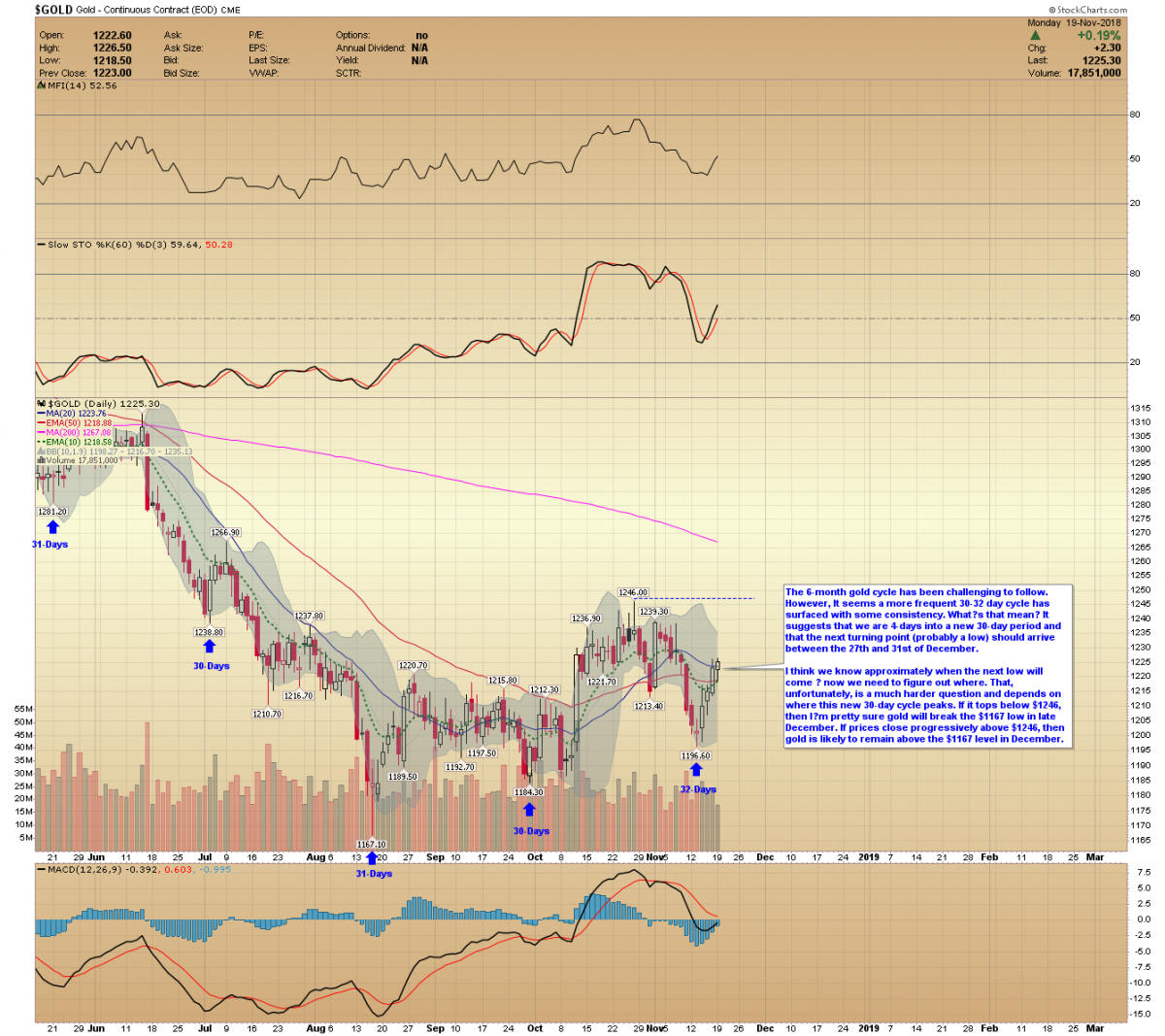 US Dollar
Gold prices will likely peak when the dollar cycle bottoms. The dollar peaked on Monday, November 12th and prices are dropping into a low. The short-term 16-17 day cycle suggests a bottom between November 30th and December 4th. I see a 5-wave structure off the 93.39 low. To maintain the bullish formation, prices need to bottom above the 94.40 level.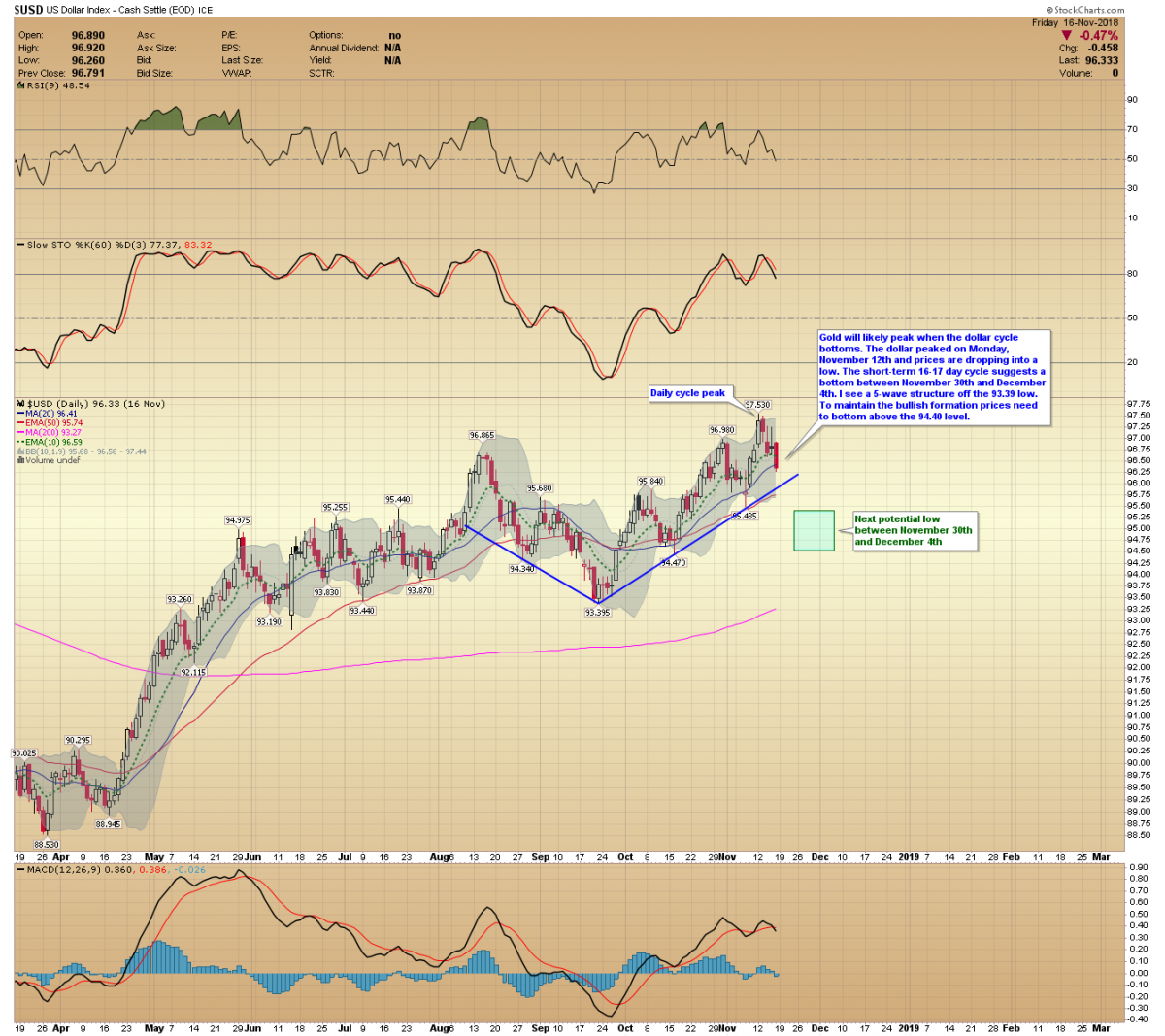 Silver Price
Silver prices are bouncing out of a daily cycle low with gold. If this cycle peaks below $14.95 then I think we can expect a test and potential breakdown below 2015's $13.62 low in December. A sustained rally above $14.95 would be bullish and recommend a double bottom.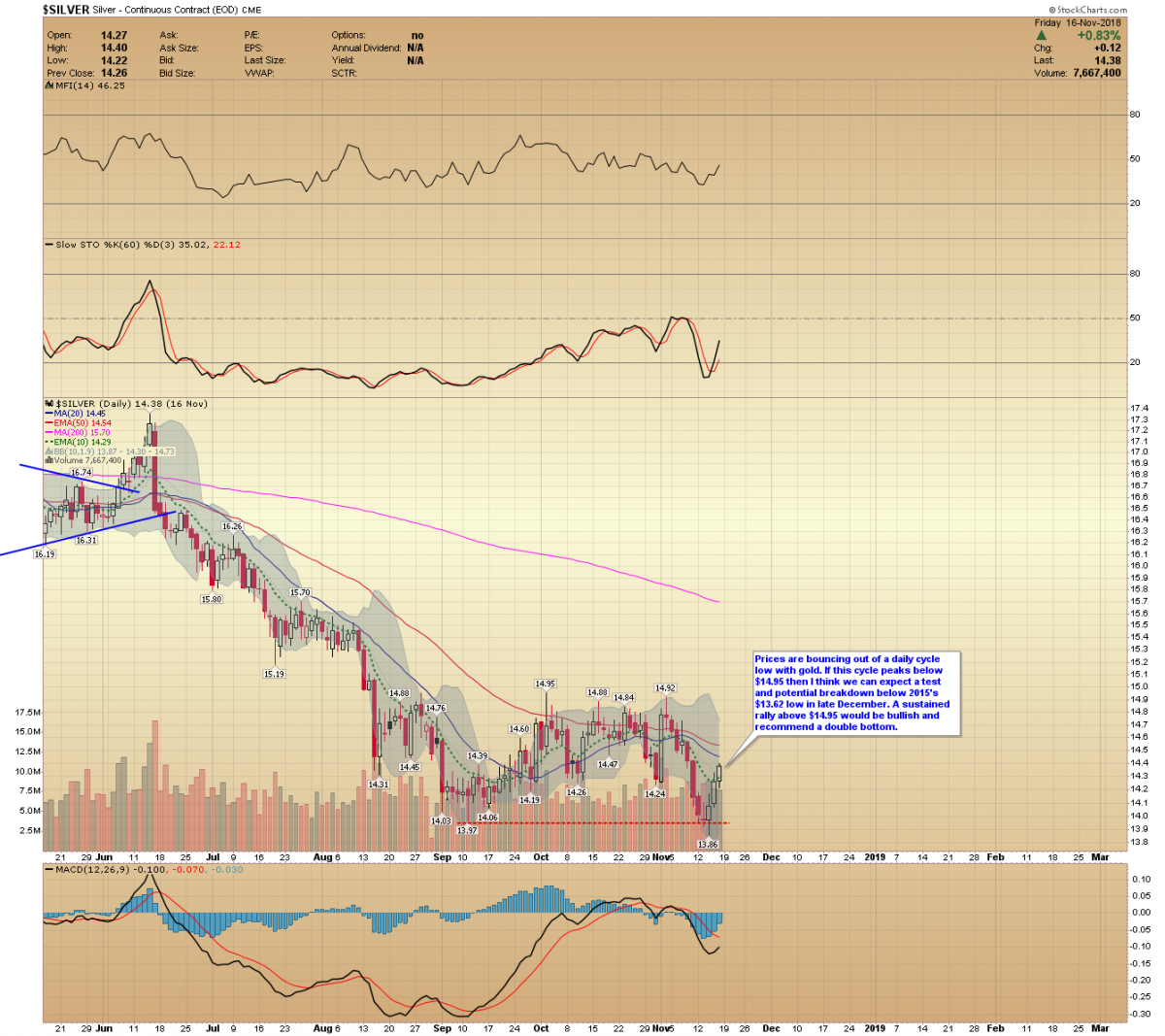 GDX
Miners bottomed with the gold cycle on Tuesday; prices are bouncing. Where/when miners top depends on gold and the dollar. There is stiff resistance in GDX between $20.50, and $21.00; I'm not sure prices make it that far. I'm judging if it's worth trying to play a 1-2 week bounce. I'll consider the odds and decide early this week.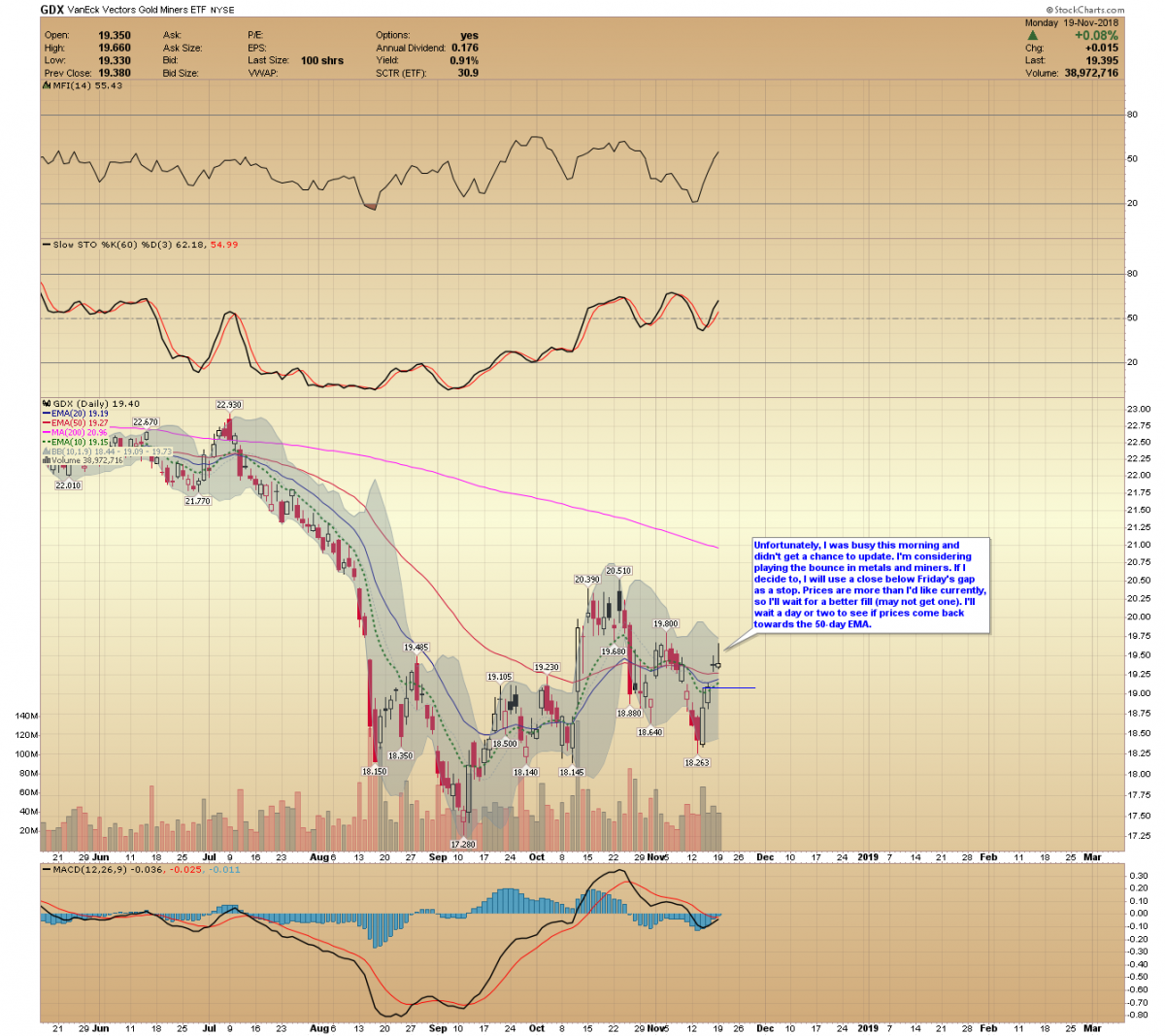 GDXJ
The MFI was oversold, and prices produced a bullish engulfing day as well as a potential double bottom (island) reversal. How high and how far prices bounce is anybody's guess. I do see some bullish potential in the charts, so I'm considering a bounce play in case this turns out to be more.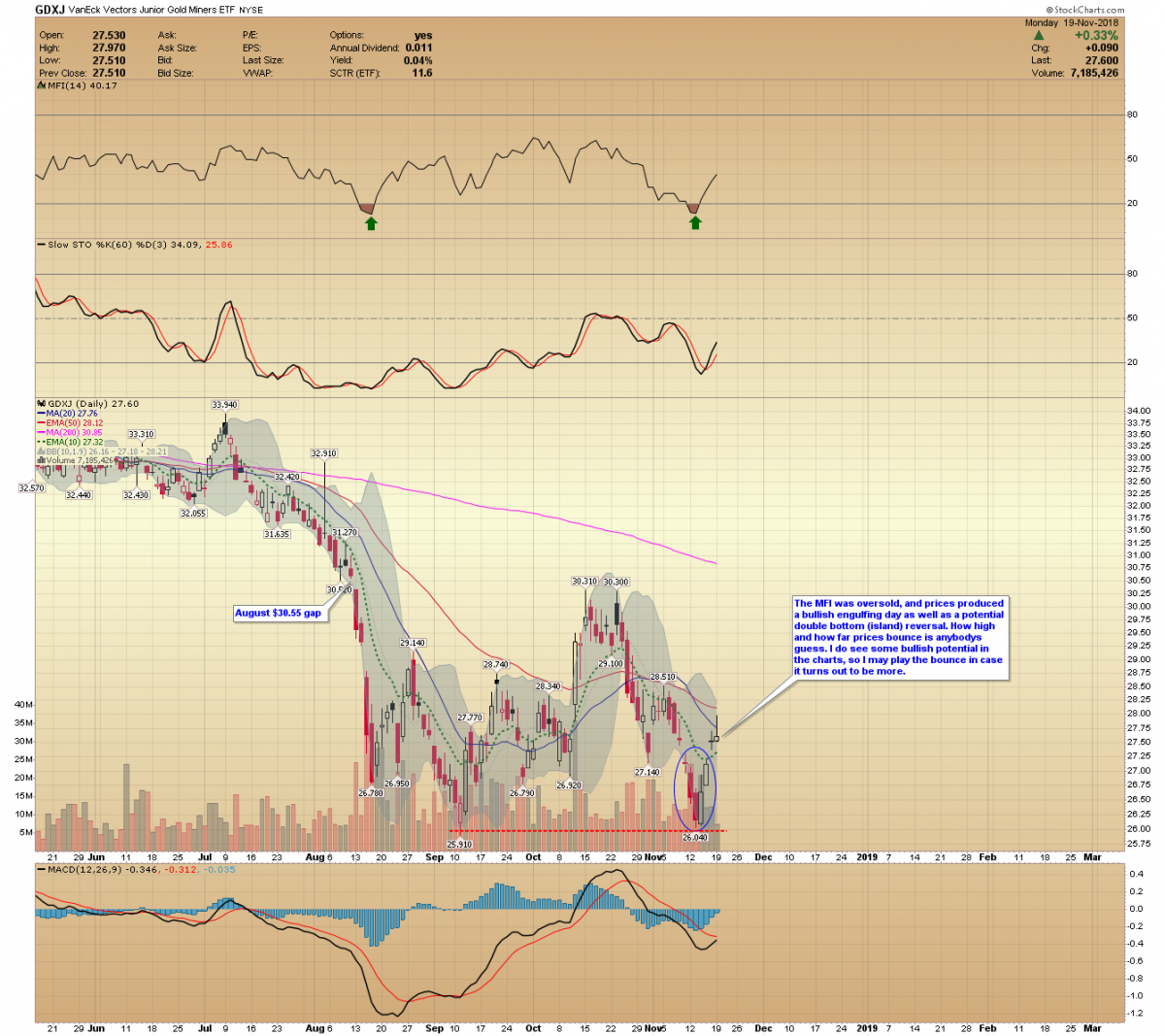 CRB
The CRB broke the head and shoulders pattern neckline but finished the week above 186. Technically, we have a breach but not a confirmed breakdown. A weekly close below 186 would recommend a 3-year cycle decline below 180 in Q1 2019. Decay in the CRB would imply weaker commodity prices for the next 1-3 months.

In Summary
Metals and Miners are bouncing. The rebound is likely to fade within a week or two, and then we should see a decline into late December.
For more analysis and daily commentary, please visit us at https://goldpredict.com/
********
Gold-Eagle provides regular commentary and analysis of gold, precious metals and the economy. Be the first to be informed by signing up for our free email newsletter.
More from Gold-Eagle.com: