Gold Price Forecast: Where Will Gold Be Relative to Bitcoin in Another Year?
With the year coming to a close and the Federal Reserve calling in another interest rate hike in another bout of optimism for the economy as a whole, things don't necessarily look good for gold. The precious metal—seen as a hedge rather than a key indicator for economic development—tends to perform well when investors move their money out of the market and diversify into precious metals. While the recent dip in gold prices represents a strong opportunity for doing just that, it's important to look at gold's performance in context to get a better idea of where it will head in 2018.
Rounding Up the Recent News in Gold
While gold's price looked dicey for a while, it's since returned to levels more akin to its 2017 performance, moving to the mid-$1,200 range. While the year in gold has seen it perform at higher prices, including well above $1,300, it's still providing a cushion from the strong psychological barrier at $1,200 per troy ounce.
Below, we'll have a look at a gold price chart courtesy of APMEX.com: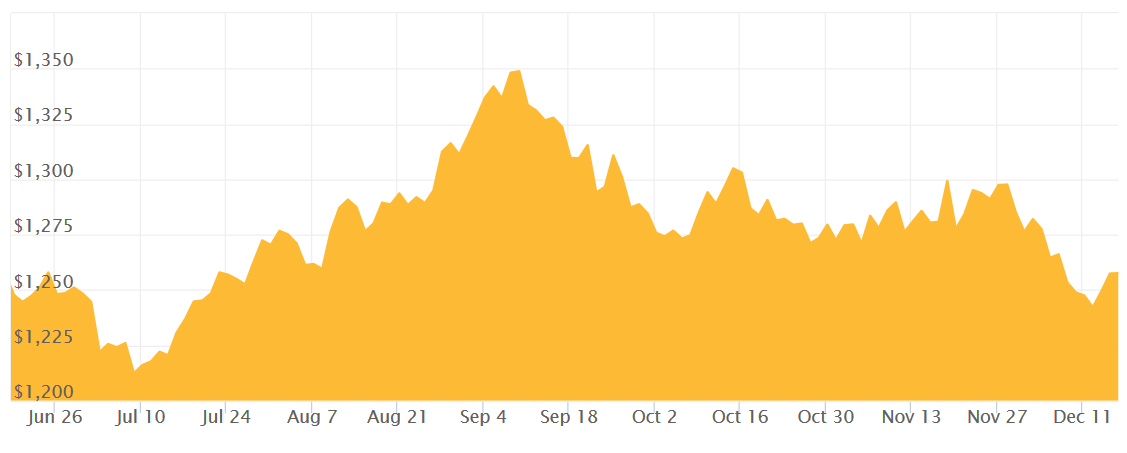 Investors who saw gold slink below $1,250 and panicked forgot all about gold's performance earlier in the year. Now that gold is showing some resilience at about the $1,240 mark, it only goes to show that gold's price is not so disastrous in context. In fact, it's still comfortably above yearly lows, which can help solidify its position in 2017.
A New Ratio to Watch: BTC to Gold
In this space, we typically address the ratio of gold's price to silver. But with the rise of cryptocurrencies, it's important to watch another ratio: the ratio of Bitcoin (BTC) to gold. Bitcoin's rocket-launch of a performance this year has thrown it in the spotlight, and it seems to split gold investors in half. Some believe that BTC can head to zero quicker than others thing. Others believe that BTC is something like digital gold, offering investors an alternative when they don't believe in the stock market.
With some BTC experts looking at its ratio to the price of gold now, it's possible this may be the ratio to watch in 2018. However, it's important to remember that these two types of "money" are dramatically different from each other, and the ratio is subject to wild swings come 2018.
Is Now the Time to Sell BTC and Buy Gold?
With the price of Bitcoin sky-high and the price of gold hovering around recent lows, it may be a dip of epic proportions, particularly for those who bought Bitcoin when it was still much lower. Although there's no telling where 2018 will take us—perhaps Bitcoin can ascend to even higher levels before all is said and done—there's a great opportunity now to take the gains on Bitcoin and move it to gold while the price per troy ounce is still relatively muted. It's unlikely that 2017 has much to say about either price—knock on wood—with how little time remains. But investors should prepare for 2018 as soon as possible.  
More from Gold-Eagle.com: