Gold Price Slips - Is A Fed Rate Hike On The Near Horizon?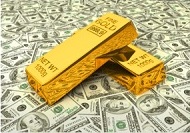 Although the Federal Reserve seemed to have backed off of its lofty goals for rate hikes this year, new rumors are swirling that the bank may be poised to raise interest rates again in the summer. Although some are less than optimistic that this will occur (Peter Schiff, for example, said the Fed "continues to cry wolf" about these hikes), it's worth exploring the possibilities of a summertime rate hike as we monitor the price of gold.
"Yesterday's stronger US economic data were followed by comments from both the Atlanta and San Francisco Fed presidents that at least two interest-rate increases may be warranted this year," writes Steffen Grosshauser at BullionVault. "A third Fed official said that he would push for an interest hike as early as June when officials meet next month."
But what exactly is that economic data that appears so cheery? An increase in the U.S. consumer price index, higher oil prices, and slightly higher new housing starts. This points to an increase in inflation, which some people believe is better for economic activity. The dollar index has also increased.
As we've seen the past few days, the price of gold has dipped a bit on this news. The yellow metal is typically seen as a hedge against economic hardship, and if the economy is not truly headed toward recession, investors might expect gold prices to stagnate over the next few months.
But if this is true, and the economic data is indeed strong, why haven't equities followed suit? As of the writing of this article, the Dow Jones is down 133 points, the Nasdaq 50, the S&P 16, as well as gold's $22 drop so far today.
When you look at it, it appears as though the rumors of a rate hike might not be as substantive as some have indicated. Nasdaq.com says "markets are pricing a 30% chance of a rate hike by June." And perhaps stock market investments have reacted to the rumors of a June rate hike, believing that another rate hike might be a "prick in the balloon" that has held stocks aloft in recent months.
As people have made money in gold recently, it's possible that investors are now beginning to sell in order to collect on their profits. But keep in mind that many drivers of the gold price remain in play, including:
The possibility of negative interest rates. Watch the Fed closely. If there's more talk of a rate hike and none ever shows up, perhaps Peter Schiff is right about "crying wolf." If negative interest rates loom across the globe, then the price of gold can be expected to remain high and perhaps even charge higher.

Watch the demand reports. If gold is selling off, then it stands to reason that demand will slip as well. Thus far, we have no major indications, that this is the case. Watch the second quarter demand numbers once they're available to have a hint of the future price of gold.
The gold price is still steady, despite the recent dip. One has to wonder if this is an opportunity to buy in before a major increase, or if the dip is more than just a dip. Only time will tell.
More from Gold-Eagle.com: