Gold Prices Consolidating Forecast: Expect A November Shift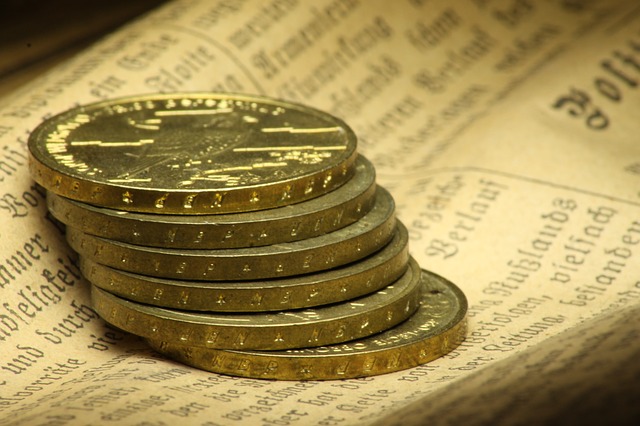 Gold prices continue to grind their way lower after peaking in September. The correction has been choppy as traders weigh weaker than expected economic data versus productive trade talks with China. Overall, this appears to be a normal cycle correction, and we should get a bottom by November or December. 
If you study the markets long enough, you'll begin to recognize a cyclical nature to virtually everything. Financial assets rise and fall with the business cycle. Agricultural commodities are subject to weather patterns and drought. In gold, prices tend to base about every 6-months. 
The 6 Month Gold Cycle
Below is a weekly chart of gold from 2007 to 2012. The blue arrows represent each 6-month low. Not every cycle is equal, but there is a definite cadence to the lows. In bull markets, each low should be higher than the last. Note, the broad correction in 2008 formed the 8-year low.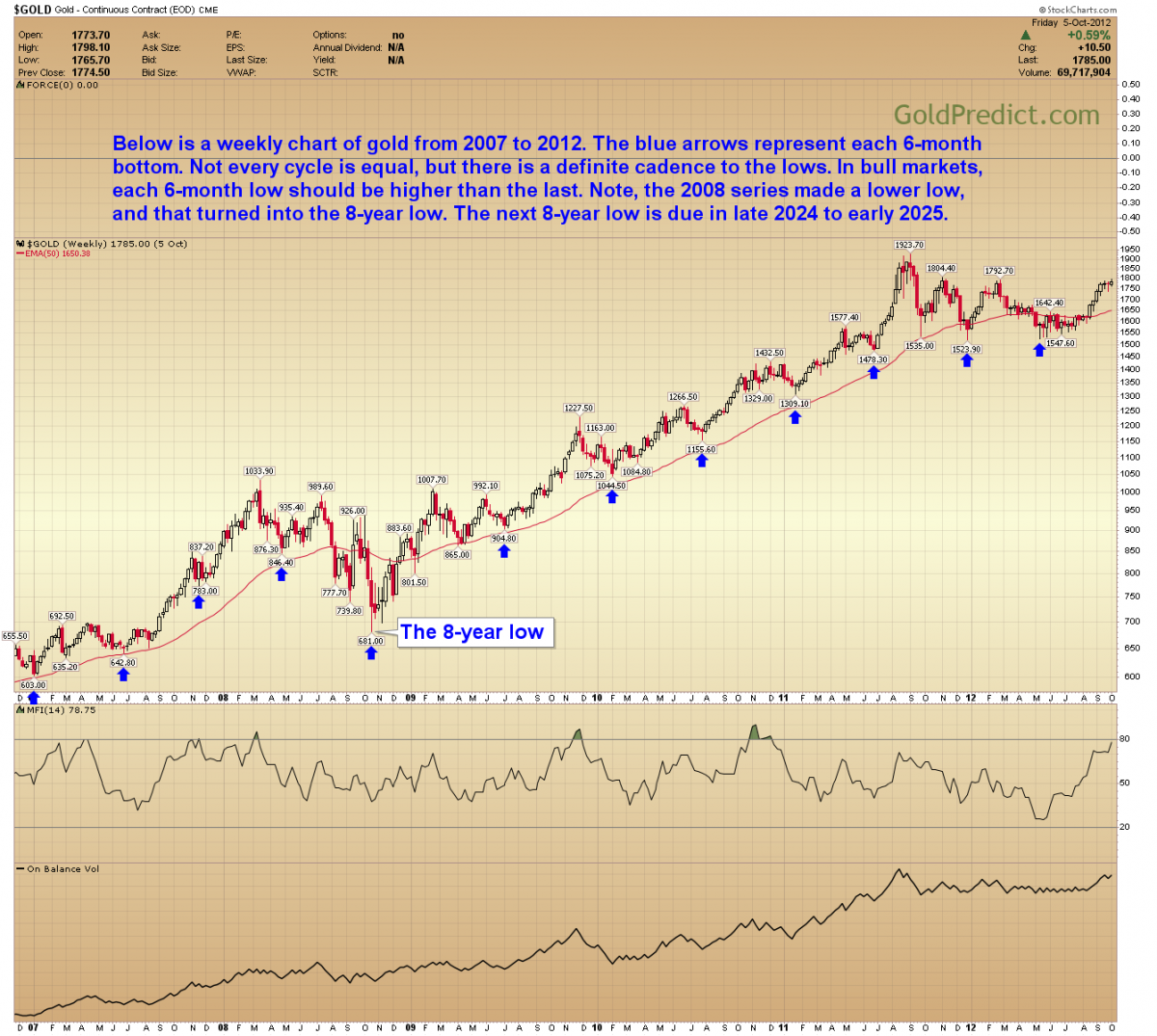 The Correction Process
The correction into each 6-month low can be filled with a few twists and turns. Typically, you can divide this process into four stages. 
Stage 1 (The Cycle Top): Gold has rallied at this point for several weeks; bullish sentiment is high. However, a more in-depth look reveals weakening underlying momentum portrayed by negative divergences in the MACD and RSI. Eventually, prices peak, and we mark the cycle high.
Stage 2 (The Topping Process): The uptrend is showing signs of weakness, but it's unclear if prices topped. Sentiment remains firmly bullish with most traders still positioning for new highs - many overleveraged. However, the market is running out of buyers - rallies fade, and prices fail to maintain new highs. 
Stage 3 (A Top Acknowledged): After a couple of failed rallies, bullish sentiment begins to wane. The bears, once timid, start to grow in confidence. It's at this point we can see a sharp down day as overleveraged traders acknowledge a trend reversal (sometimes all at once) and race to the exits. The bulls stop looking for new highs and begin looking lower.
Stage 4 (The 6-Month Low): Prices have declined long enough and deep enough to drive sentiment from bullish back to bearish. Everyone expecting new highs at the top is now calling for fresh lows - some shorting the market. At this point, our Gold Cycle Indicator should be below 100 and in bottoming territory. Ideally, we've seen at least a 50% reduction in commercial net-shorts from the peak. 
I believe the current cycle correction will transition into stage three (top acknowledged), once the price of gold breaks the October $1465 low. With commercial net-shorts still above 300K, the next bottom may be delayed until November to December. I have a minimum target of $1410 - $1420 and see the potential for a backtest of the June $1380 breakout area.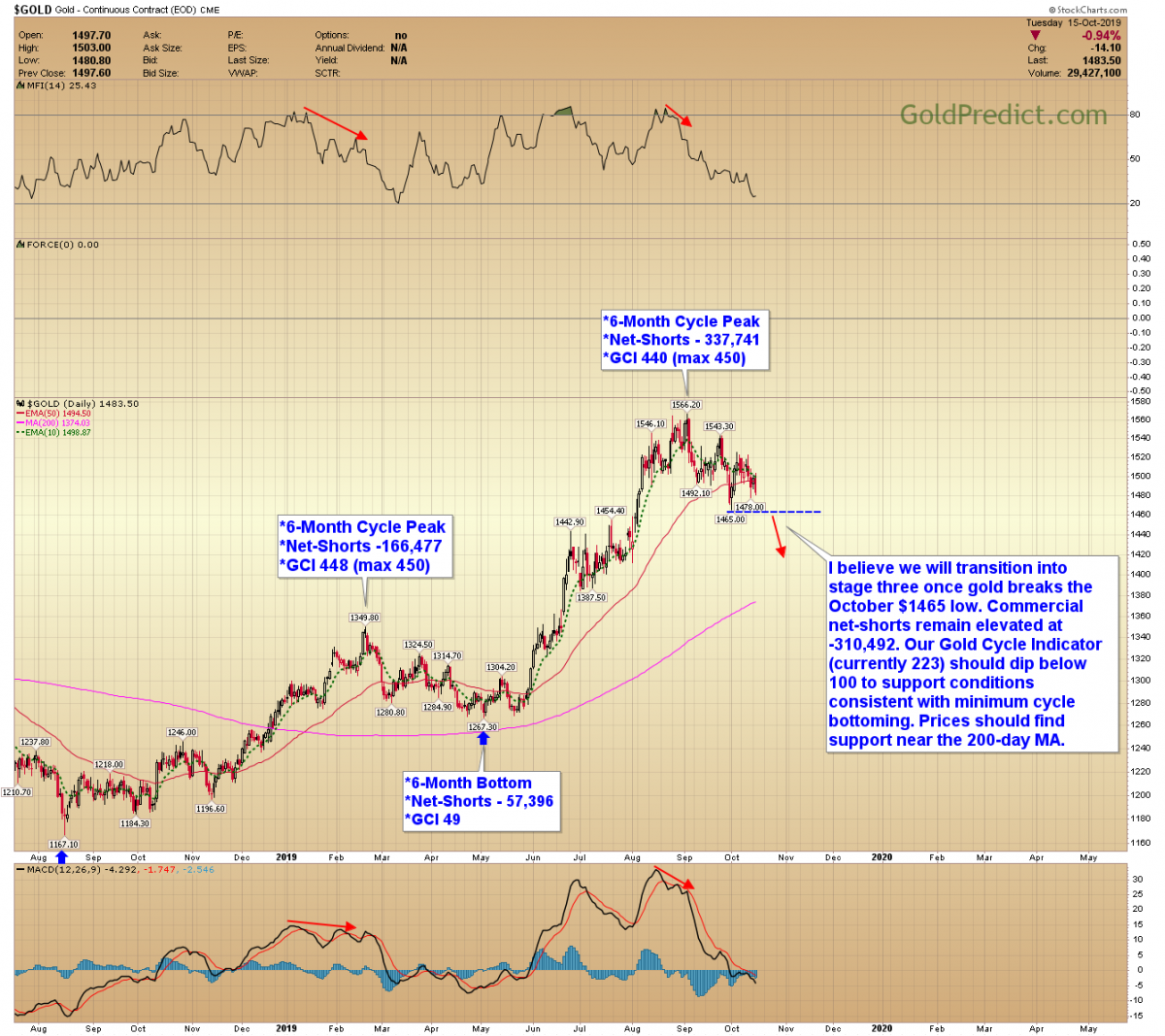 AG Thorson is a registered CMT and expert in technical analysis. He believes we are in the final stages of a global debt super-cycle. For more information, please visit https://goldpredict.com/
*********
Gold-Eagle provides regular commentary and analysis of gold, precious metals and the economy. Be the first to be informed by signing up for our free email newsletter.
More from Gold-Eagle.com: