Gold's Fundamentals On The Move: PM Price Moves Should Follow
Last week Gold continued its grinding trend toward a favorable alignment in its Commitments of Traders (CoT), as large Specs got less long and Commercials less short. This is not an outstanding configuration but when considering the muted state of the little guy (small Specs), it's not indicating over eagerness on the part of gold bugs either. That is a good thing. The question is has the CoT trend completed?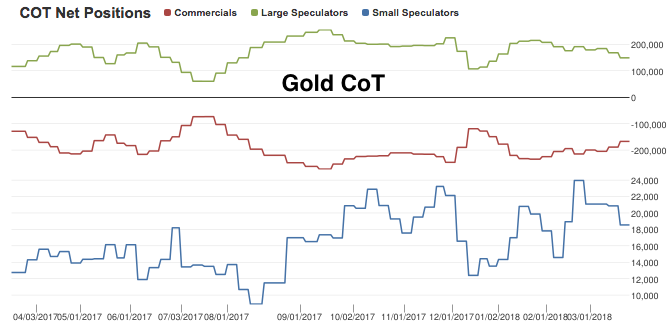 The Silver CoT structure has been where the real bullish signal has been fomenting. Last week large Specs actually went further net short than the Commercials, which are actually on the cusp of going net long Silver; a rare event.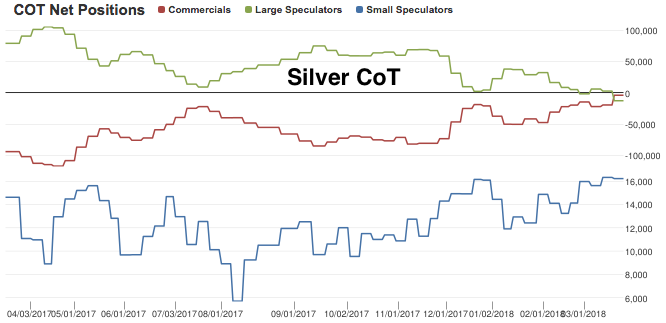 Aside from putting to rest conspiracy theories about 'commercial' (i.e. bullion banks, etc.) covert operations to manipulate the prices of gold and silver, this is a great contrarian bullish setup in the making. When the most vehement speculators are out, you want to think about being in.
As for the prices of the metals, gold held the first support area we'd been noting after not testing the SMA 200, which I had thought quite possible. Regardless, gold had been in an uptrend as indicated by the trends in both of its key daily moving averages (SMA 50 & 200). Now RSI has risen above 50 and the Handle to what we have previously noted could be a daily 'Cup' pattern may be breaking upward. Also of note, there was conviction in volume over the last three days of the week.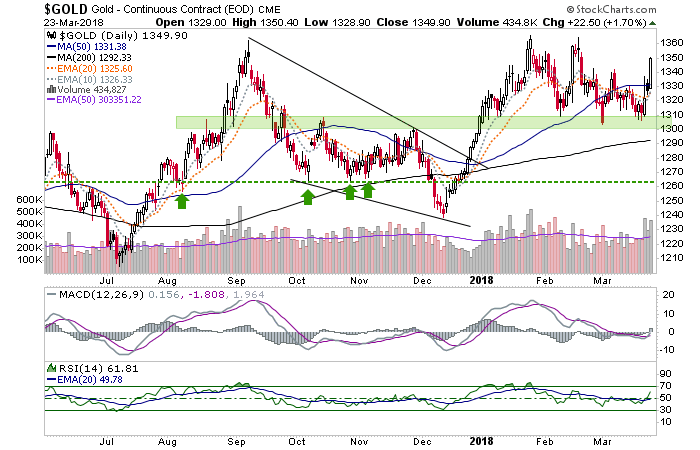 As for silver, it continues to… what else? Lurk.
It is lurking below very key resistance at the SMAs 50 & 200 after holding daily chart support just above 16. RSI has inched to green (50+) and a little volume kicked up by week's end.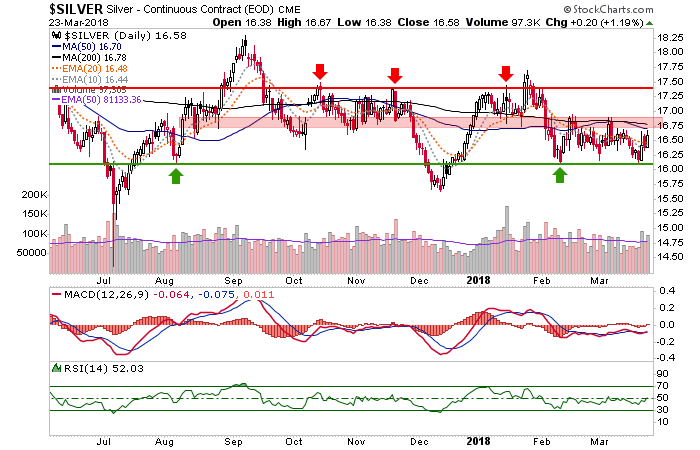 We have had patience to this point, so what's a little more? I continue to believe that while gold usually bottoms and leads a bull phase, silver is going to catch up and take up leadership on the next real sector rally.
By "real" I do not necessarily mean another trade-able yet ill-fated bounce, but the real deal. A bull phase or cyclical bull market would put gold, silver and the miners above the rally highs of the extended consolidation from mid-2016. Thus far technically, there has been no indication of such a bull phase.
However, the precious metals work we do in NFTRH is all about the macro and sector fundamentals and what it would take to produce a real rally; one you can position for and sink your teeth into. What is happening in the macro markets may finally be signaling that an extension of the 2016 impulse could be close at hand. The ratio of Gold to Industrial Metals is just one of many relational gold indicators we are tracking in order to turn the macro to a low risk, positive alignment for longer-term trades in the gold sector.
The job of the chart below and the many other indicators we track is to clearly give us a view of how cyclicality and risk 'on' are doing vs. counter-cyclicality and risk 'off'.
I ask you not to take one bearish daily chart (longer trends have not yet changed) as a be-all, end-all. But it is reflective of a move in a positive macro direction for counter-cyclical gold, silver and the miners.

Meanwhile, pertaining to the big picture of the gold price, there is still this after all. Gold is doing a little lurking of its own, right below its bear market ceiling and bull market escape hatch.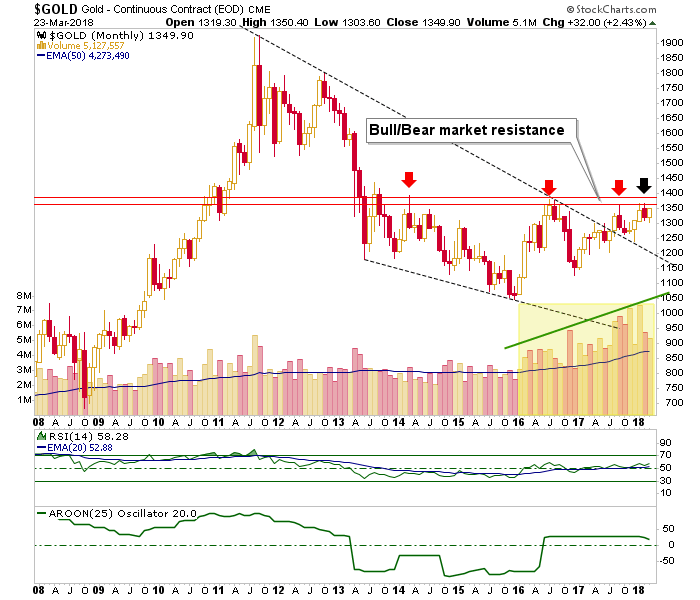 In light of the fundamental and technical setups in play, we are managing a whole spectrum of considerations, from individual miner, explorer and royalty charts to silver's CoT setup and daily chart resistance to gold's big picture view above. We have long noted gold's perch below 1400 and also that the more times a resistance level is tested, the weaker it tends to become.
With the macro fundamentals now getting in gear it is time for gold bugs to be managing closely and ready to consider the prospect that the bear could finally end. We'll be managing the process every week, in detailed weekend reports and in-week updates. If the risk 'on' world continues to take the pain, the macro picture states that the next rally could be different from those of the last 1.5 years of consolidation.
Reintroducing our graphical macro fundamental view, Gold's Macrocosm just for fun. ;-)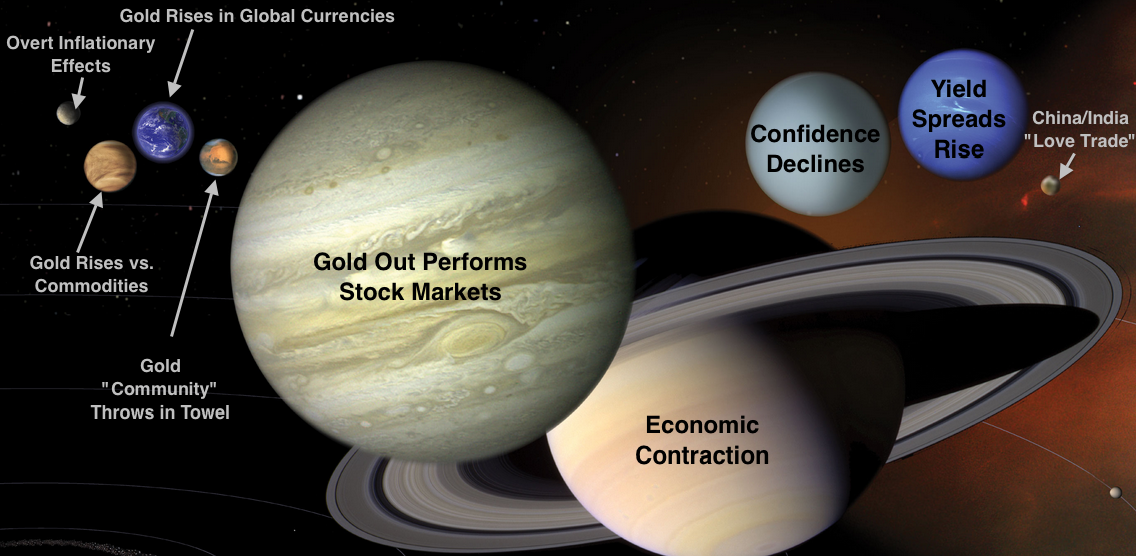 Website: https://nftrh.com/
NFTRH Premium Market Report: https://nftrh.com/nftrh-premium/
********
Gold-Eagle provides regular commentary and analysis of gold, precious metals and the economy. Be the first to be informed by signing up for our free email newsletter.
More from Gold-Eagle.com: