How High Might The Gold Price Soar in 2017 Using January To Forecast?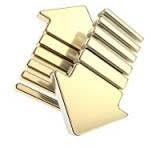 Using past performance to predict future results is folly. As we saw in 2016, there are any number of potential news events which could shape the economic landscape this next year, many of which could directly influence the price of gold.
But the past is all we have to go on when looking at a forecast for the price of gold. And when gauging what investors really think about the precious metal, it's hard to do much but measure the present and see how we got here. Just how high could gold soar in 2017? If January is any indication, there's plenty of room for a bull market.
A Strong Start To 2017 For The Price Of Gold
As we noted recently in this same space, the price of silver has enjoyed a positive start to the year, even convincing some that there might be a beginning to a new silver bull market. Although silver has outperformed gold thus far, it's hard to ignore the upward trend we've seen for the yellow metal as well: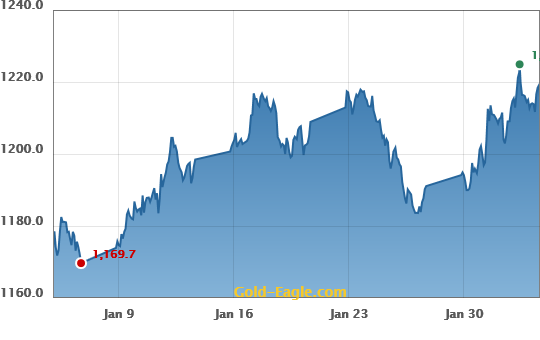 While this still hasn't sent gold flying above its peaks in 2016, it does show that there are plenty of signs of life for the precious metal. In fact, there may be enough signs of life that those seeking a quality hedge against the volatile stock market are looking at riding the gold train once again.
Interesting Forecast Sees Gold Moving Up 8%
At the beginning of 2016, the prevailing wisdom was that gold was headed for a slightly down year—perhaps about -5%. As readers of this website will know, that was not the case.
Joni Teves at UBS won a prediction contest with a prediction of a -5.6% gain. And now, Teves is making another prediction: that gold will continue its upward path to about $1,350 an ounce by the time the year is out.
Teves argues the reasons are multiple. They include a forecast that interest rates will only move slowly upwards…and that the US dollar's strength has peaked for the moment. Moreover, he says gold's investment levels continue to be lower than they should be, giving it plenty of room for spikes in demand. Although it's wise to take caution that any one individual's predictions don't necessarily spell certainty, it's an interesting perspective on gold—and one that was accurate last year.
"More Gains Ahead" After Gold Moves Up?
There's a delayed reaction sometimes: investors only seem to see buying signals when a precious metal has already been on a strong run. But Mining.com does see more "gains ahead" even after gold has moved up to an 11-week high.
But noting the current gold predictions going on, Mining.com also points out that Bernard Dahdah, an expert at Natixis, accurately predicted a weak 2015. He currently sees a weak 2017, with gold perhaps ending up around $1,110 per ounce.
That makes 2017 more unpredictable than most would care to admit, regardless whether measured in headlines or the price of gold. But there's no reason for optimism to run out just yet.
********
Gold-Eagle provides regular commentary and analysis of gold, precious metals and the economy. Be the first to be informed by signing up for our free email newsletter.
More from Gold-Eagle.com: