How Low Can Gold Prices Go Before Rebounding?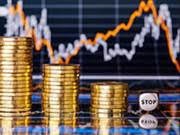 With oil prices up sharply today after an OPEC announcement of supply cuts, it could be an interesting week for the markets. But for those invested heavily in gold, the news does not appear to be good. Even after what appeared to be a rebound recently on a weaker dollar, the gold price is down again on Wednesday, proving that the yellow metal has yet to hit its "bottom." Is this a dip, or does gold have much further to decline before finally rebounding?
Watching The Strength Of The US Dollar
The US dollar has been In the driver's seat over these past few weeks. Consequently, it's no surprise that what appeared to be a rebound earlier this week, according to BullionVault.com, came on news of a weaker greenback.
According to DailyFX.com, "if the US Dollar continues to retreat, this may signal a shift in momentum for commodities prices such as Gold." But we now know that gold hasn't held on to the rebound, declining early on Wednesday, which may signal to some investors that the price dips have yet to finish.
These days, it appears more and more likely that the Federal Reserve will announce a rate hike in December, which could spell further trouble for the price of gold. Investors will want to ask themselves, however, if this December rate hike is already "cooked into" the numbers.
What Does Oil Have To Do With Gold Prices?
The big economic news this morning was that OPEC agreed to cut production of oil, sending the price of oil higher and producing mixed results elsewhere in the markets. What might this have to do with the price of gold?
Like gold, oil is priced in US dollars, which means that at the very least, the two commodities are linked by the strength of the dollar. A weaker dollar can tend to mean higher prices for oil…just as it does for gold—though that's an oversimplification of the market. But higher prices elsewhere can potentially mean investors have less money to put into gold…as gold is no longer a priority for many investors.
According to EconomicCalendar.com, however, the oil price surge is another variable (as well as higher dollar strength and increased bond yields) that puts downward pressure on gold.
Making Sense Of This Week's Gold Prices
If today's early dip in gold prices is due to three factors, including the news from OPEC, it's possible that this is just a temporary dip - and that a rebound may still be in the cards. But investors will want to be wary in this economic environment, which is growing unpredictable.
With 2017 looming even closer on the horizon, gold prices don't appear to be revved for a sudden jump back to Brexit levels—at least not in the immediate future. Wise investors will continue to watch the winds in gold prices: i.e. oil prices, the strength of the dollar and interest rates. These should give a strong early indication of where gold prices may indeed be headed.
Gold-Eagle provides regular commentary and analysis of gold, precious metals and the economy. Be the first to be informed by signing up for our free email newsletter.
More from Gold-Eagle.com: