A Key Gold Bull Market Signal
The gold market is looking a lot like it did early in the millennium, at the start of the bull market. It is setting up for a gold bull market that is likely to be way more intense than the previous one, due to the structural weaknesses incurred by the monetary system since then.
Debt levels, for example, have grown significantly since the early 2000s. US Government debts (Federal debt) as a percentage of GDP has grown from 55% in 2000 to 105% today.
There will soon be significant market movements to compensate for the unsustainable debt levels. If your debt levels are becoming too high, at some point your credit rating will be affected to the extent that lenders will require higher interest rates and/or they will refuse to provide you any credit. This is true whether you are an individual or a nation state.
So, the firepower that was available to keep the system afloat, during the previous gold bull market, has been depleted. Economic decline and higher bond interest rates is coming, and these are rocket fuel to a gold and silver jet (read more about this).
Below, is a Dow/Gold ratio chart: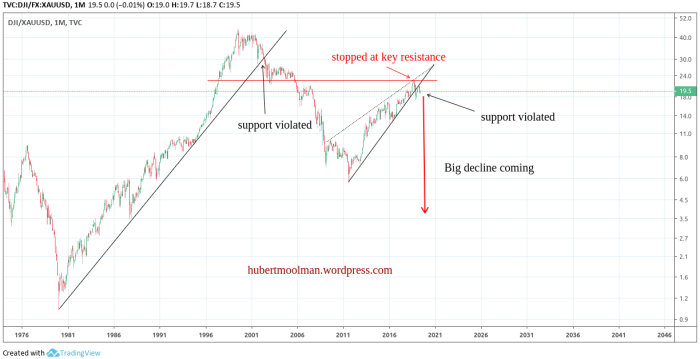 There was a long-term support line in place from 1980. The support was violated in June 2002, and it was warning of the coming gold bull market. Again there was a support line in place since the gold peak in 2011.The support was violated in December 2018, and again it signaled the coming bull market.
Below, is the same chart compared to a gold long-term chart: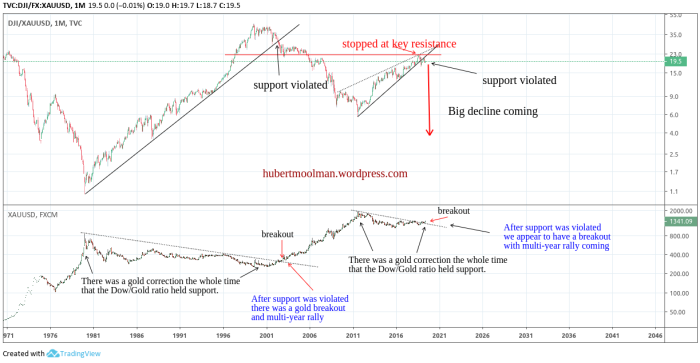 See how gold broke out soon after the support was violated on the Dow/Gold ratio chart. Currently we have the same situation where gold has broken out from a downtrend since 2011, sometime after the support violation on the Dow/Gold ratio chart.
This will be the third wave since the peak in the Dow/Gold ratio, and it is often more intense than the first.
For more on this and this kind analysis, you are welcome to subscribe to my premium service.
********
More from Gold-Eagle.com: