Precious Metals And Miners Are Set To Drop In April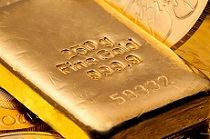 Three weeks ago, I was expecting an interim low in precious metals and miners. March 10th, I wrote, "Metals and Miners are rapidly approaching an intervening low." Prices confirmed a bottom later that day, and I issued this GDX update. The foreseen rebound is nearing its termination, and prices are setting up to drop in April.
Miners have underperformed the metals since February. This divergence alerted us to a probable top in miners. Relative weakness persists. Gold and Silver are challenging their February highs, but miners remain down over 10%.
The 6-Month Cycle
An intermediate low arrives every 4-6 months in precious metals and miners. This cyclical nature assists traders with their investment and market timing decisions. In the chart below I labeled the previous 6-month lows in miners (HUI). Each low produced a multi-week rally.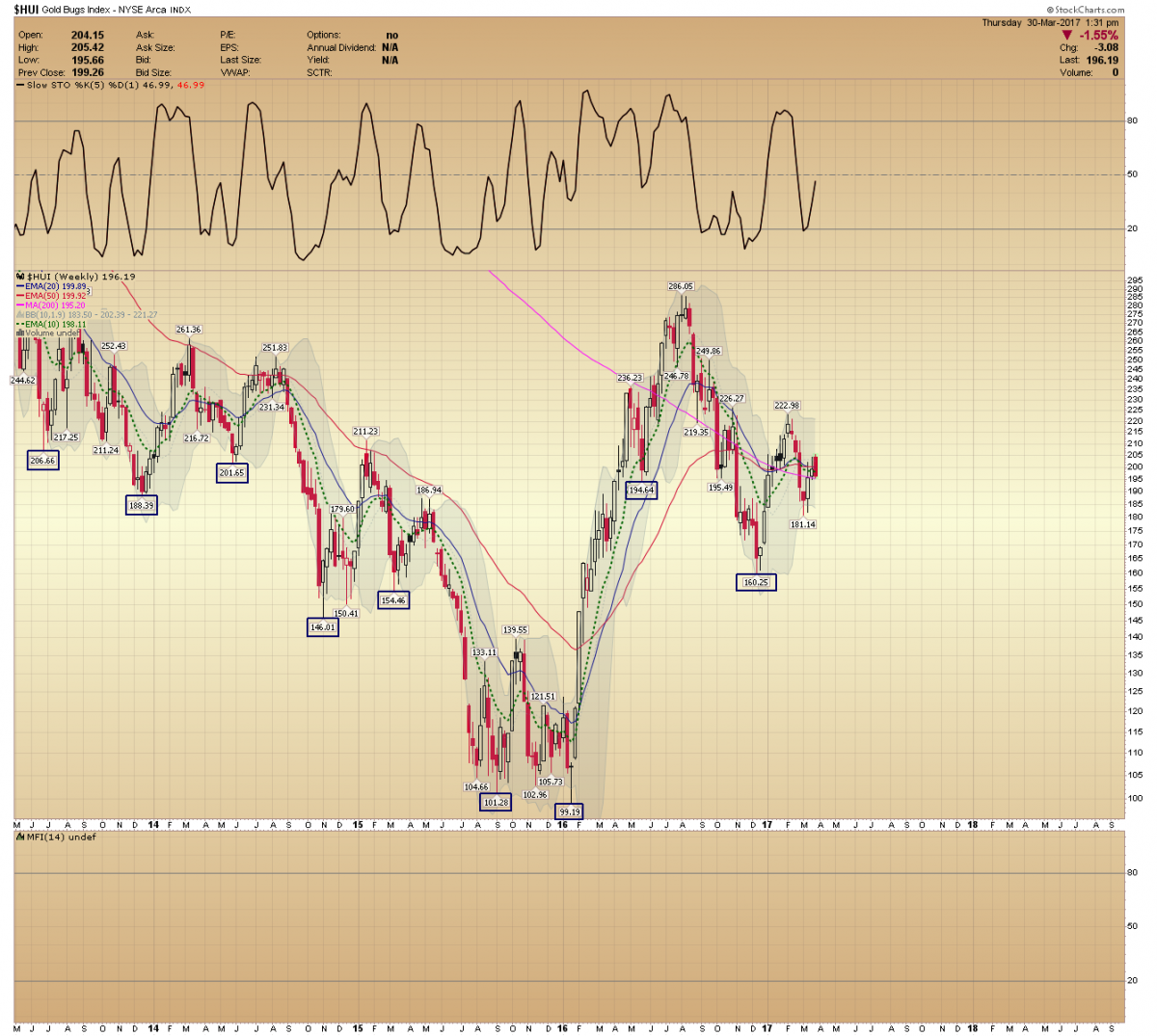 Cycle Translation
The duration of the rally out of the cycle low determines translation (left or right). As a rule, 12-weeks is the halfway point for the average 6-month cycle. A cycle that tops after 12-week's is right translated and should remain above the previous 6-month low. Conversely, a cycle that tops before week twelve is left translated, and will likely break the previous 6-month low.
Below is a chart of the junior mining index XAU. The intermediate lows are marked with rectangles. The cycle duration (number of weeks) pinpoints each cyclical top. The tops labeled in red peaked between weeks five (5) and nine (9). Each subsequently dropped below the previous 6-month low. Per our cycle work, the current cycle peaked during week seven (7). Accordingly, prices will likely drop below the December 2016 low.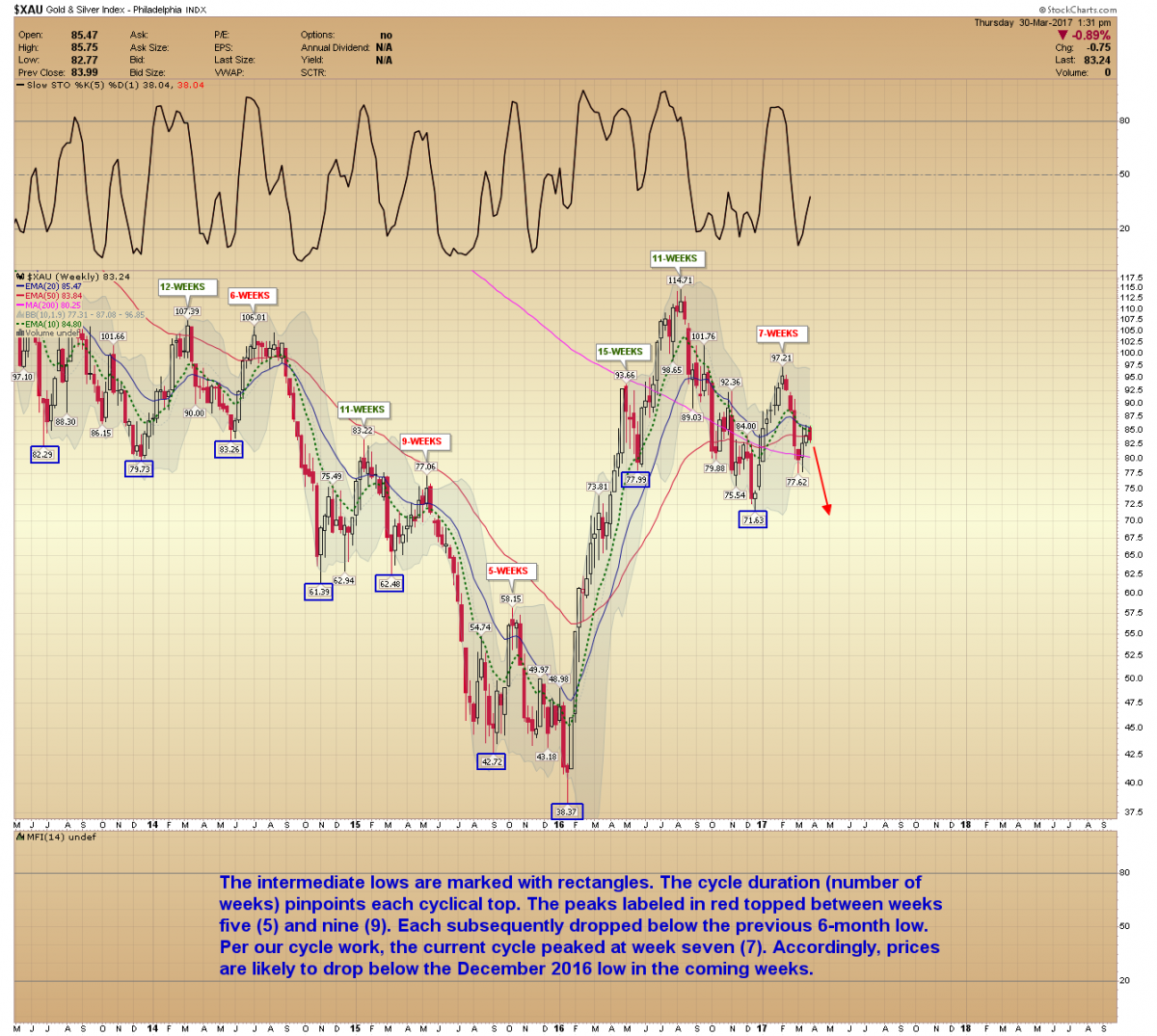 The Next 6-Month Low
We are 14-weeks into the current cycle, the next 6-month low should arrive in May or June. Where that low reports, depends on how quickly prices drop below the December low. If prices quietly grind lower in April, then we will only see a test or marginal break of the December low. However, if prices nose-dive below the December low, we could trace out an ABC correction to approximately $15.00 in GDX. This is my worst-case scenario.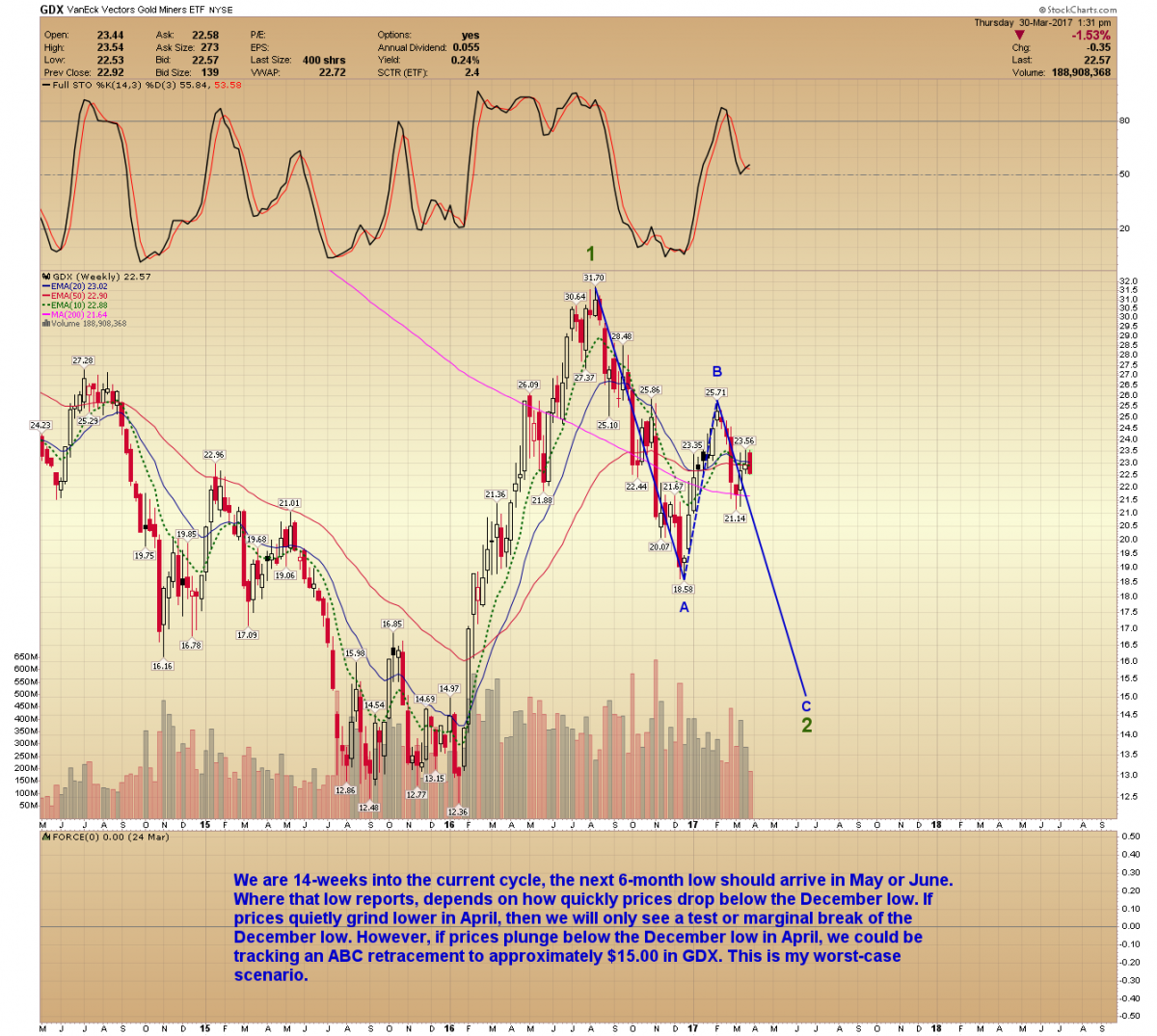 Summary
Miners peaked in February and prices will remain under pressure until the next 6-month low. Gold and Silver are currently topping and should follow the miners lower in April. Expect an excellent long-term buying opportunity in May or June. If the 6-month cycle doesn't bottom in May, it should bottom around the time of June 14th FED meeting.
********
Gold-Eagle provides regular commentary and analysis of gold, precious metals and the economy. Be the first to be informed by signing up for our free email newsletter.
More from Gold-Eagle.com: