Risk On Assets Are Hot!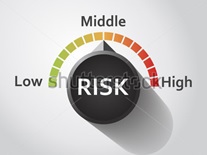 Last Friday, March 11th, 2016, Mario Draghi, ECB Chairman, announced new cuts to all three of its current ECB's policy interest rates.  This included a drop to minus 0.4 percent in the rate it pays on banks' deposits.
He added 20 billion euros a month to the ECB's bond-buying program, more than most had expected. He also widened the program's pool of eligible assets to include high-quality corporate bonds. He announced a new refinancing mechanism that will lend very cheaply to banks that supply credit to the euro area's economy.
The markets experienced wild price action during the day. At first, the market was up, then down, then up big time. They realized that the ECB is providing 'fresh liquidity', which will allow them to 'monetized debt' by taking it to their balance sheet from the bank's balance sheet. At the end of the trading session, Risk On Assets (stocks) closed sharply higher and investors celebrated.
The ECB Chair Mario Draghi further announced that he does not foresee a need for further stimulus.
The Bear Market Rally – Investor Trap!
We are currently experiencing a "bear market rally" in the SPX with this current run up in price. The SPX market index has been gradually rolling over in a "broad topping pattern". There is currently a "major topping cycle" in place as of this month of March 2016 or the beginning of April 2016.  This cycle is pointing to a decline and new multi-year lows this spring. We are within that "big resistance zone" area now. I am expecting the SPX to conclude this upwards move in the 2050 to 2100 target area before fully topping out.
The good things about the financial markets are that the money flowing out of stocks must be put to work in other assets like gold and silver. This is a great free guide on how to properly invest long term with gold and silver.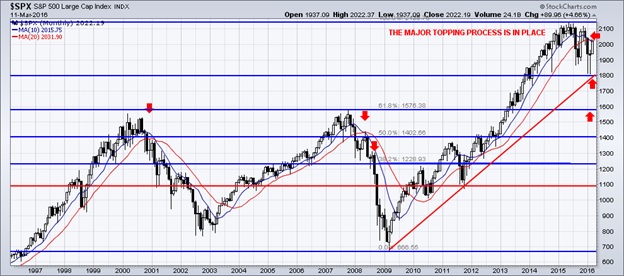 The Stock Market Topping Process
This "Topping Process" has been in play in the equity markets since November 25, 2014. I am looking forward to this year, in which, many financial and commodity markets are poised to complete long-term cycles. I will be presenting multiple "sweet" trade setups over the next few months. We are currently in the very early stages of a "severe bear market" This will be a prolonged bear market drop lasting 12+ months.
My model took out all of my long term investing equity positions (including SPX), November 25, 2014, and put us strategically in "Cash".  For those of you that remained loyal, you should be very proud of yourselves.   When we exited the SPX, the price was at 2067.  At the close, on March 11th, 2016, the SPX price was at 2022, right back exactly where we exited it 16 months ago.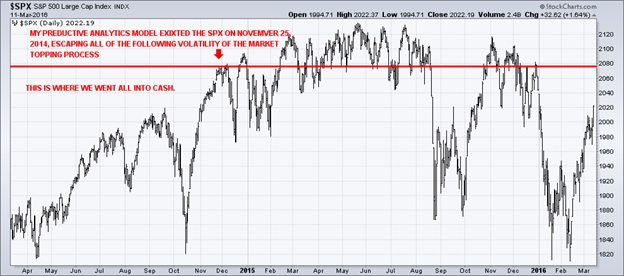 The SPX will break the lows of last August 2015. This will take place soon. Followers of my work will be immediately sent trade alerts as to when to assume a new long position in "SDS" (The Inverse ETF of The SPX).
Currently, 2016, when the "Presidential Cycle" occurs, it has been historically BEARISH!  Statically speaking, based on repeating "CYCLES", the SPX will decline by 60% or more depending on how events unfold.
Until this bear market rally in stocks tops out later this month or April I continue to focus on timing short-term market tops and bottoms that were recently explained in detail here.
More from Gold-Eagle.com: