Should Gold Investors Really Trust the Bull Market?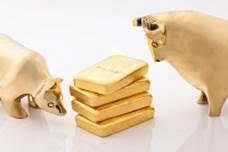 The US stock market is riding on record highs. Ever since the election of Donald Trump as President, confidence in the markets—and in the Dow Jones Industrial Average, which has soared over 20,000 points—is up. But is this confidence justified because of earnings, or should gold investors actually be skeptical of what's going on?
This week has been marked by a lot of conflicting information about markets. On one hand, the stock markets are doing exceptionally well. On the other hand, gold has performed well on the year. And yet there isn't as much confidence about gold as you might think. Let's try to make sense of the week in stocks and gold prices.
Some Gold Investors And Analysts Not So Sure About Stocks
If you've had a lot of money in the markets, then you're doing just fine lately. But whether or not that success is going to be sustained is another question entirely. Barbara Kollmeyer of MarketWatch points out that gold investors are, to say the least, wary of the bull market and still looking optimistically at the price of gold.
For starters, Kollmeyer points to a chart of "select assets" and their performance on the year, noting the top five performers thus far:
Copper
EM equities
Frontier markets
Gold
Global equities
Given that two of the top performers are metals, it should raise a few eyebrows for investors.
Looking At Gold's Performance This Week
While the Dow Jones Industrial Average forges ahead, blazing new trails in prices, what has gold been doing? Gold is holding relatively steady above $1,200 right now, trading at about $1,240 this morning. It was only yesterday that gold "snapped" a recent skid, but given the relative health of the price, investors have every reason to be optimistic.
One potential problem: interest rates. Interest rates are typically seen as bad for precious metal prices as they look to curb inflation and maintain the strength of currency—and it takes currency to buy gold. As is par for the course, there is a lot of talk in the air about interest rates rising both at home and abroad. What remains to be seen is if central bankers will really allow interest rates to rise.
Is Gold Really Going To Slow Down?
A review of the news this week shows a lot of analysts looking for weaknesses in the price of gold. DailyFX, for example, wonders if a "breakdown" is imminent. But given how many investors are interested in the price of gold and skeptical of the current state of stock markets, there may be more life here than most imagine.
Watching the US dollar index will be as important as ever, but all of the elements that go into determining the strength of the US dollar will continue to make the picture of gold's prices appear murky. Some see gold ballooning in prices if it holds on to its $1,200 price mark and goes higher—others seem content to ride the wave of stocks.
More from Gold-Eagle.com: