Silver Price Dips: Buying Opportunity Or Bear Market?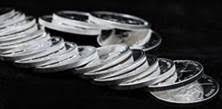 Silver's healthy price in recent weeks, sending it as high as $18, appears to be at an end—at least temporarily. With a fresh dip in silver prices, it's apparent that silver's slow climb to the top has at least seen a hiatus. But is this a mere pause in silver's boom or does it represent a true bear market? If it's the former, it could represent a great buying opportunity for investors. If it's the former, patience is warranted.
Silver "Searching For Support"
DailyFX.com has been analyzing silver's break in prices over the past week. They note that gold won't find "support" again until about $1,180 per ounce, which means they believe that it has farther to drop. As for silver, it appears that DailyFX expects much the same.
What exactly happened to bring sliver down to this point? There have been a number of factors, as there always tends to be. Optimism in the stock market has broken a little bit—it's no longer breaking records every single day—but there was a positive jobs report recently that suggests the economy is still on track. Although employment numbers tend to be a lagging indicator, that could spell lesser prices for precious metal hedges like silver.
What Are Silver Investors Missing?
According to SekeingAlpha.com, silver miners were very healthy in 2016, which should lead to some encouragement for those who invest in silver mining companies as a way of hedging their bets. Writing that "these miners should be less vulnerable to lower silver prices" seems to have fallen on deaf ears with many investors, who tend to look at the price of silver  and the health of silver mining companies as the same thing.
But if there is indeed flexibility in the silver miners, this could represent an ideal buying opportunity for silver mining companies, even if you don't believe that the price of silver is going to break back upward this month. Either way, the market should be at least intriguing for those who see the glass as half empty or half full on silver. There's plenty of evidence to suggest silver can still break either way.
Still Waiting On The Federal Reserve
Perhaps the most powerful factor on silver's prices this month could be the Federal Reserve's interest rate hike, if it does indeed happen in just a few short days. Investors always watch these important meetings to see how strong the U.S. dollar might project to be. Those in precious metals know just how important a strong or weak dollar is to the prices of commodities like gold and silver.
But with some uncertainty in the air, it doesn't necessarily mean that silver is in a true bear market. It can simply be a break downward while investors figure out that there are still opportunities here, especially when it comes to silver miners. The silver market can be difficult to figure out sometimes, and since it's not a 1:1 correlation with gold, it might represent a quality opportunity for those still willing to keep their minds open.
More from Gold-Eagle.com: