Silver Price Forecast: Is A "Green Revolution" Good News For The Precious Metal?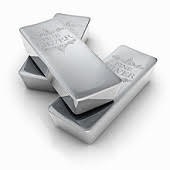 Running the world on solar power would have tremendous advantages—no one denies that. Using up free energy from the sun would mean low pollution and plenty of cheap, affordable energy. And as fans of silver as a precious metal would note, it takes metals like silver to create the infrastructure needed to convert all of that sunlight to energy.
That's why some people are bullish on issues like silver and copper. But is there really a silver revolution waiting to happen as solar power expands? If we're going to make a long-term forecast on the prospects of silver, it's worth a quick look.
Seeking Alpha: Not Enough Silver For Solar Power
The laws of supply and demand also apply when you're talking about solar power. Although there's plenty of free solar energy hitting the Earth every minute, the real question is whether or not we can put together an infrastructure that would use much of it.
According to Zoltan Ban at Seeking Alpha, there may not be enough silver to create a 100% solar powered economy…even if solar power became 4 times as efficient as it is today. "Even relatively more modest goals, such as solar becoming the largest source of energy, remain out of reach as long as solar panel manufacturing depends on silver supplies," said Ban.
Solar Energy Without Silver?
Although it's tempting to say that a shorter supply of silver for solar energy would mean higher prices for the precious metal, remember that this could also have a negative effect: innovators might turn to other readily-available metals to come up with solar energy solutions.
According to USA Today, a solar panel roughly requires about 20 grams, or two thirds of an ounce, of silver. That comes in conjunction with the solar energy industry using roughly 5% of the silver supply back in 2014. While this could be seen to drive up the price of silver, the already-high price of silver relative to industrial metals like copper actually encourages innovators to find ways of using less silver.
Putting It All Together
While solar energy relies on silver to some extent, there are also market forces in play that could mean silver won't have the role in solar energy that some think it could. According to Reuters late last year, the demand for silver thanks to solar technology, a peak doesn't necessarily mean that silver demand will keep increasing.
Investors interested in silver thanks to its properties in aiding solar energy will note that when silver saw an all-time high price in 2011, it encouraged engineers to look for other solutions. Although silver is still present in solar panels, a new thin-film system has become the norm.
If silver can maintain a modest price and continue to find use in solar energy, there is a lot of opportunity for demand. But a wary investor should also watch for signs that the solar energy is finding ways to reduce its demand for silver. As it turns out, a "green revolution" may not mean as much green for silver investors as you might think.
More from Gold-Eagle.com: