Still Waiting On Silver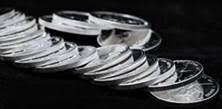 Gold Prices This Week and Next Week's Outlook
Well, we are on the same old theme with respect to the precious metals; silver remains in a favorable Commitments of Traders (CoT) stance in its own right and also as compared to gold. As yet this has not manifested in silver leadership or a decent rally for the sector. See: http://snalaska.com/cot/current/charts/SI.png
Here is a link to a now-public NFTRH Premium subscriber update from February 14th, prior to the US market open.
https://nftrh.com/2018/02/14/nftrh-short-term-targets-for-gold-silver-and-the-miners/
In the update we noted key resistance for the miners (HUI 190-195) as well as gold and silver, all of which were registered in subsequent market action. The subscriber update also illustrated reasons why it was not yet appropriate to go long-term bullish on the sector. These ranged from the GDX/SPY ratio to the HUI/Gold ratio to our old friend the Silver/Gold ratio.
The update concluded…
"To be more constructive I'd have hoped by now to see some divergences in the picture and they are simply not there yet. One implication is that the more speculative end of the precious metals (the miners & silver) are more vulnerable to another bout of risk 'off' selling in the broad markets than gold is.
Whatever the case, taking the TA in its own right, the key short-term resistance areas are noted above so that we can start the decision making process ahead of time, not in real time when emotion may be getting involved. If involved in the sector, understand ahead of time whether you are a trader or an investor accumulating on the big dips."
We got the bounce right into the key resistance areas, I assume readers had planned ahead (for my part I did some profit taking, shorted NUGT at the bounce high and then covered it on Friday's pullback) and now here we are.
Silver is still set up to lead and work done in this weekend's NFTRH 487 shows a positive sentiment setup for the precious metals complex, so we can remain constructive on the short-term while understanding that long-term macro and sector fundamentals are not yet in place (and no, inflation is not a good long-term fundamental). No charts this week, just a bunch of words for your consideration.
Website: https://nftrh.com/
NFTRH Premium Market Report: https://nftrh.com/nftrh-premium/
********
More from Gold-Eagle.com: