UBS & HSBC See More Gains In Gold | Price Forecasts In Focus
Banks see increasing gains in gold!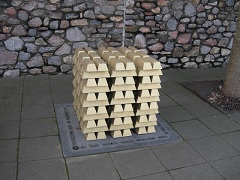 Gold has been an incredibly interesting commodity to watch as of late, and for good reason. The commodity has gained in value tremendously through the course of the year. With global economic concerns plaguing markets, investors are looking to the safe haven for protection. Now, we're seeing increases to gold price forecasts everywhere. Most recently, UBS and HSBC have weighed in, with both expecting to see more gains.
UBS Ways Gold Could Hit $1,400
In a note to investors, UBS strategist Joni Teves said that she is expecting more gains for gold. In her note, she increased the UBS annual forecast for gold from an average of $1,225 to an average of $1,280 per ounce. The analysts also said that she believes that the average price of the precious metal for the rest of the year 2016 will come in around $1,340 per ounce with the short-term growth leading gold as high as $1,400 per ounce. Here's a key snippet from the note...
"Key drivers include: 1) low/negative real rates, 2) the view that the dollar has peaked against DM currencies, and 3) lingering macro risks. We expect the next leg to be driven by an extension of the trend of strategic portfolio allocation into gold from a diverse set of investors. This trend should now deepen, attracting more participants and encouraging those who have been hesitating to get more involved. Relatively orderly retracements, which have typically been shallow and brief indicates strong buying interest. This suggests that gold's floor is likely higher now given an even stronger fundamental argument for holding gold.
The UK's vote to leave the EU further underpins gold's macro narrative, reinforcing the themes of further dovish shifts in monetary policies, consequently lower yields, and heightened uncertainty."
HSBC Also Sees Gains In Gold's Future
HSBC is another major bank that has hopped on the band wagon of banks hiking gold price forecasts. The company released a research note early Tuesday. In the note, HSBC increased its average price forecast for the year 2016 from $1,205 per ounce to $1,275. In their note, here's a key snippet that HSBC had to offer...
"We continue to expect some of these factors, notably continued accommodative Fed policies and investor demand, to support gold and add another reason for strength in the months ahead: increased demand for perceived 'safe-haven' assets following the U.K.'s vote to leave the EU... This factor replaces previously strong EM demand, which has weakened in response to higher prices."
Gold Is Heading Up From Here
UBS and HSBC are only 2 in a long line of banks that have been increasing their price forecasts with regard to gold. At the end of the day, even the blind can see that gold is likely to continue soaring. The truth is that as a safe haven investment, gold is now more appealing than it has been in a long time. With the UK voting to leave the EU, and the world already facing economic hardship before this news, investors are expecting to see more economic struggle. As we all know, economic declines lead to market declines. At the end of the day, these issues will lead to more safe haven demand and further price growth in the price of the precious metal.
[Image Courtesy of GoldResourceNews.com]
More from Gold-Eagle.com: