Will Gold Prices Drop Below $1,000?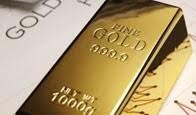 It's easy to turn bearish when gold prices drop consecutively for 6-weeks without an intervening rally. Sentiment for precious metals and miners has cratered, but prices continue to grind lower. The charts are oversold, and Investors are growing concerned, understandably so. However, I think once you understand where we are in the gold cycles your anxiety will turn into enthusiasm.
I've written many articles regarding the 8-year gold cycle. This critical cycle bottoms consistently every 8-years a few months before or up to 4-months after a US Presidential election. Gold prices bottomed at $1,045 in December of 2015, that appeared to be the 8-year cycle low. Although it arrived early, I gave it the benefit of the doubt because miners rallied nearly 200% in just 7-months. Nevertheless, gold recovered just 32% from last Decembers low and has now fallen below key technical support. It's conceivable prices we are dropping into the normal 8-year cycle low now.
The original 8-year cycle timing models projected a low between August of 2016 and March of 2017. Frequently the 8-year cycle arrives after the presidential election in February. The complete failure of gold to register a relief rally after the election firmly suggests that the 8-year cycle forces are in play and that gold will test or marginally break below the $1,000 level.
Was The Move To $1,377 In July A False Rally?
I penned several articles citing how I thought the move out of the $1,045 low might prove to be a fake-out rally that would fool investors and lead to a sharp selloff. Gold and especially miners rallied much longer and higher than anticipated, so I finally dismissed my fake-out theory. I may have done so prematurely; precious metals have the propensity to push the limits, and just when you think they're finished, they'll push even more.
The Gold Weekly Chart
If prices are dropping into an 8-year cycle low, I expect support to arrive around the $1,000 level. If the big banks can orchestrate a significant break of $1,000 a selling climax could push prices to my max low of $892 (see monthly chart). Prices wouldn't stay there for long, and powerful rally would quickly take prices back above $1,000 level. Note: Trendline support arrives at $980 in February. On Balance Volume is reaching a new low, this usually precedes a new price low.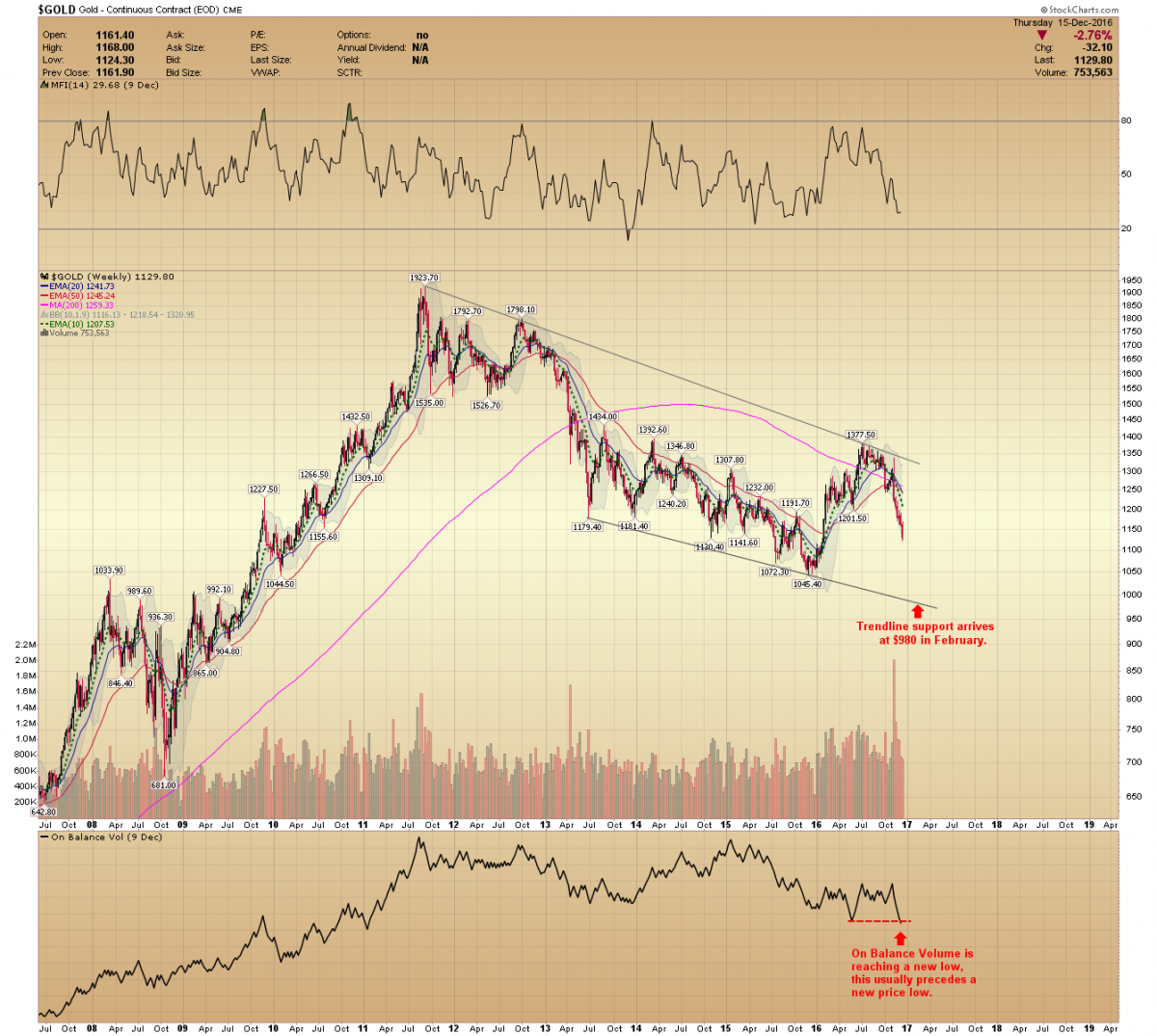 Will We See Capitulation?
Capitulation is a climax in selling. Prolonged declines clear investor sentiment and are essential for a sustained bull market advance. Human nature never changes, we are emotional, greedy, fearful and proud creations. For those reasons, we see extremes in price, mean reversion and volatile swings. During a capitulation event prices fall, stop orders are triggered, and selling begets more selling. Panic ensues, and the remaining holdouts throw up their hands in despair usually selling near the bottom. Trading firms and big banks engineer these situations allowing them to enter extensive long positions when liquidity is approaching maximum levels.
Gold Monthly Chart
There is a confluence of support at the 61.8% retracement level and the 200-Month MA coming in at $892.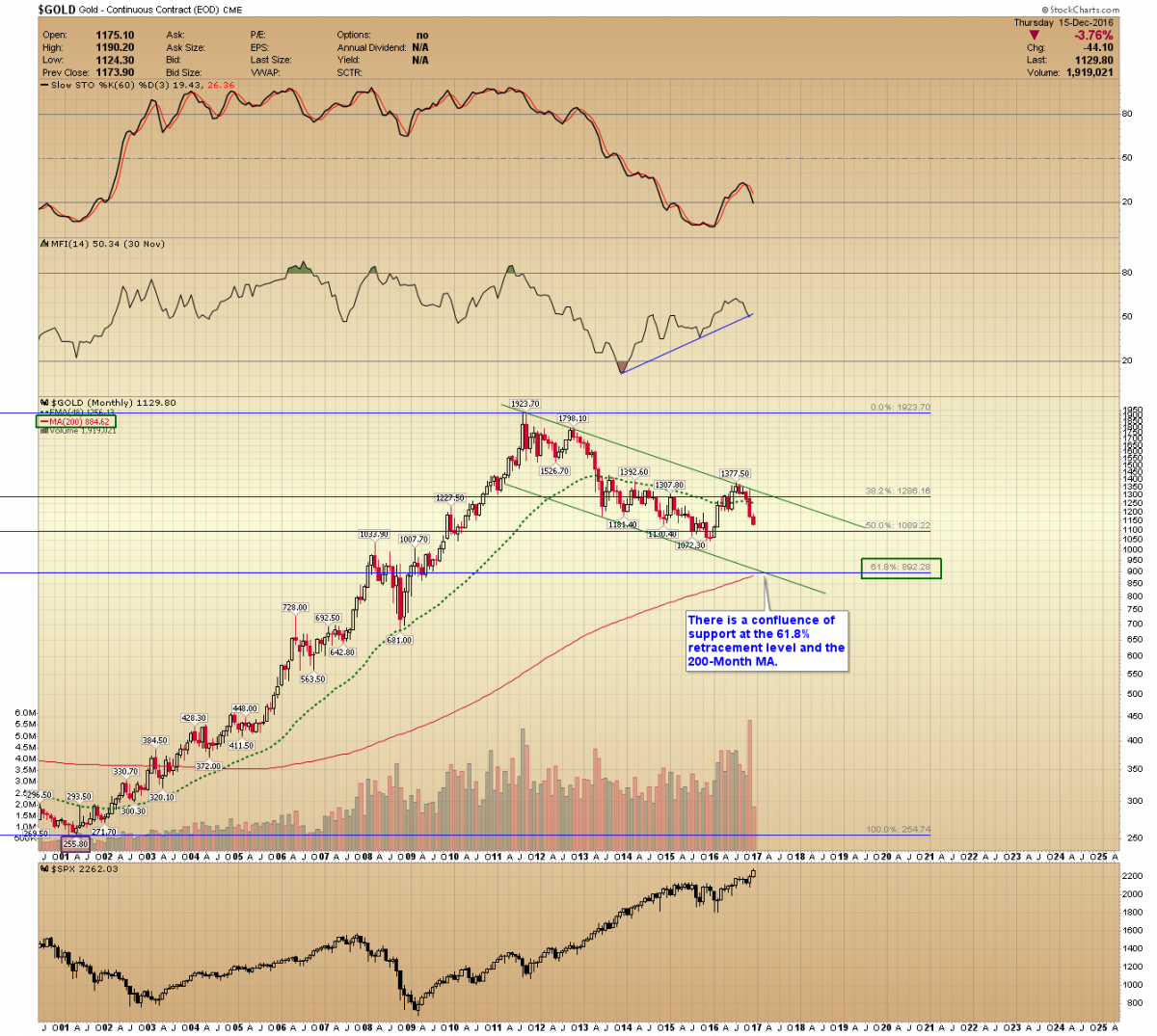 The Good News
The 8-year cycle forces will abate after the first quarter of 2017. Precious metals and miners will rally to new all-time highs in the subsequent years and fortunes will be made. Prices dropping further should be viewed as a gift. Anytime you can buy a commodity near the cost of production; you should take full advantage.  
******** 
Gold-Eagle provides regular commentary and analysis of gold, precious metals and the economy. Be the first to be informed by signing up for our free email newsletter.
More from Gold-Eagle.com: